Visual Inspection
Setting its sights on professional and workstation users, the ASUS Pro WS X570-Ace encompasses a strict and elegant design without the plethora of RGB LEDs that plenty of other models do. Instead, the Pro WS X570-Ace uses straight angled black aluminium heatsinks with the fins aligned horizontally on an all-black PCB. This includes the power delivery heatsink, the actively cooled X570 chipset heatsink, and the single PCIe 4.0 x4 M.2 heatsink. Located around the edge of the board are six 4-pin headers which support one CPU fan, one AIO pump connector, and four chassis fans. At the bottom of the PCB is an ASUS NODE connector hardware interface controller. While there aren't many products out which support this, InWin is currently developing an OLED screen which can display statistics such as CPU temperature, and fan speeds.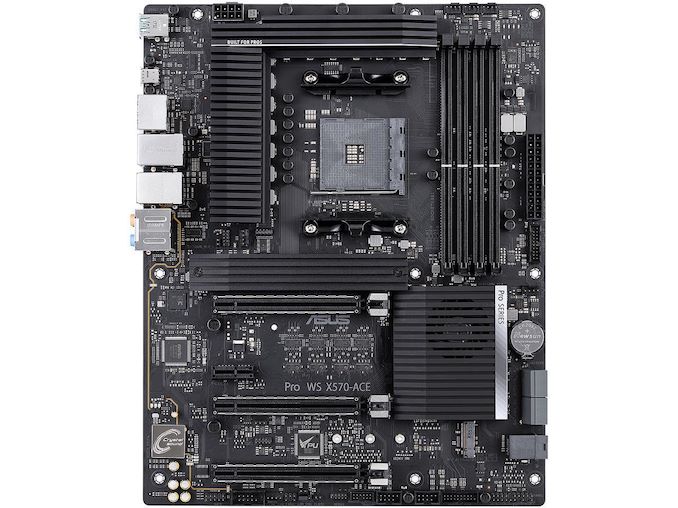 In the top right-hand corner of the board is four memory slots with support for DDR4-4400 memory, and is capable of housing up to 128 GB of system memory. A lot of vendors mention support for ECC memory in its specifications, but the ASUS Pro WS X570-Ace has validated support for ECC memory (and non-ECC). This means users can build an X570 based workstation with all the benefits of ECC memory including options in the firmware for memory scrubbing and memory addressing; this ultimately comes down to processor support including the AMD Ryzen Pro models. The WS X570-Ace also benefits from ASUS's OptiMem which is essentially a method of making the memory trace layout more efficient and can help to reduce memory latencies when overclocking, as well as potentially increase memory frequency yield too.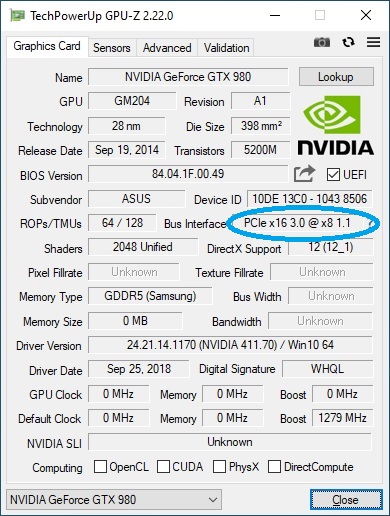 The bottom full-length PCIe 4.0 slot on the Pro WS X570-Ace operates at x8
One of the main features that sets this model apart from the rest of the current X570 product stack is in its PCIe 4.0 support. The ASUS Pro WS X570-Ace has three full-length PCIe 4.0 slots which operate at x16, and x8/x8, and the bottom slot operates at x8 powered through the chipset. All three full-length slots include a coating of metal armor re-inforcement, and for users looking to use a dedicated soundcard or another networking card, ASUS also includes a single PCIe 4.0 x1 slot.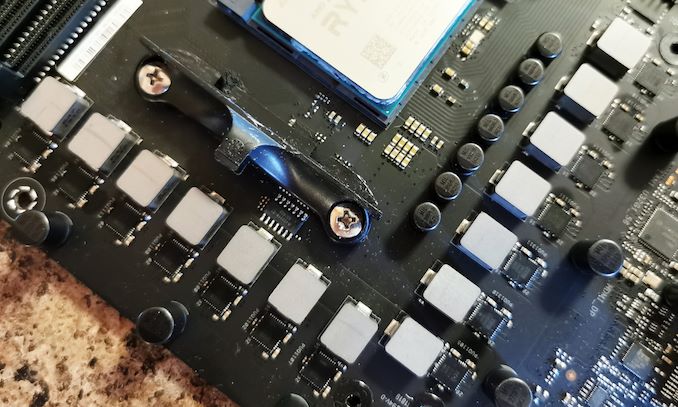 Although the ASUS Pro WS X570-Ace is more geared towards workstation users, its power delivery is more than suitable for enthusiasts looking to overclock Ryzen 3000 processors too. It has a 12+2 phase design that is controlled by an ASP1405I running at 6+1 which is a custom variation of an International Rectifier IR35201 PWM controller. ASUS has opted to use teaming as opposed to doubling up phases for better transient response across its X570 models. As a result of this, the CPU VCore section is running 12 x IR3555 60 A power stages and the SoC is using 2 x IR3555 60 A power stages which are teamed together in pairs to create the 6+1 design. Delivering power to the processor is a single 8-pin 12 V ATX CPU power input.

Moving onto the storage capabilities of the ASUS WS Pro X570-Ace, we have two PCIe 4.0 M.2 slots with the top M.2 slot allowing for both PCIe 4.0 x4 and SATA drives to be used which includes an M.2 heatsink. The M.2 slot located at the bottom of the board only has support for PCIe 4.0 x2 drives, although this model does include a U.2 PCIe 3.0 x4 slot, and four SATA ports with support for RAID 0, 1, and 10 arrays.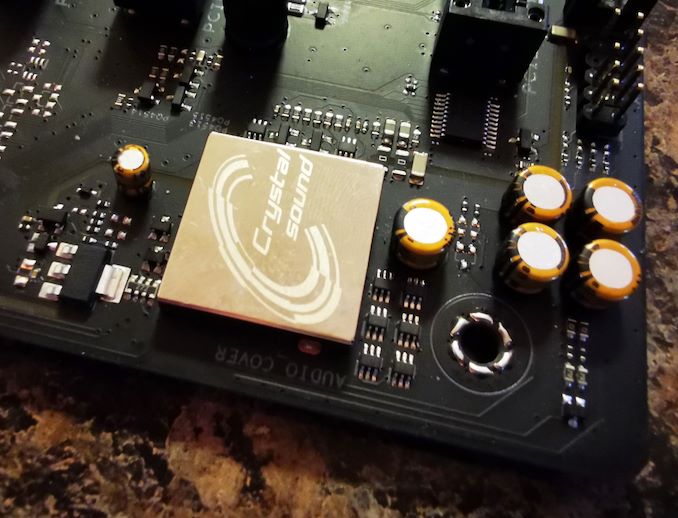 The ASUS Pro WS X570-Ace uses a Realtek ALC1200S HD audio codec which provides five 3.5 mm audio jacks, and an S/PDIF optical output. On the Realtek ALC1200S HD audio codec is an EMI shield and is supported with six gold Japanese audio capacitors. The audio PCB is also separated from the rest of the board's componentry.

On the rear panel are two Ethernet ports, one being Realtek RTL8117 and the other an Intel I211-AT. ASUS has included four USB 3.1 G2 Type-A, one USB 3.1 G2 Type-C, and two USB 3.1 G1 Type-A ports, as well as a pair of video outputs including an HDMI 1.4b, and DisplayPort 1.2. Touching on the Realtek RTL8117 Gigabit NIC, this is supported by the ASUS Control Center Express which is a server-focused application which also doubles up as a management controller. It allows for out-of-band management and hardware-level control.
What's in the Box
Included in the box is a very fundamental accessories bundle which includes four SATA cables, an M.2 screw package, a driver and software installation disc, an I/O shield, and a user manual. The most noteworthy accessory in the bundle is an ASUS VGA holder designed to eliminate sagging in heavyset graphics cards, which can not only damage the card but the PCIe slot too if it isn't secured properly.
4 x SATA cables
Rear I/O shield
1 x ASUS VGA holder
1 x M.2 screw package
1 x Installation disk
User manual