Pushing Parallelism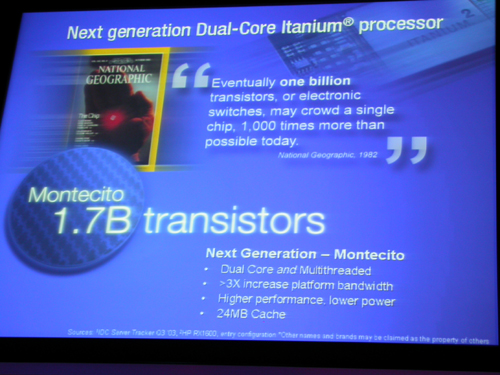 Finally, we have the demo we'd all been waiting for. Intel showed a 4p Itanium server running 4 dual core processors. This results in windows seeing 16 logical processors and reveals a crazy looking task manager window. The reason each dual core processor appears as four is that each core support Hyperthreading. Here's what ctrl+alt+del looks like with 4 parallel 1.7billion transistor dual core Itaniums: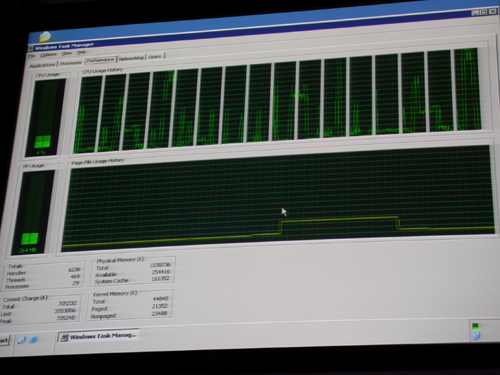 The demo Intel ran on dual core processors was a very complex weather simulator.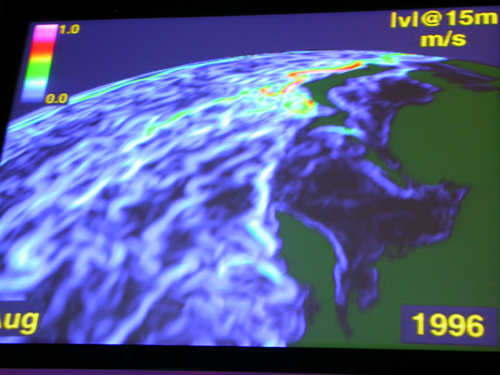 While very cool, such a brief taste of the technology always leaves us wanting more. Unfortunately, Intel is being very tight lipped about their dual core endeavors in other areas. They have stated that dual core processors will be available in 2005, and that they expect some very high adoption rates to push dual core computing to 40% of desktops by 2006, and 85% of servers (which would be dual and multi core). They say the technology is also well suited to mobile devices, but we don't really have any more info than that. It is very clear that Intel will be targeting this area very aggressively as they expect the mobile market to be 70% dual core in 2006.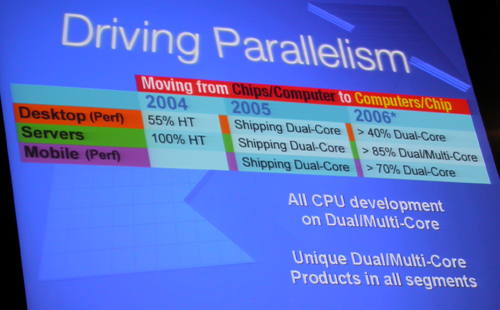 We were able to get a further lesson in parallelism in Intel's guests from NASA. The Space Administration is apparently working on a supercomputer using and sgi Itanium 2 server targeted at 60 Teraflops of power. This would put it at 50% more compute power than the worlds fastest supercomputer. The supercomputer project is called project Columbia and will feature 10000 processors when completed.
Now that Intel and AMD have both demonstrated dual core processors, it's only a matter of waiting for this technology to come down the pipe, into our labs, and into your homes. Here's to time flying.
We will do some digging while we're here, and hopefully someone will be able to help us discern a few more details about upcoming dual core technology and whatever else Intel may have up their sleeves. It's off to the show floor for now.