What's New From the Keynote
Digital Home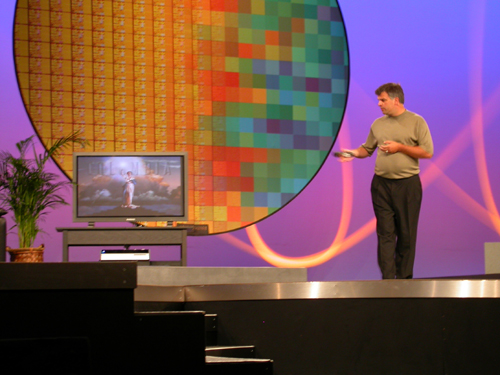 Streaming DTCP/IP video
In the digital home arena, one of the cornerstones of encouraging pervasive sharing of digital media is security. To this end, we have been hearing about Intel's DTCP/IP (Digital Transmission Content Protection over IP). This time around, Intel was able to demonstrate this technology delivering movies using RealNetworks streaming media. Part of the demonstration involved running two streaming movies using DTCP/IP on one computer (on two different televisions). Intel also stated that Microsoft would officially be supporting DTCP/IP in an upcoming version of Windows Media Center Edition. While we are always cautious about the privacy and fair use concerns that could come up with such content protection schemes, we absolutely hope that this will end up becoming an unobtrusive content protection scheme that will do nothing but encourage content providers to move to digital delivery systems.
iAMT for Manageability
Intel didn't elaborate a great deal on this topic. Apparently, iAMT (active management technology) is going to try to move management tasks into Silicon. Though very vague, we got the impression that iAMT would focus on identifying different types of problems and taking some kind of automated action to correct issues. Cutting down time a technician needs to deal with relatively simple problems could significantly help companies save money on computer support costs. We will try to find out more about iAMT if we can this week.
Back to the Future: Cache and Parallelism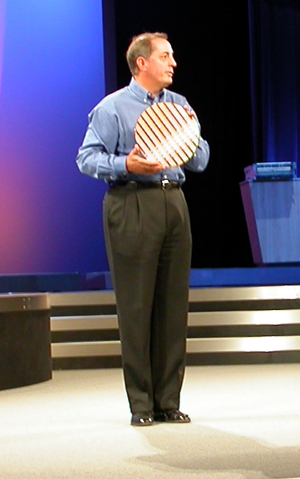 cache fabbed on 65nm process technology
Its not surprising that with the shift of focus away from megahertz and toward parallelism, cache technology would gain more and more focus. If Intel is really going to start pushing multithreaded applications and parallel computer, lager cache sizes will be necessary to compensate for the increased number of processes that will want to have data stored on chip. As an extension of the EE line, it has seemed obvious that Intel would be brining a 2MB cache version of prescott P4s to the end user. Intel, today, confirmed the future of a 2MB cache P4, referred to as a Pentium 4 with a "performance oriented SKU." Much time was also spent talking about the Centrino line and other various technologies that incorporate higher parallelism. The most interesting of which was a demo of their dual core Itanium processor.