Index
Product Samples provided by Newegg.com

The DiMAGE Z2 was released in February as Konica Minolta's follow-up to the 3MP Z1. The Z2 is built with a 4MP sensor and 10X optical zoom. Along with the impressive 38 - 380mm (35mm equivalent) optical zoom range, the Z2 offers a wide range of recording modes from fully automatic shooting to manual exposure. The Z2 has a continuous drive capable of up to 5 frames at 2.5 fps. In addition, the camera advertises a fast start-up time, high-quality 800x600 30 fps movie mode, 3 metering modes, and manual white balance.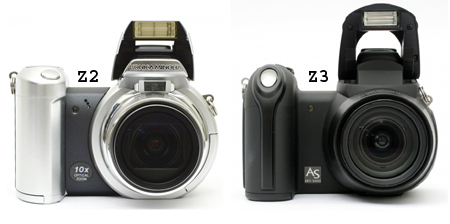 Recently, the digital camera community has welcomed the release of the DiMAGE Z3. It features a 12X optical zoom (35 - 420mm), 4MP sensor, and CCD-shift Anti-Shake system. In addition to the full range of recording modes of the Z2, the Z3 has a more solid construction, improved macro capabilities, and some smaller design changes. We are going to run these two cameras through our multitude of testing procedures to determine their differences when it comes to performance.