BIOS
Much of the following analysis is taken from our review of the MSI MEG X570 Ace motherboard as it uses both the same firmware and software suite.
MSI is using its Click BIOS 5 firmware which we have seen numerous times before including in our MSI MEG X570 Ace, and our MSI MEG Z390 Ace reviews. The design of the interface is persistent throughout with its gaming-centric red and black theme. The text is white which pops on a black background. Users looking to access the BIOS can do so by pressing the F2 or Del key during POST, with MSI offering two modes to select from: the basic mode or the advanced mode. The advanced mode can be accessed by pressing the F7 key, and it opens up a wide variety of customizable options.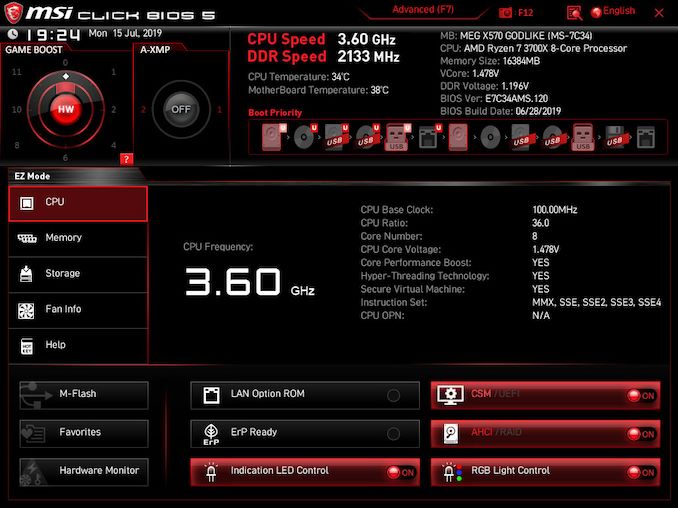 Starting with the basic mode of the MSI Click BIOS 5 firmware, it offers a variety of easy to access settings including the option to enable or disable CSM/UEFI, enable or disable AHCI and RAID, as well as being able to turn the RGB functionality on or off. However, there are no Mystic Light RGB options in the firmware, so users will need to rely on the MSI Dragon Center software in the OS for this. In the top left-hand corner is the Game Boost button which gives users access to seven different pre-defined overclocking profiles. Users can select whether this is controlled by the hard-wired dial on the board, or via the firmware in software mode. Also to the right of this is an A-XMP button which allows users to enable XMP 2.0 profiles on installed DDR4 memory kits. Towards the top right-hand side is a basic list of information including the installed processor, the firmware version used, basic voltage readings, as well as CPU core clock speed.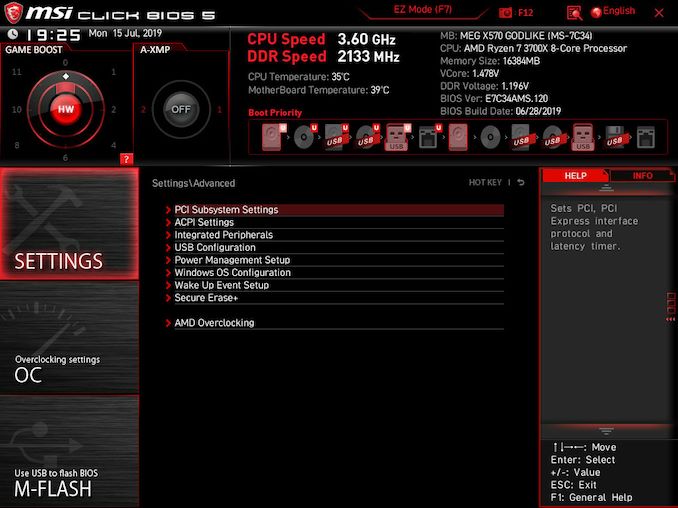 Upon pressing the F7 key, users can access the advanced section of the firmware which opens up a number of options which includes enabling or disabling the board's controllers including networking and audio; disabling the Realtek ALC1220 HD audio codec will disable both as there is no option to disable them individually. This is also where users will find PCIe options including setting the full-length slots to PCIe 4.0, PCIe 3.0, although this is best left on the default settings. Other settings such as power management including system power fault protection, ErP, as well as Secure Erase+ for users looking to securely wipe a storage drive before use. While MSI does state that the MSI MEG X570 Godlike does support ECC memory, this is only in non-ECC mode with no memory scrubbing and associated options within the firmware.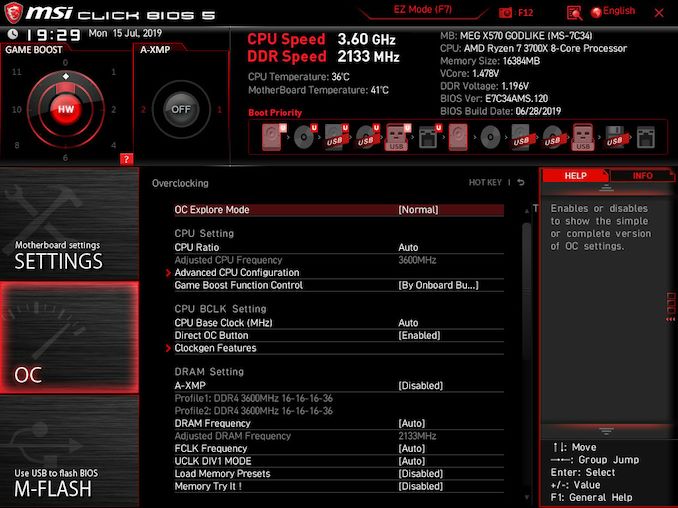 All of the overclocking related settings can be readily found within the OC section and includes options for changing things like CPU core frequency, numerous voltage settings, as well as adjust FCLK frequency and AMD's Precision Boost Overdrive power settings. Users can also alter memory settings with options including DRAM frequency, latency timing control, memory voltage, and six different memory presets for high-performing memory kits capable of achieving tight timings such as DDR4-4400 CL14. MSI also offers four different Precision Boost Overdrive profiles which we have tested over in our overclocking section. Switching from the normal to the expert option in the OC Explore Mode opens up an option to alter the increments in which the base clock can be altered with the switches at the bottom of the board; by default, this is set to 1 MHz. Below is a list of limitations using the current firmware for numerous settings including CPU VCore voltage, DRAM frequency, and Infinity Fabric/FCLK frequency even though most systems will not be able to run these maxed out:
Maximum CPU Frequency = 6.375 GHz
Maximum CPU VCore = 2.00 V
Maximum DRAM Frequency = DDR4-6000
Maximum Infinity Fabric/FCLK Frequency = 3000 MHz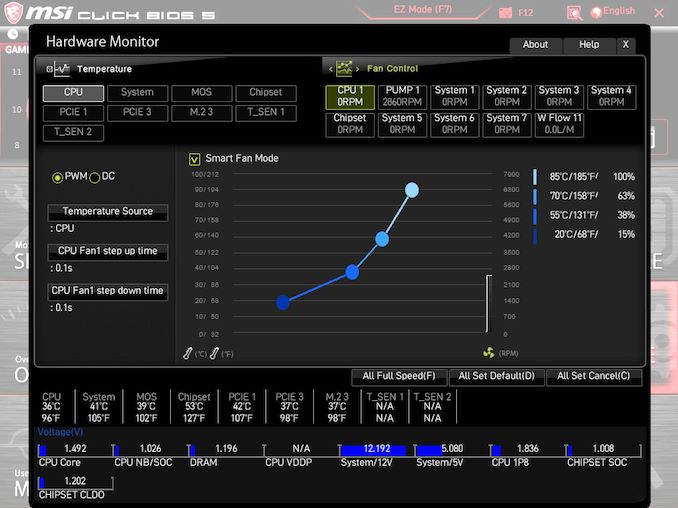 A usual feature of MSI's Click BIOS 5 is the hardware monitor which allows users to keep track of variables including temperature, and fan speed. Users can also customize fan curve profiles for each of the nine 4-pin headers as the heat generated by the new AMD Ryzen 3000 processors is a concern when overclocked even to just 4.3 GHz all-cores, which is the brick wall for our testbed Ryzen 7 3700X processor. Options to select between PWM and DC mode is welcomed, as well as being able to mass select all the fans to full-speed or back to default settings. It would have been nice for MSI to include this to fan profiles, as currently, users will have to create a fan profile for each individual fan installed.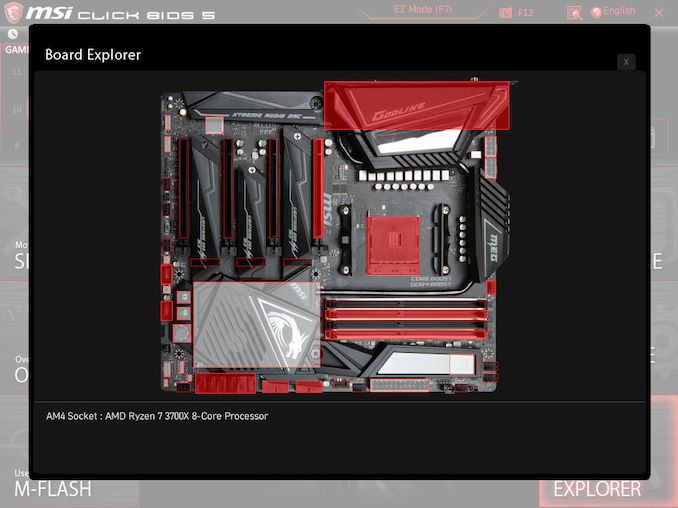 Another common feature included with MSI's Click BIOS 5 firmware is an interactive board explorer. Users can explore a visual representation of the MSI MEG X570 Godlike from a birds-eye view. When a component or device is installed/plugged into the board, each area is highlighted in red and hovering over each section provides basic information about what's installed. This includes the processor, memory, storage, front panel headers including the nine 4-pin fan headers, the rear panel, and the full-length PCIe 4.0 slots. It isn't a new feature, but it could prove useful for diagnosing dead connections, devices, and headers.
Whether it's down to the infancy of the X570 chipset and some issues still need working out, the Click BIOS 5 firmware was very temperamental at times and generally quite laggy. I raised this issue with MSI and they had informed us that we weren't the first to experience lag within the BIOS. Even with the latest firmware, the user experience was a little lacklustre and it's something that will hopefully get better with time. As it stands, the firmware has plenty of customizable options designed to push the Ryzen 3000 processors safely beyond its limits. MSI usually provide one of the better-looking firmware designs on the market, but in this case, it's let down by shoddy mouse and keyboard response which when overclocking, and changing power settings, could result in accidental damage to hardware if users aren't careful. If in doubt, overclock using the AMD Ryzen Master utility as it's one of the better-implemented pieces of overclocking software around.
Software
Normally with a massive variety of individual software and utilities, MSI has finally condensed things right down to just a handful. Usually, we expect a different application for every aspect of the feature set including RGB, audio, overclocking, even for things such as network traffic shaping. Moving forward and progressing into 2019 and MSI has wrapped up all of its key software into an intuitive, and well laid out application called the MSI Dragon Center. Also included with MSI's software bundle is a custom MSI Gaming themed CPU-Z monitoring utility.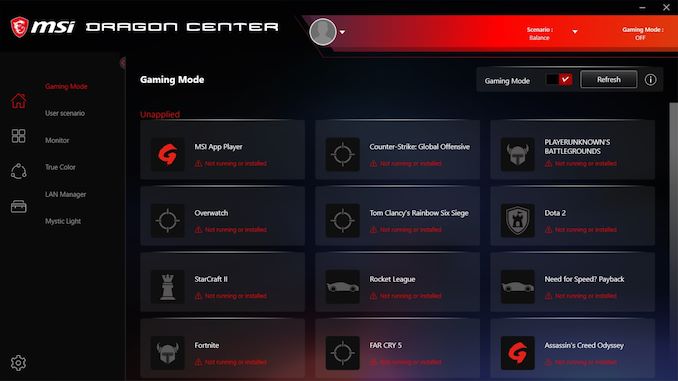 The MSI Dragon Center amalgamates all of its core software features into one easy to use, and aesthetically pleasing red and black themed application. Within the Dragon Center is the Gaming mode which is designed to optimize settings based on the game being played. This includes presets for games such as Dota 2, Rocket League and even Fortnite. On the left-hand side is a menu which features the user scenario option which allows users to customize performance attributes, and even do overclocking without needing to enter the firmware. Also present is MSI True Color which offers different visual profiles for activities such as gaming, movies, and for when your eyes are tired, EyeRest.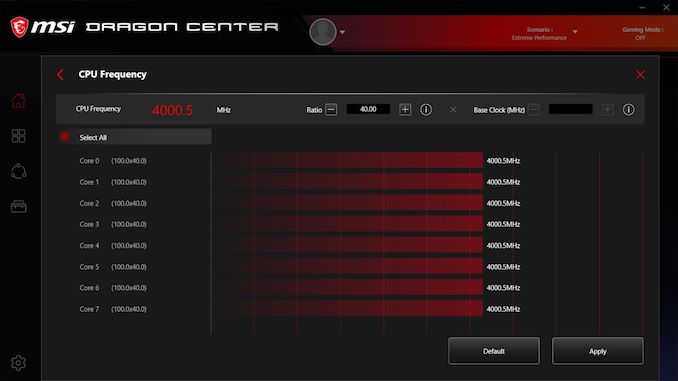 For overclockers looking for an MSI solution to overclocking, the Dragon Center has options for CPU core frequency, CPU voltage options including CPU VCore, SoC voltage, as well as basic memory overclocking options such as DRAM frequency, making alterations to the primary timings, and DRAM voltage. Users looking for a more comprehensive overclocking utility, the AMD Ryzen Master software is very well laid out, intuitive, and on the whole, seems to offer a lot more.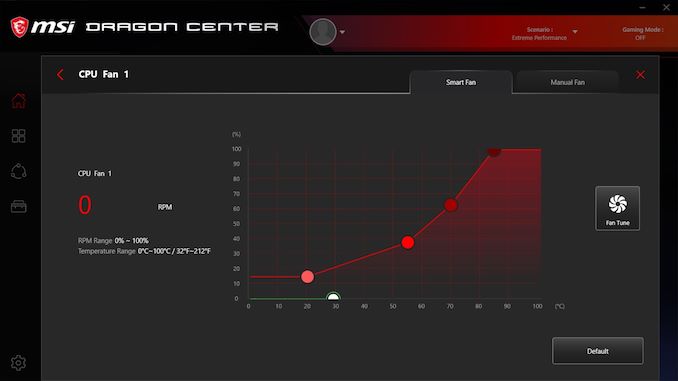 Similar to what's included in the firmware, the MSI Dragon Center also includes a basic Smart Fan utility. This gives users the ability to set custom fan profiles based on four different temperature points. For users looking to take more control, the Manual Fan option allows users to individually set each of the boards seven 4-pin headers to whatever fan speed they wish. The Fan Tune setting allows the firmware of the MSI MEG X570 Godlike the ability to tweak fan settings by judging the cooling conditions and set fan profiles based on a lookup table of configurations.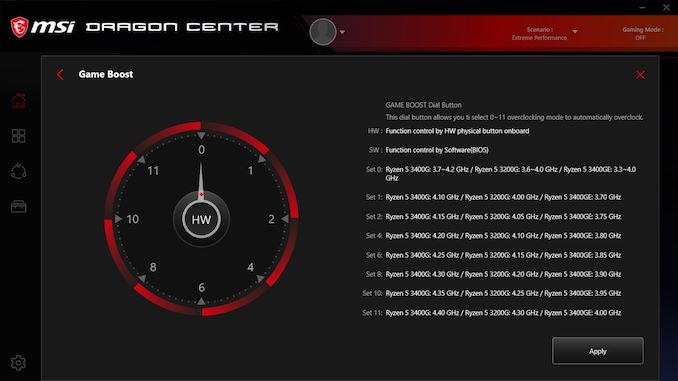 Replicating the options in the BIOS and offering what Game Boost does dial which is present on the bottom right-hand corner of the PCB, is a section in the Dragon Center utility aptly called Game Boost. Unlike in the firmware, the software actually highlights the profiles settings in terms of CPU core frequency for three different CPUs; in our case the Ryzen 5 3400G, Ryzen 5 3200G, and Ryzen 5 3400GE APUs. Disappointingly, it didn't give us the settings for the Ryzen 7 3700X which is installed which would have been useful to know. Perhaps this is something MSI can work on for future versions of the software to automatically detect the CPU installed, and offer information of the profiles based on that.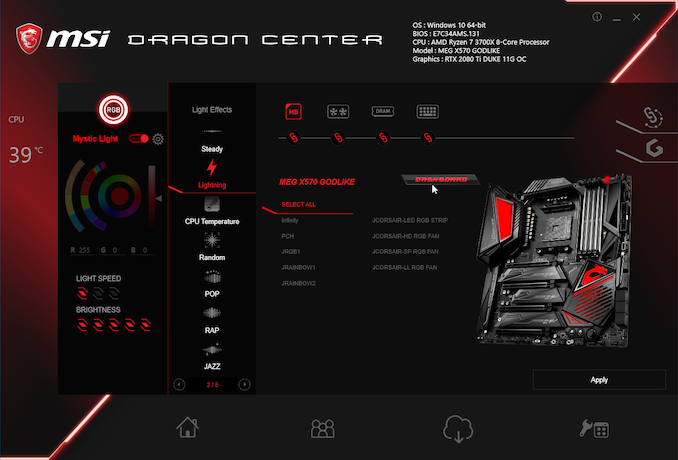 For customizing the various onboard RGB LED capabilities of the MSI MEG X570, MSI has included the Mystic Light RGB utility within the confines of the Dragon Center application. Users can synchronize all of the integrated RGB LEDs with the four different RGB headers and three Corsair RGB fan connectors, or individually customize it to create a mish-mash of RGB lighting. MSI includes an extensive list of lighting profiles ranging from its Rainbow mode, the more commonly seen breathing, flashing, random modes, as well as the Lightning mode and CPU temperature modes; the CPU temperature mode is good for users who want a visual representation of the current temperature of the processor.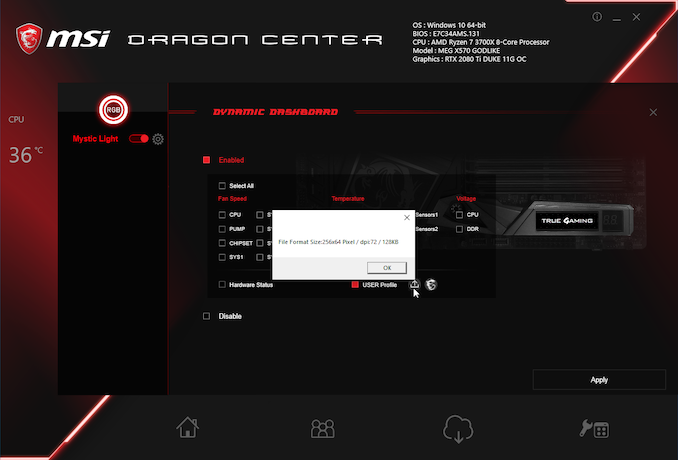 Inside of the Mystic Light RGB portion of the Dragon Center is the Dynamic Dasboard OLED controls. This allow users to set the OLED Dashboard to display certain variables such as CPU temperature, hardware status, even fan header speed. What's more interesting is that MSI allows users to upload their own animations and GIFs to add an extra layer of personalization. There are limitations in this, with a maximum file format size of 256 x 64 pixels, a DPI of 72, and up to a maximum file size of 128 KB.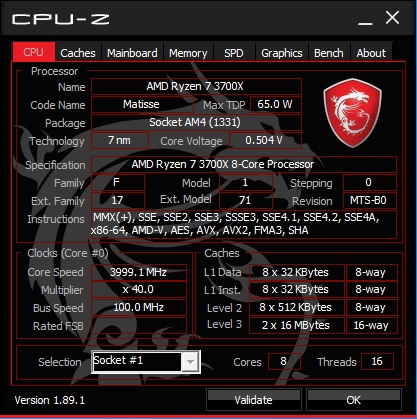 It wouldn't be a complete software suite without the inclusion of a custom skinned CPU-Z monitoring utility, and MSI incorporates its Gaming Dragon theme. The current version at the time of the review is 1.89.1, but MSI should update this with each new build released by its creator, CPUID.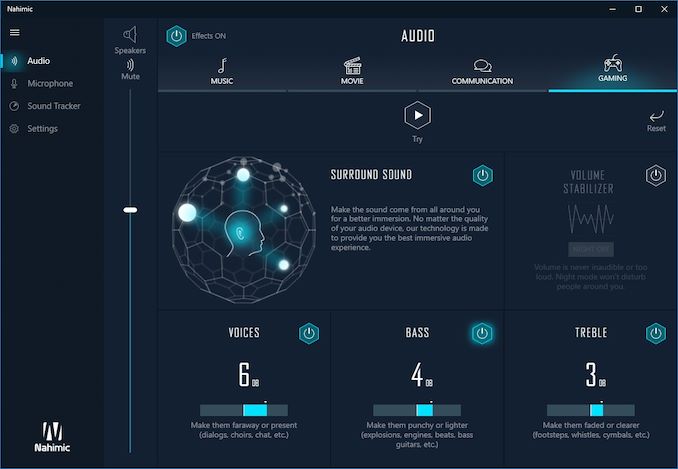 To assist its Realtek ALC1220 HD audio codecs, MSI opts for the Nahimic 3 audio software which MSI are in a current partnership with to develop custom audio solutions for its gaming branded motherboards and gaming laptops. Similar to the functions of what Creative offer with its audio solutions, there are customizable options for microphone, audio profiles for music, movie, communication applications and gaming, as well as adjustable bass and treble to fine-tune the auditory experience. The sound tracker is highly useful in games such as FPS titles where a visual representation of where a sound came from such as a gunshot is displayed on the screen. The rear panel 6.3 mm audio jack on the rear panel is also picked up by Nahamic and the same level of audio customization is available as with the rest of the boards onboard audio.
As we see quite frequently on the newer chipsets, no audio software is provided out of the box and must be downloaded from the Windows Store. Instead of offering lots of multiple applications. MSI has combined them into one easy to use and intuitive application. Perhaps MSI could incorporate something auditory into the Dragon Center without the need to download sound applications directly from the Microsoft Store, as onboard audio is quite a necessary element to provide out of the box support. The MSI Dragon Center utility is perhaps one of the best amalgamation of software from any of the vendors at present.