MSI MEG X570 Ace Conclusion
The MSI MEG X570 Ace is an ATX motherboard which sits very much in the mid-range of the currently X570 product stack with an MSRP of $369. This has raised a lot of questions over social media as to why X570 comes with a higher price tag over previous the previous generations of X470 and X370 models. This is simple, the X570 models are better quality and the mid-range models such as this one come with a much better feature set as standard, as well as better quality componentry within. Another aspect is the addition of PCIe 4.0 and more native support for things like M.2 slots from the CPU and chipset, USB 3.1 G2 connectivity and on some models, the inclusion of additional high performance controllers.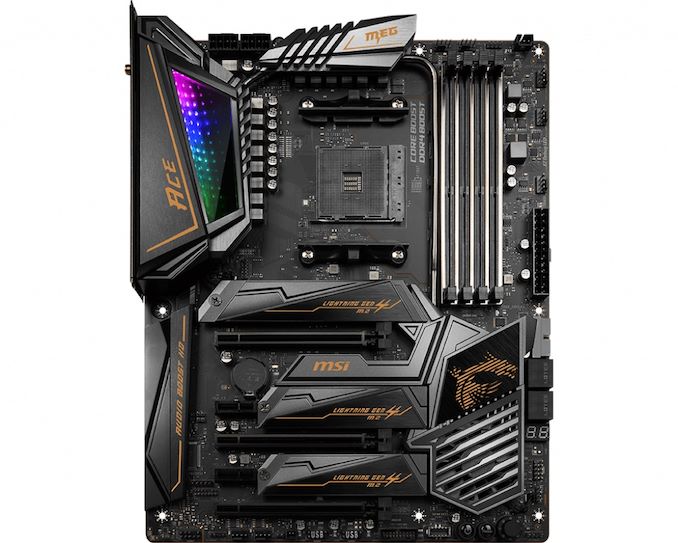 In terms of its overall design, the X570 Ace is very similar to its Intel desktop variation, the MSI MEG Z390 Ace which we reviewed last year. The biggest difference visually is the fan intake grill on the X570 chipset heatsink which is a direct consequence of the chipset 11 W TDP; MSI has included a cooling fan to keep things running cool, which actually serves two purposes on this model. The power delivery heatsink and chipset heatsink are interconnected with a heatpipe, and in our thermal analysis the MSI MEG X570 has very cool running VRMs with our Ryzen 7 3700X at our maximum achieved overclock. On the rear panel cover is the MSI RGB Infinity Mirror which adds a bit of flair, but the most notable design comes in the gold accents which seems to be a direct shout out to AMD's 50 year anniversary, although not officially stated. Although the integrated RGB LEDs are primarily through the Infinity Mirror, MSI does include vast amounts of RGB LED connections for users to create a unique rainbow-like disco in their chassis. One thing we noted in our preview before launch, there is quite a noticeable amount of plastic around the board, especially the rear panel area and the chipset heatsink. This detracts slightly from the premium element, but it fits in well with the boards aesthetic; it doesn't detriment performance and is purely for visual effect.
For the feature set on offer which includes a long list including dual Ethernet ports on the rear panel, one 2.5 GbE and the other 1 GbE, a Realtek ALC1220 HD audio codec, and an Intel AX200 Wi-Fi 6 802.11ax wireless interface which also offers BT 5 connectivity. While the X570 Ace only includes four SATA ports, MSI has used the modular nature of the PCIe 4.0 lanes on the X570 chipset to provide a total of three PCIe 4.0 x4 M.2 slots. Each of these M.2 slots has its own heatsink which blends in with the aesthetic of the board. The top two full-length PCIe 4.0 slots are driven by the CPU which operate at x16 and x8/x8, whereas the bottom full-length slot comes via the X570 chipset and is locked down to x4.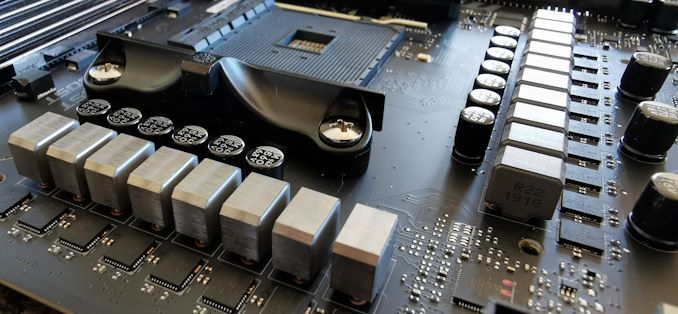 Its overall performance is underpinned by the Ryzen 7 3700X we use on the test bench. In the majority of our test suite, the MSI MEG X570 Ace performs better than the B450/X470 models we have tested so far. Power consumption at full load was noticeably higher but can be attributed to a number of factors including CPU Vcore at default settings, as well as the X570 chipset which has a TDP of 11 W. In our new thermal VRM analysis testing, the MSI MEG X570 Ace performed very well and shows that the 12+2 power delivery running in a 6+2 configuration spearheaded by an International Rectifier IR35201 PWM controller. Putting it quite simply, the power delivery and heatsinks on the X570 Ace are very capable and stands it as one of the better designs seen from MSI over the years.
Looking at the overclocking performance, we managed to get 4.3 GHz out of our Ryzen 7 3700X albeit without the heavier AVX2 workloads, but with a CPU VCore of 1.375 V. MSI's pre-defined overclocking Game Boost profiles aren't great with way too many volts applied which resulted in CPU temperatures skyrocketing into triple-digit numbers. This is something MSI needs to go back to the drawing board on as 4.2 GHz does not require 1.558 of CPU VCore at full load; this resulted in a maximum temperature of 103 degrees Celcius even with a good quality 240 mm AIO CPU cooler installed. For users that intend to overclock their Ryzen 3000 processors, MSI has included a total of seven 4-pin fan headers which is quite impressive for a mid-range model.
At its current price point, the MSI MEG X570 Ace ($369) is in direct competition with a handful of models including the GIGABYTE X570 Aorus Master ($360), the ASUS ROG X570 Crosshair VIII Hero WIFI ($380), and the ASRock X570 Phantom Gaming X ($350), with the latter on paper comes with a very similar feature set but at a slightly lower price. The MEG X570 Ace has initial niggles including the laggy launch firmware and irrational overclocking presets, but marks a big step forward for MSI in terms of power delivery, and its networking capabilities. The MSI MEG X570 represents a good example of an enthusiast-level gaming themed board which steps things into another gear, which could, in turn, prove to be the ace in the hole of its current X570 product stack.
At the time of writing at Newegg, the current price for the MSI X570 Ace sits at $415. This is also reflected at Amazon US with a current selling price of $400. This is considerably more than the MSRP suggests and could be due to an issue with availability and stock levels as at both stores, the MSI X570 Ace is only available via third-party sellers. When Newegg and Amazon eventually receive stock, the price should drop down, but it would be recommended to check your local hardware stockist for pricing and availability. For the European markets, the MSI MEG X570 Ace is also available at Amazon UK with a price tag of £360, and at Amazon DE for 400€.
AnandTech Ryzen 3000 CPU and X570 Motherboard Coverage