Simplifying Settings
The first thing that we noticed (aside from the skin) about the CCC is just how clean and simple it is. We do prefer a consistent UI look and feel, but the layout of and obviousness of where everything is helps immensely in getting around.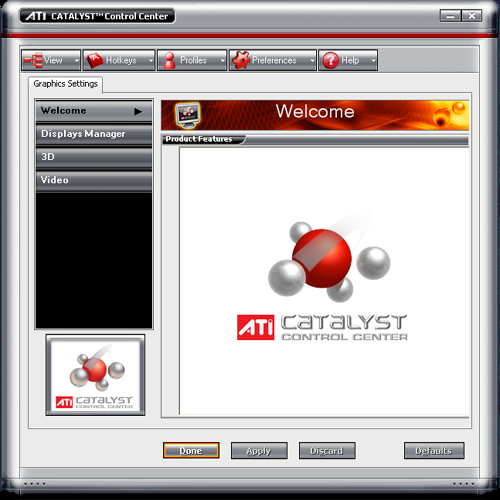 The tabs at the side clearly talk about what they are, and have only the most straight forward, basic, and necessary options inside. For instance, the Display manager offers resolution and multi-monitor setup options with a wizard button at the top, if you need help.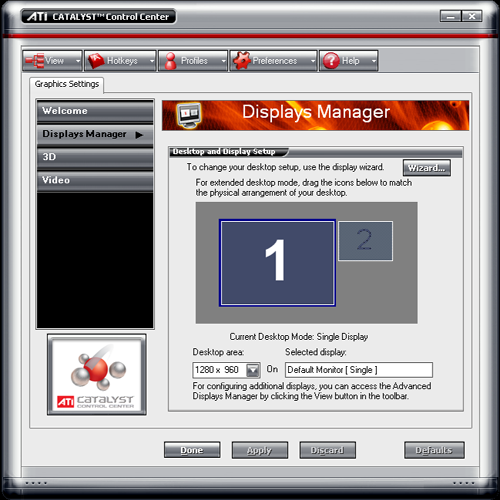 The wizard asks really basic questions about what type of monitor and setup that it's working with and comes up with settings based on the answers.
The simple 3D view is where things get really innovative. ATI has embedded a small OpenGL app into the CCC, which updates in real time as settings are changed. This allows the user to move the slider (siders in the advanced view) to determine exactly what will happen to their games. The inclusion of this feature will help in educating ATI users about what a setting does, and will also get more people hooked on the almost crack-like properties that high levels of anisotropic filtering and antialiasing have (when you see what they do visually, it's easier to tell when they aren't cranked up).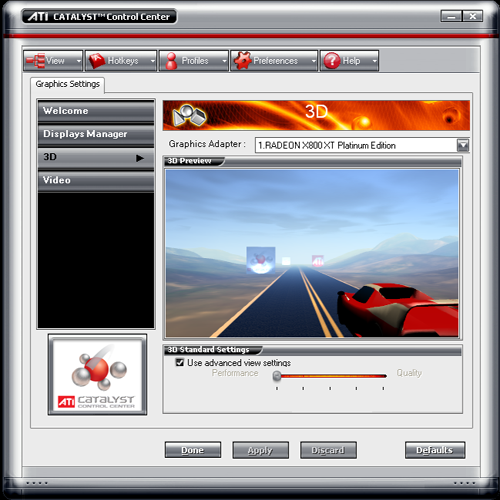 This is the must-have feature that ATI has included in the CCC. We want NVIDIA, Intel, and S3 to pick this up and run with it. It's just
that
helpful to new users and could help people adjust their settings in a useful way. And if the windowed mode isn't enough to help get the idea of what's going on, just double-click the scene and it'll go full screen.
The only downside that we've seen so far is that this new feature makes moving a slider a bit of a chore. The performance hit incurred by moving a slider on our x800XTPE in an FX53 system with 2GB of RAM qualifies as annoying if we are being kind. ATI has said that they are addressing performance related issues; hopefully, future releases will see faster response time.
But that's enough of the simple stuff. Let's take a look at the advanced view and find out what else this baby can do.