Building a core like Zen 2 requires more than just building a core. The interplay between the core, the SoC design, and then the platform requires different internal teams to come together to create a level of synergy that working separately lacks. What AMD has done with the chiplet design and Zen 2 shows great promise, not only in taking advantage of smaller process nodes, but also driving one path on the future of compute.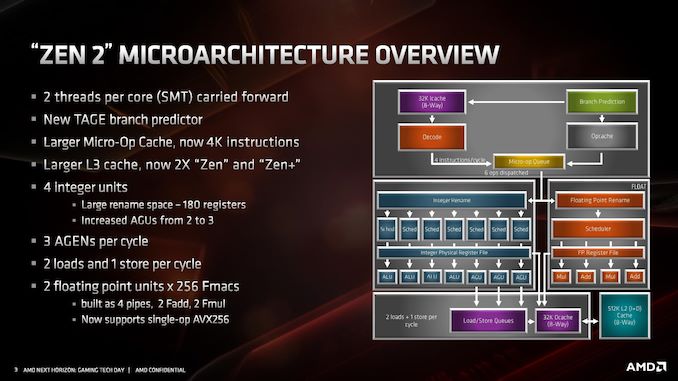 When going down a process node, the main advantages are lower power. That can be taken in a few ways: lower power for operation at the same performance, or more power budget to do more. We see this with core designs over time: as more power budget is opened or different units within the core get more efficient, that extra power is used to drive cores wider, hopefully increasing raw instruction rate. It's not an easy equation to solve, as there are many trade-offs: one such example in the Zen 2 core is the relationship between the reduced L1 I-cache that has allowed AMD to double the micro-op cache, which overall AMD expects to help with performance and power. Going into the minutae of what might be possible, at least at a high level, is like playing with Lego for these engineers.
All that being said, Zen 2 looks a lot like Zen. It is part of the same family, which means it looks very similar. What AMD has done with the platform, enabling PCIe 4.0, and putting the design in place to rid the server processors of the NUMA-like environment is going to help AMD in the long run. The outlook is good for AMD here, depending on how high it can drive the frequency of the server parts, but Zen 2 plus Rome is going to remove a good number of questions that customers on the fence had about Zen.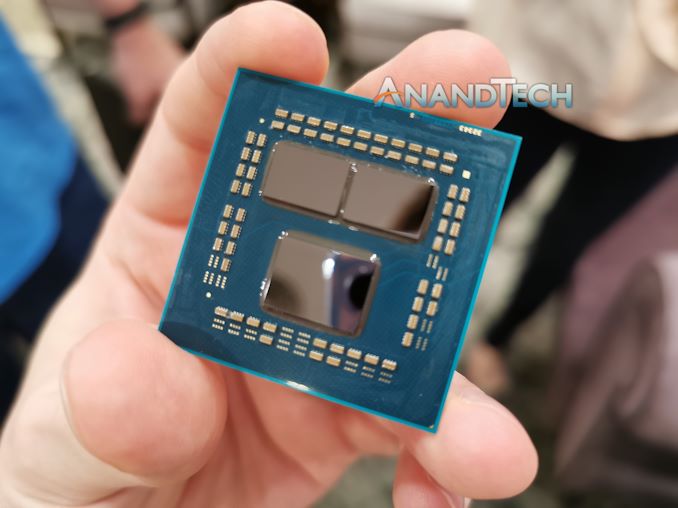 Overall AMD has quoted a +15% core performance improvement with Zen 2 over Zen+. With the core changes, at a high level, that certainly looks feasible. Users focused on performance will love the new 16-core Ryzen 9 3950X, while the processor seems nice an efficient at 105W, so it will be interesting so see what happens at lower power. We're also anticipating a very strong Rome launch here over the next few months, especially with features like double FP performance and QoS, and the raw multithreading performance of 64 cores is going to be an interesting disruptor to the market, especially if priced effectively. We'll be getting the hardware on hand here soon to present our findings when the processors are launched on July 7th.