Battery Life
HP outfits the Spectre Folio with a battery that is about 55 Wh in capacity, and coupled with the new 1W display and Y series processor, expectations are high for good battery life. We test a couple of different scenarios, with a light web test, our newer more demanding web test, and movie playback. We'll be mixing in some new workloads with the latest PCMark 10 update too which has added battery life tests to its suite once we've got some more data to work with.
All of our battery testing is done with the display set at 200 nits of brightness, and there was no detectable CABC on this laptop to influence the results.
2013 Light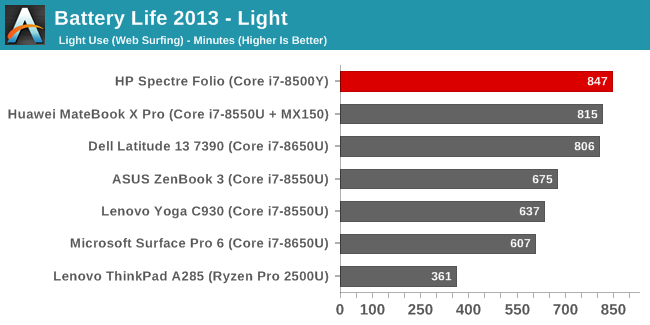 Our lightest test opens just four web pages per minute, and is not very stressful for modern laptops. The HP Spectre Folio has topped our chart with one of the best results we've seen on this test. At over 14 hours of runtime, it's an impressive result.
2016 Web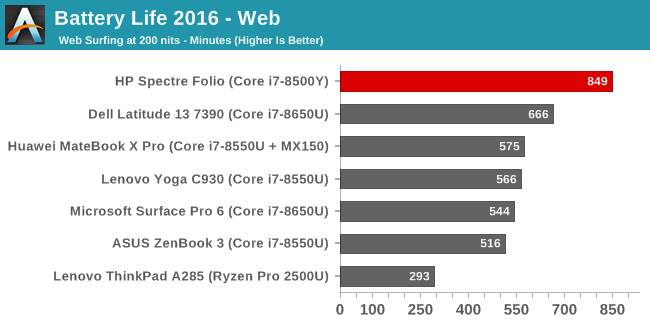 This newer test is much more demanding and generally causes results to drop significantly, but the HP Spectre Folio managed almost exactly the same time as the light test – in fact it was a couple of minutes longer. With this kind of battery life, this is truly an all-day laptop.
Normalized Results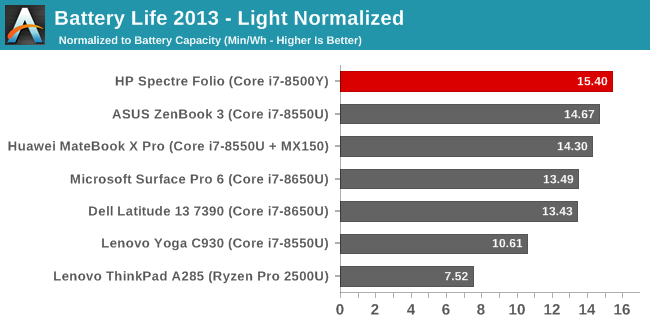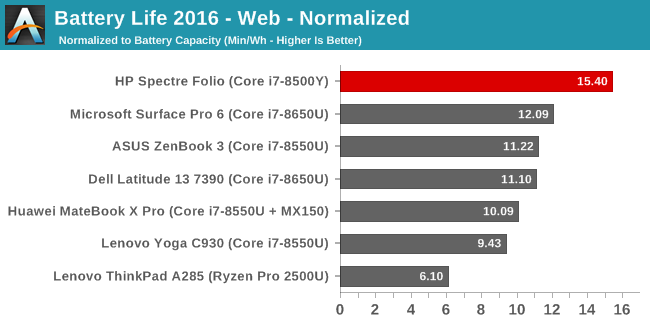 By removing the battery size from the results we can get a feel for how efficient each device is. The results are excellent. HP achieves amazing battery life and they don't have to brute force the situation with a massive battery. On the 2016 Web result this is the most efficient PC we have ever tested. The combination of Y series Core and a low-power display are clearly combined with some attention to detail by HP and Intel when designing this device.
Movie Playback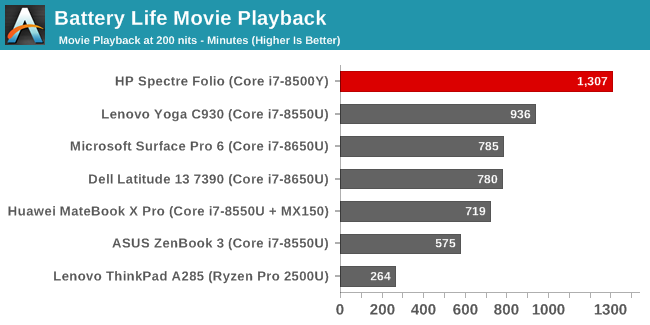 When playing back media, the CPU can go to sleep as the work is offloaded to the media block in the GPU, and the result on most laptops is the highest battery life of any workload. That is definitely the case here. The HP Spectre Folio lasted almost 22 hours on a single charge which is insane.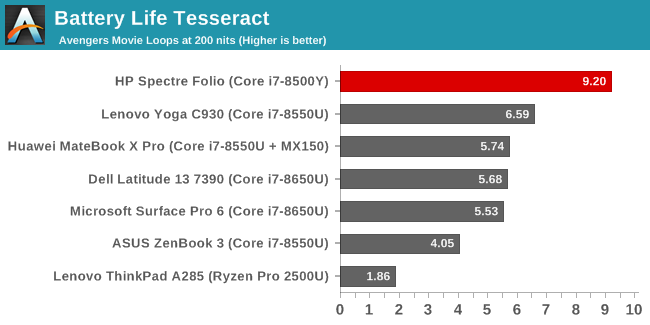 Switching that into our Tesseract score, which is the battery life divided by the runtime of a long movie (The Avengers) and you could play over nine movies in a row before running out of juice.
Digging into platform power
The display is always the biggest power draw of any notebook, and that continues to be the case here even with the new "1W" panel. As mentioned on the display page, testing showed that at maximum brightness the display only drew 1.71 Watts of power, which is quite good.
But what's even more impressive is the overall platform power. At idle, the HP Spectre Folio draws just 750 mW. That is almost half of what a Surface Book 2 draws at idle. HP has clearly done their homework to ensure every component is as power efficient as possible, and it shows in the end result.
Under load, the Y series Amber Lake processor also helps out significantly, as we saw in our 2016 Web Test. Generally we see a significant drop in runtime here compared to the older light test, but the Spectre Folio scored more or less the same. The lower TDP also means a lower peak power draw for PL1 compared to a U series processor, and that is another factor that helps the Folio achieve such great battery life.
Charge Time
HP ships the Spectre Folio with a 65-Watt AC adapter which has a USB Type-C connector, and the cord features a fabric cover and is quite long, which is welcomed since you never know where an outlet is going to be in some rooms.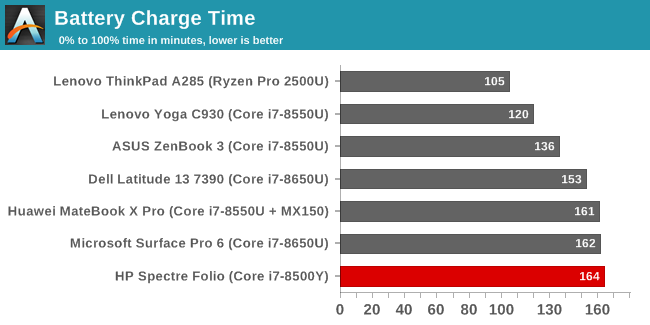 Overall charge time is about on-par with most non-Lenovo laptops, and the HP charged to 50% in 56 minutes.