Display Measurement
The display on the Pixel 3a XL is well specced for its range and price; the fact that Google opted to still employ an OLED panel rather than adopting a cheaper LCD does very well for the value of the new phone and does manage to differentiate itself from a lot of other devices from the competition, although we have seen more widespread adoption of OLED even in this tier.
Both the Pixel 3a and Pixel 3a XL display panels are exclusively made by Samsung and use Samsung DDICs, which is a safe choice given the display issues we've encountered on past LG-sourced Pixel devices.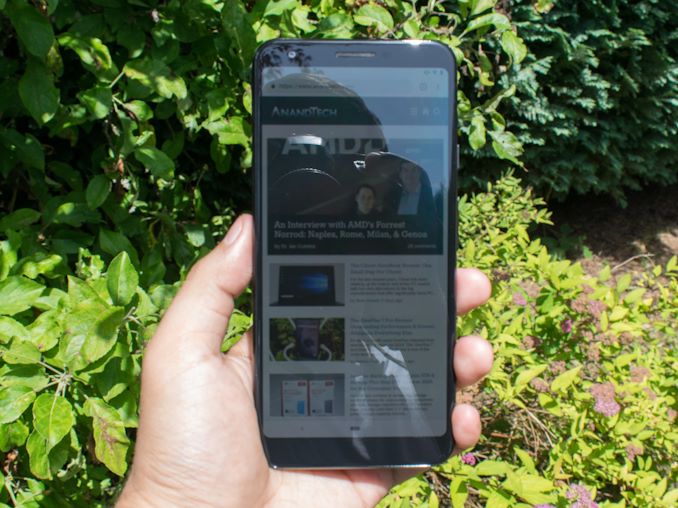 As always, we thank X-Rite and SpecraCal, as our measurements are performed with an X-Rite i1Pro 2 spectrophotometer, with the exception of black levels which are measured with an i1Display Pro colorimeter. Data is collected and examined using SpectraCal's CalMAN software.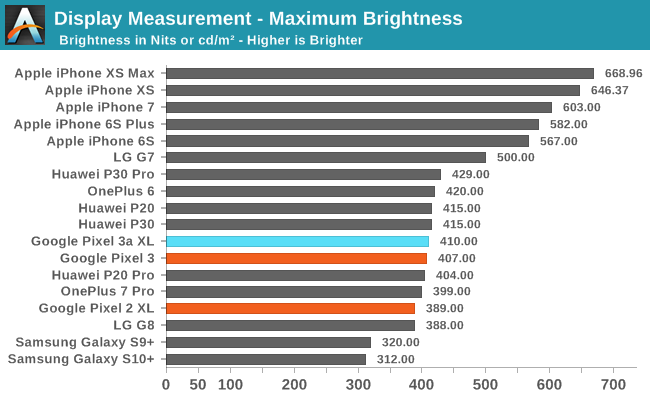 In terms of display brightness, it's relatively on par with the manual maximum brightness levels we've seen from many OLED devices, with the Pixel 3a XL falling in at ~410 nits in the Natural display mode.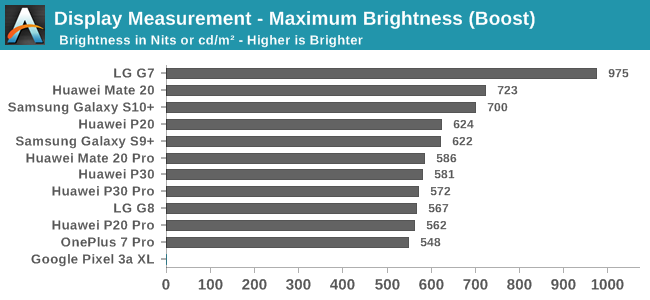 Unfortunately there's no boost mechanism available, and the auto mode doesn't have any high ambient brightness mode.
In terms of display modes, Google continues on with what we've seen in the Pixel 3. We have the "Natural", "Boosted" and "Adaptive" modes. The phone by default comes in the Adaptive mode which is a highly saturated inaccurate mode. It's been hinted to me that the reason Google opts to deliver the phone in this mode is because of pressure such as Samsung also having defaulted to saturated colours; however with this year's phones this is no longer the case as the Korean vendor opted to ship it with accurate colours out-of-the-box, so I hope later this year Google will follow up doing the same in the Pixel 4.
The Natural mode is the phone's most accurate colour profile and is colour managed, with accurate sRGB and Display P3 gamut targets. We'll be remaining in this mode for our testing.
Starting off the greyscale accuracy tests, we see that the Pixel 3a XL does extremely well in the colour temperature department, achieving near perfect whites with an average CCT of 6428. The phone's colour temperature seems to remain steady across brightness levels, although at lower brightness settings it does get a bit warmer towards 6100K. Nevertheless the differences are not perceptible and it's a great result.
Minimum brightness falls in at 2.4nits, which is a little bit brighter than other phone's minima, but it's still adequate enough for evening low-light reading. As mentioned, the maximum falls in at 410nits at full-screen white with no further boosting. I did note that the screen does have APL brightness scaling, and did measure it go around 500 nits when showing lesser picture levels.
I did find some issues with the gamma: Oddly enough at 100 APL the results are near outstanding, and the 3a XL is able to achieve leading results with an almost perfect gamma as well as a greyscale dE2000 of 0.71.
The issue is, when going towards lower APL patterns, this behaviour falls apart and the panel clearly misbehaves in terms of luminosity and we're seeing a gamma of 2.4-2.5.

Greyscale 200nits APL100 SpectraCal CalMAN

Greyscale 200nits APL65 SpectraCal CalMAN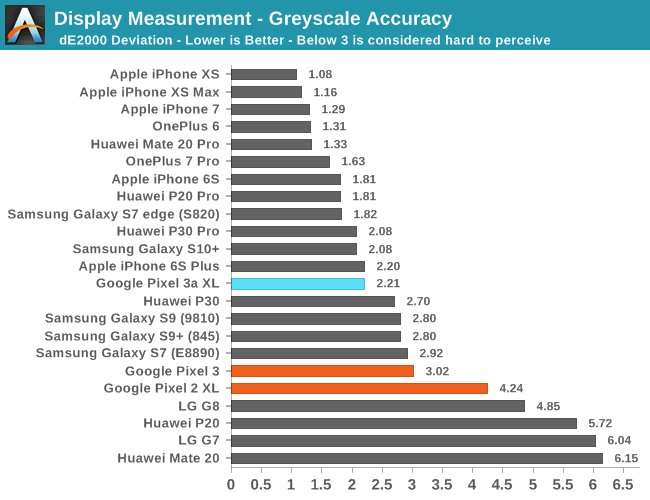 Overall, because of the gamma issue, the phone ends up with a dE2000 of 2.21, which is still quite good. Please do keep in mind the gamma issues here as we'll shortly see more drastic effects in the latter Gretag-MacBeth test.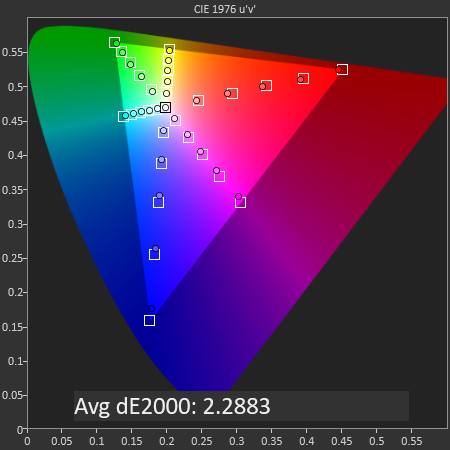 Natural Mode - sRGB - SpectraCal CalMAN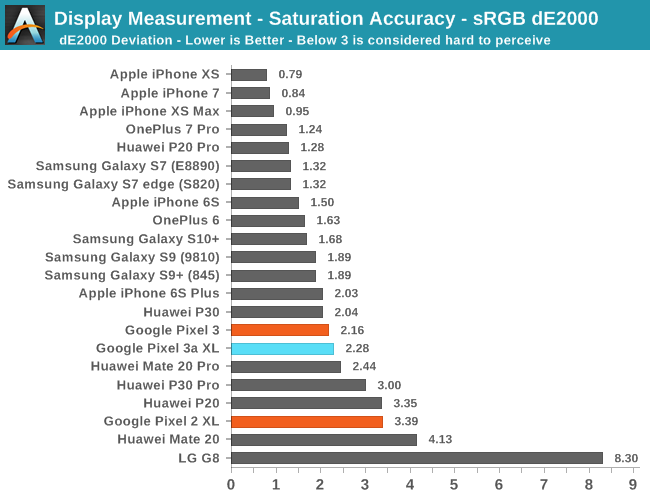 Saturation accuracy for sRGB content is ok with an overall dE2000 of 2.28. The issue here is that the reds and blues are slightly undersaturated at all levels, which does reduce the gamut coverage of the panel.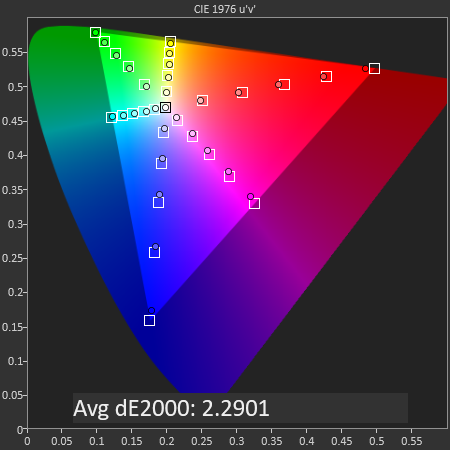 Natural Mode - Display P3 - ​SpectraCal CalMAN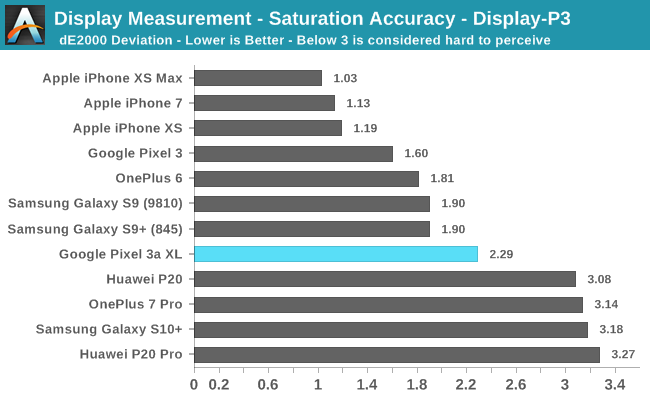 Display P3 content showcases the same issues of being under-saturated in the red and blues, also not quite reaching the maximum gamut of the colour space in this regard. Nevertheless, it's a relatively errors are relatively linear so other than a slight under-saturation you will not see too major errors in terms of chromacity of colours.
In the Gretag Macbeth colour test with commonly found tones we see some of the larger issues of the Pixel 3a XL's calibration: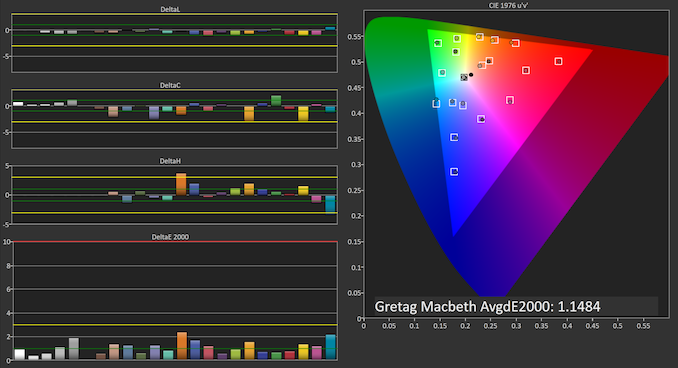 GMB Natural - Sequentual APL100 ​SpectraCal CalMAN
If we're testing the colour patches sequentially at APL100 we are seeing some outstanding results with extremely accurate colours, with only a few tones being off-mark. The dE2000 here would have ended at 1.14 which is top-of-the-line.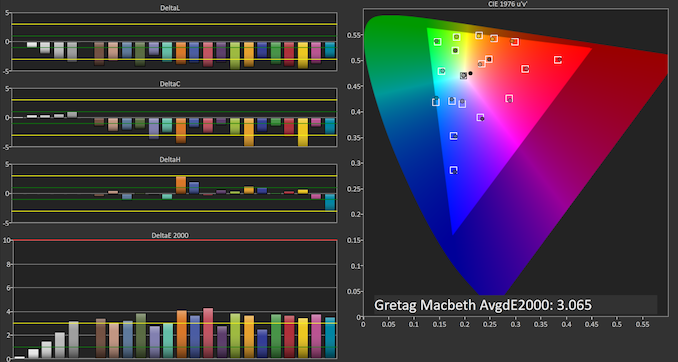 GMB Natural - Sequential APL65 - ​SpectraCal CalMAN
If however we test the pattern on a lower fixed APL (as we usually do), then we're seeing some large errors in terms of luminosity, and we're seeing the effects of the larger than optimal gamma we discovered before. Here the dE2000 of the GMB test falls in at 3.06, slightly above the limit of what should be acceptable.
However I wasn't quite satisfied with my results as I noted that the phone was not actually behaving correctly even with fixed APL patterns. I noticed that luminosity also is highly dependent on the pattern window size, meaning the panel scales not only scales with APL, but also based on the % of pixels which are white. This causes quite a headache as it's not actually possible to sequentially display automated patterns while keeping the luminosity constant.
I went ahead and just transferred our GMB colour patches onto a single static image and measured each square thanks to the small read head of the i1Pro.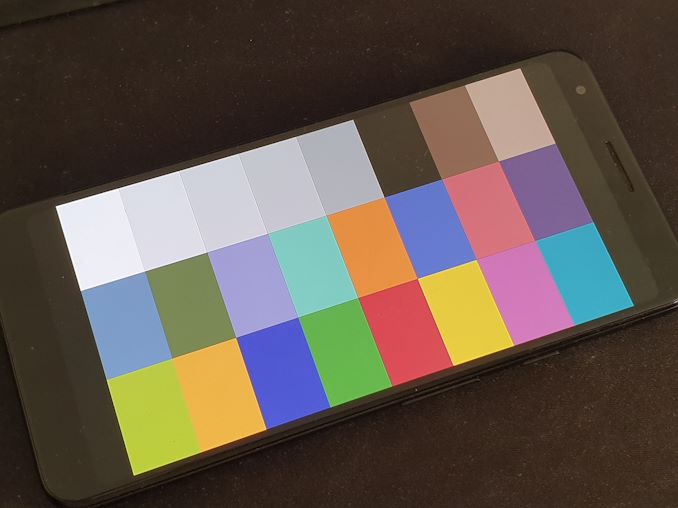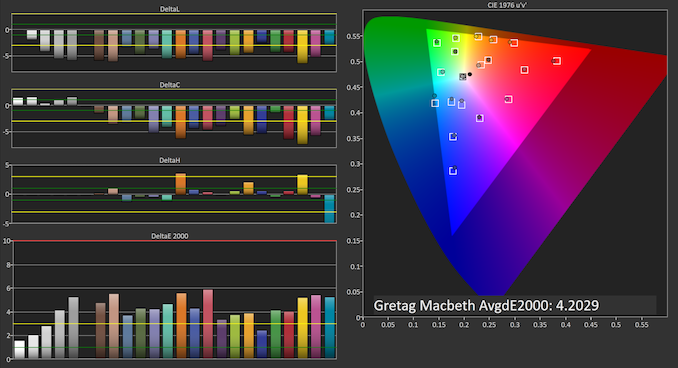 GMB Natural Side-by-Side Patches ​SpectraCal CalMAN
When measuring things in this manner, we actually see that things are actually worse than with the automated fixed APL method.
What's actually happening here seems all too obvious: Google did very evidently calibrate their panels, however they did a massive mistake in their methodology. Either the engineers calibrated the display with full-screen and varying APL patches, which would pretty much explain the near absolute perfect results we're measuring on the 3a XL, or the APL mechanism was enabled after the colour calibration took place. In my view I would point out to the former as the results are too perfect.
Unfortunately this does have a larger impact on the colour accuracy of the screen as we end up with an effective gamma of 2.5-2.6, and as seen in the final comparison picture colours are far too dark in relation to white, resulting in artificially more contrast.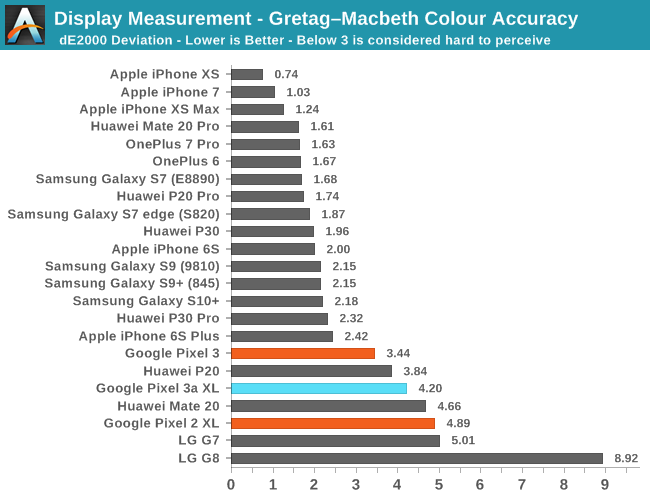 Unfortunately this behaviour was actually also present on the Pixel 3 – however not quite with such a large difference. I do very much apologise to our readers for not catching this mistake last year, and in the future I'll keep a closer eye on such behaviour. I've re-measured the Pixel 3 and it does very much negatively impact the accuracy score.
As for the Pixel 3a XL, this also does have a bad impact as the phone ends up with a dE2000 of 4.20 in the GMB chart.
Overall Display Conclusion: Still Good, Albeit Obvious Miscalibration
Overall the Pixel 3a XL display is still a good display. Having an OLED panel at this price category does remain a large advantage for the phone. Viewing angles and constrast are excellent, and while it doesn't compete with flagships for brightness, it's still very excellent and results in good sun-light legibility. The panel quality is excellent and the Samsung-sourced unit doesn't exhibit any issues previously encountered on LG-sourced panels, and characteristics such as base power consumption are good.
It's a pity for the colour calibration: Google very obviously paid attention to this and attempted to give the phone accurate colours, but they made a huge mistake in their methodology which results in the phone effectively having very inaccurate gamma and colour luminosity in actual content, resulting in darker-than-should-be colours.