GPU Performance
This generation GPU performance uplifts of the new Snapdragon 855 were relatively muted in devices that we've tested until now; Qualcomm had only promised and managed an average improvement of 20% over last year's Snapdragon 845, even though the chip came on a new process node that should have enabled it for larger power and performance improvements.
The OnePlus 7 Pro thus seemingly shouldn't be any different than the S10, G8 or other S855 phones in terms of the peak performance of the phone. Where OnePlus however can differentiate itself is the sustained performance of workloads. The company had made an emphasis on its "10-layer cooling system" which in layman terms consists of a heatpipe system with some new carbon dissipation tape in the internal design of the phone and its motherboard. In particular OnePlus claims no slow-downs in games, while it's not the first company to promise this, let's see if this time around the phone is able to achieve this.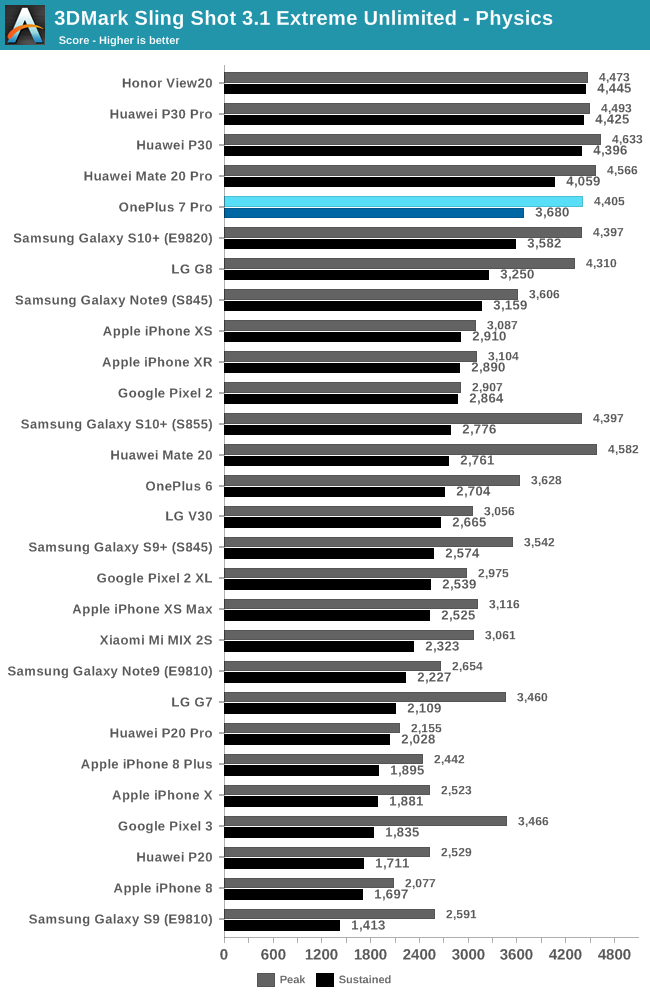 Starting off with the 3DMark Physics test which is mostly a CPU performance workload within a GPU power constrained scenario, we see that the peak performance of the phone is in line with other SoCs of this generation. What does stand out however is that the sustained performance, even though not as good as what we see on Kirin 980 devices, is indeed better than the Galaxy S10+ and the G8.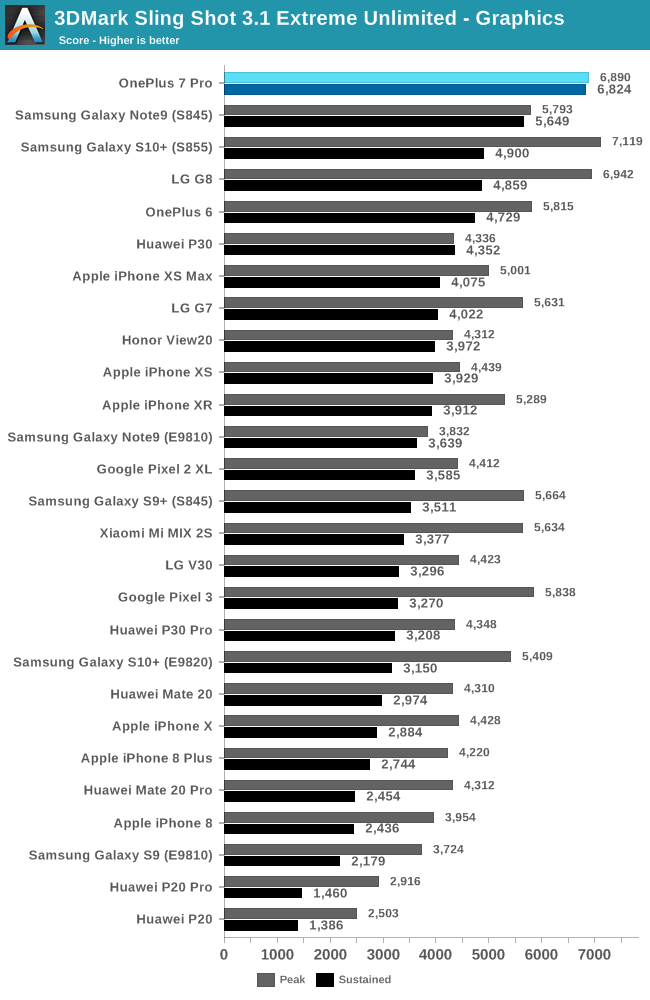 Moving onto actual GPU-constrained scenarios, we're now starting to see what OnePlus was talking about: The OnePlus 7 Pro doesn't seem to throttle much at all even after long prolonged periods of load. In 3DMark the device takes the very top spot in terms of performance. Until now last year's Note9 was still the leader in this regard precisely because it was throttling less than newer Snapdragon 855 phones this year, but now with the OP7Pro also not throttling, it's actually able to consistently showcase the SoC's actual performance improvement.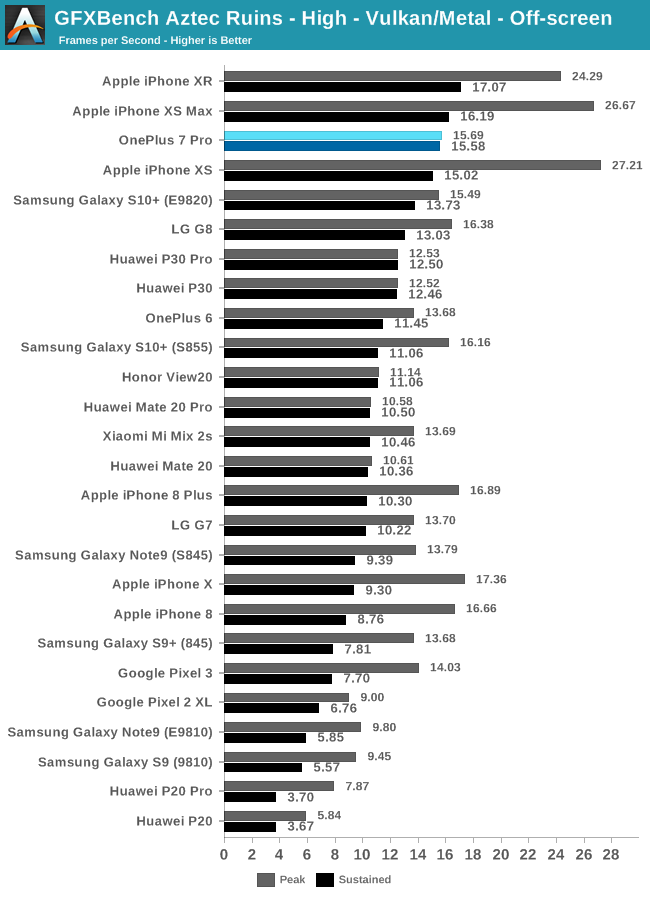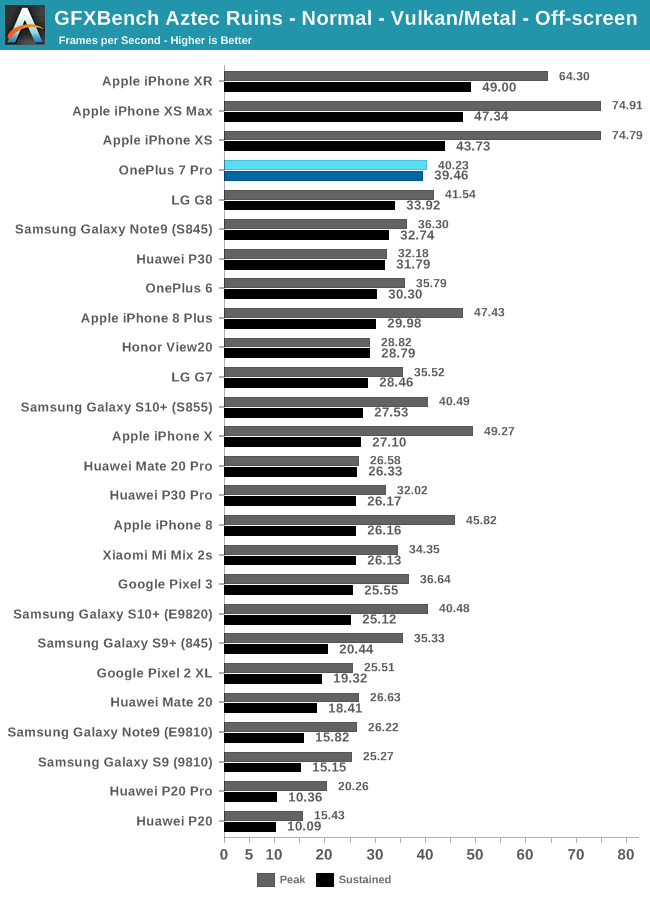 In the GFXBench Aztec benchmarks we see a similar story: There's almost no throttling at all happening, and the device is able to maintain near peak performance seemingly endlessly.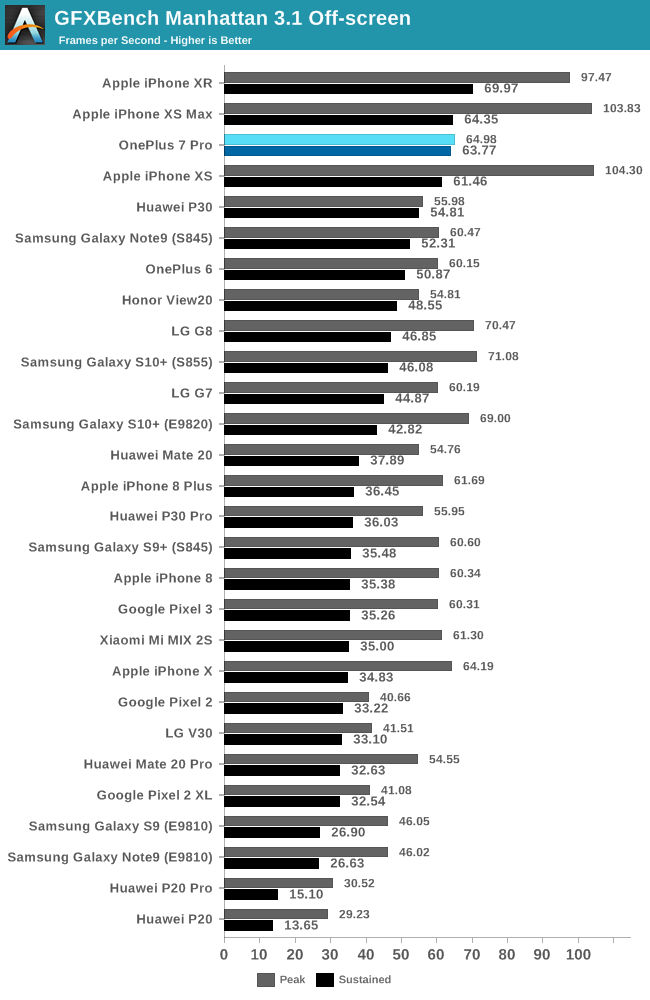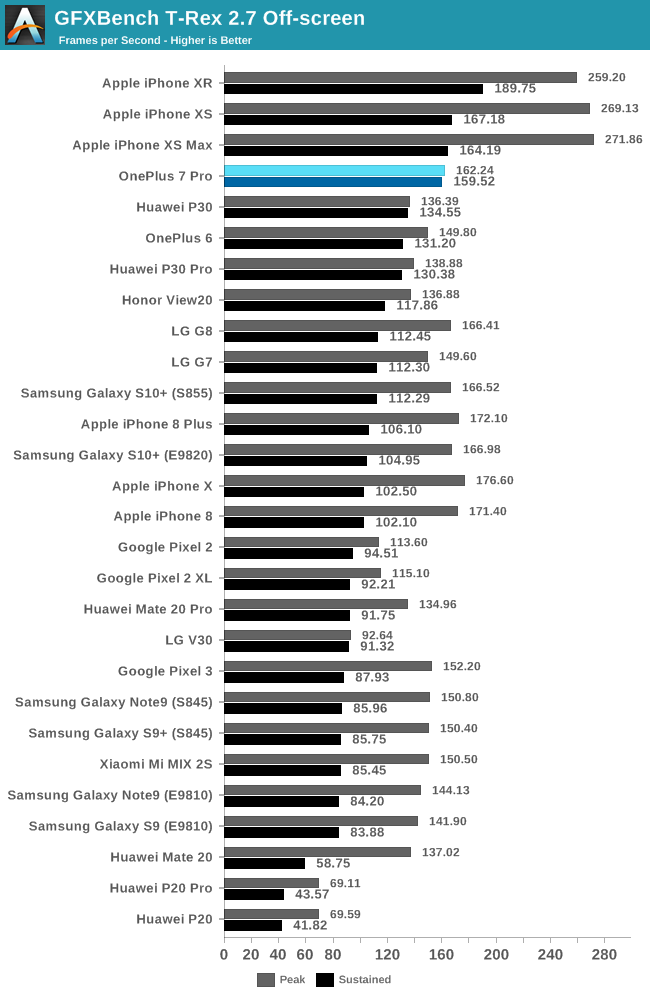 In Manhattan 3.1 and T-Rex we again see excellent sustained performance. It was a bit odd to see that the OP7Pro's peak performance was slightly less than the S10+ and G8's, it's possible OnePlus is running the GPU at a slightly lower clock or has the DRAM running at more lax timings. However this doesn't matter as it takes the performance lead after a short period of gaming.
Outstanding Sustained Performance – At A Cost
Overall, the OnePlus 7 Pro is currently the best performing Android device out there for gaming. OnePlus indeed was able to achieve an excellent thermal dissipation system, and the phone is able to disperse the heat across its chassis in a much more even manner than any other phone.
It's to be noted that this still isn't enough to catch up to Apple's latest iPhone – here we're just hitting fundamental limits of the Snapdragon 855 chipset which isn't able to compete in performance and efficiency to the latest A12 chipset.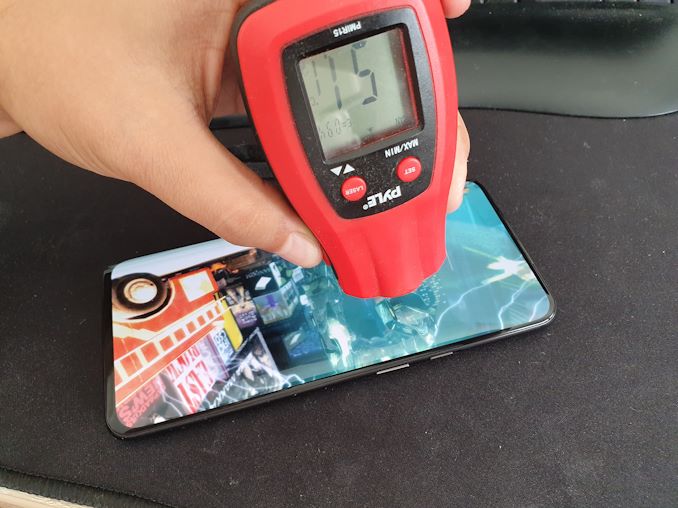 Although the thermal dissipation system of the OnePlus 7 Pro is excellent and better than a lot of other devices in the market right now, it does come at a cost. The company is still extremely lax in terms of maximum device temperatures under load. I was able to measure a peak of 51°C in terms of screen skin temperature, whereas devices such as the S10 will not allow for more than 42-43°C in the same scenario. So while the phone is extremely performant, it's also extremely hot and the battery drain at these performance levels is also quite extreme and will go from 100% to 0% in less than 3 hours.
In the end, such load scenarios won't be encountered by most users in every-day games, although if the game has an unlocked framerate, it will mean a lot more load than other 60Hz devices.