Geil PC3200 Ultra X
Geil produces an extensive line of memory from value-priced dimms to some of the fastest enthusiast memory you can buy. You will find Geil memory for building a value PC, but you will also find Geil competing at the highest end of the memory market. Geil produces both standard and enthusiast DDR, DDR2, and so-dimms. You can get a better idea of the extensive Geil product line at the
Geil website
.
Ultra X is a new line for Geil, basically a high-performance extention to the Ultra series of DDR. The current Ultra line extends from Ultra PC3200 all the way to an Ultra Platinum DDR550. The Ultra X 3200 is the first and only Geil memory to be called Ultra X so far. Ultra X modules are available in individual 256MB and 512MB dimms, as well as in matched pairs as a 512MB kit (2x256) and 1GB kit (2x512).
Test dimms were a pair of Geil PC3200 Ultra X in a 1GB kit (2x512MB modules).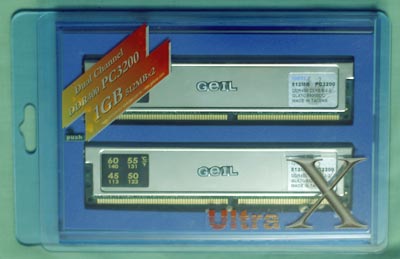 Geil uses a unique Plexiglas slide tray for packaging the Ultra X kits. The packaging says premium in every way.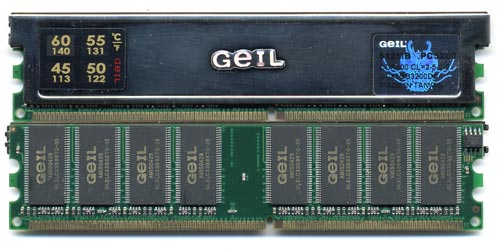 The Ultra X dimms are faced with platinum-colored heat-spreaders that have a copper core for heat dissipation. Geil also uses their trade-mark thermal label that can tell you at a glance the temperature of the dimm.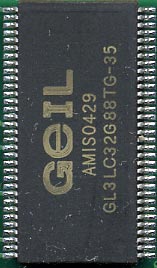 As you saw in our recent 2-2-2 roundup, current DDR400 2-2-2 memory uses Samsung TCCD memory chips, with the exception of the excellent Crucial Ballistix which is based on Micron chips. Removing the heatspreaders did not help in identifying the chips used in the Geil ultra X. As you can see the blanks are labeled as Geil chips with a speed rating of 3.5ns. Geil describes the chips as hand-selected for performance from 5ns chips.
Geil PC3200 Ultra X Specifications
Geil PC3200 Ultra X Memory Specifications
Number of DIMMs & Banks
2 DS
DIMM Size
Total Memory
512 MB
1 GB
Rated Timings
2-2-2 at DDR400
SPD (Auto) Timings
2.5-2-2-5
Rated Voltage
2.55V - 2.95V
Geil uses a voltage range of 2.55v to 2.95v as the specified voltage for Ultra X. This certainly will accommodate any individual variation in dimms, and the range is in agreement with the voltages that actually worked for us in memory testing.