As more experience is gained with the new Intel 775 Socket T, it is clear that the processors and the Socket work just fine. They also offer performance advantages over the Prescott in Socket 478. The other advantage is the future, since the 560 (3.6GHz) and the coming faster processors will only be available in LGA 775.
Many users, however, have a tough time swallowing all that goes with the new 925X/PCI Express/DDR2 architecture, since it requires a new, hard to find video card for PCI Express plus brand new DDR2 memory. Some users would like to move to a new Intel LGA 775 processor, but they can't handle the requirement to upgrade almost everything in their system. That is exactly the user who will welcome the introduction of the Soltek SL-865Pro-775.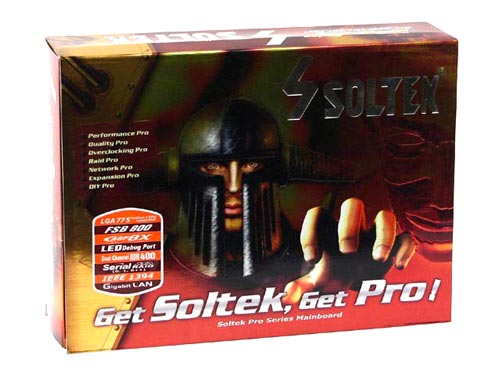 The Soltek 865-775 uses the new 775-pin Prescott socket, but it is driven by last generation's familiar Intel 865PE/ICH5 chipset. This means you can use your existing AGP 8X video card and DDR memory with a new Intel Prescott chip. This reduces the cost of entry to the new Socket T to the cost of the motherboard and CPU, something most users are much more willing to handle.
The question with any hybrid solution like this is how it performs? Are there performance penalties in combining the 865 with Socket 775? How does the Soltek 865Pro-775 compare in performance to a new 915 or 925X motherboard?