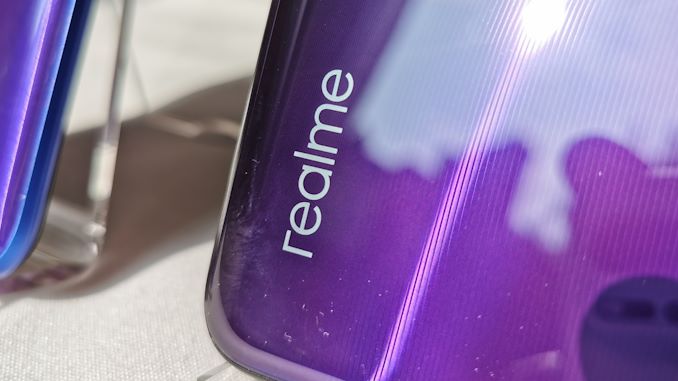 Midrange smartphones are the main market for volume sales. Over the years companies have tried to attack this segment with aggressive specifications followed by exuberant pricing, with a select few having a good deal of success. The latest entrant to this market is Realme, the budget brand of parent Oppo, who is coming out with its new Realme 3 Pro smartphone. This device, in terms of specifications for the price, is amazingly good value.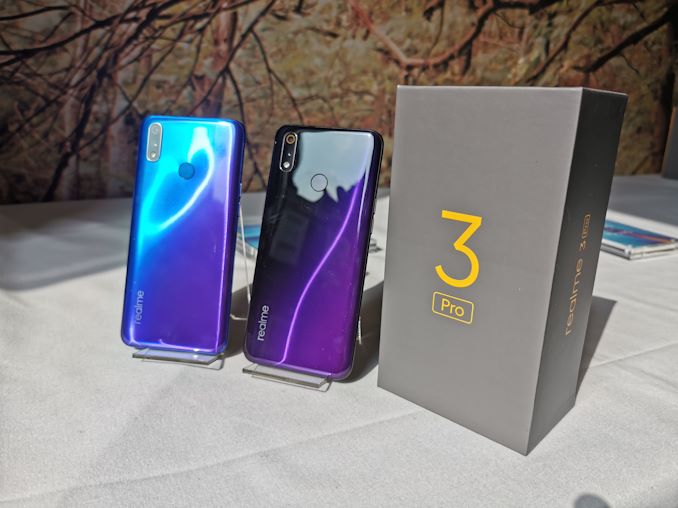 Today's announcement signifies Realme's entrance into its first western market. On the back of parent company Oppo, who launched in the UK at the end of last year, Realme is coming to Europe with a mid-range smartphone designed to inject some new competition into the market for affordable smartphones. The Realme 3 Pro is set to hit the shelves at £175 / €199 for the 4 GB/64 GB model, raising the bar for sub-$200 smartphones.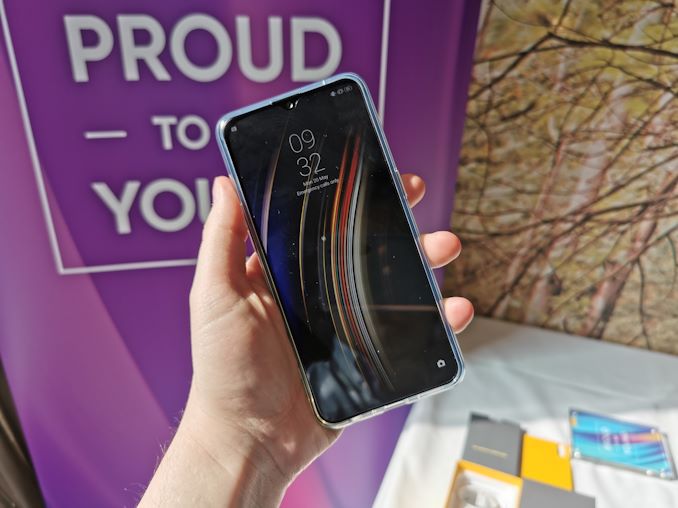 The front display is a 6.3-inch full-screen display, with a dew-drop notch and a 2340x1080 resolution on the LCD panel, which is covered with Corning Gorilla Glass 5. Inside is a surprisingly high-end Qualcomm Snapdragon 710 processor, which offers two Arm Cortex-A75 cores at 2.2 GHz and six Arm Cortex-A55 cores at 1.7 GHz. The combination of CPU and process, paired with the 4045 mAh battery, promises a long battery life for this device.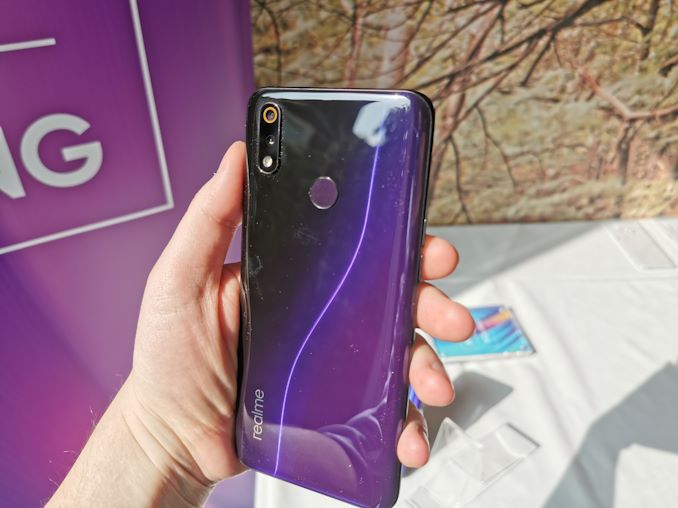 The design of the smartphone, according to Realme, is 'Le Mans' inspired by virtue of the sweeping S engraving on the back. Realme uses a specialised laser cutting process to create 82 lines in the rear of the phone, separated by 0.25-0.55mm, in order to give a color change reflection based on the direction the phone is pointing. Realme was keen to point out that it is one of very few phones that offer a color transition at an oblique angle, rather than just top to bottom or side to side.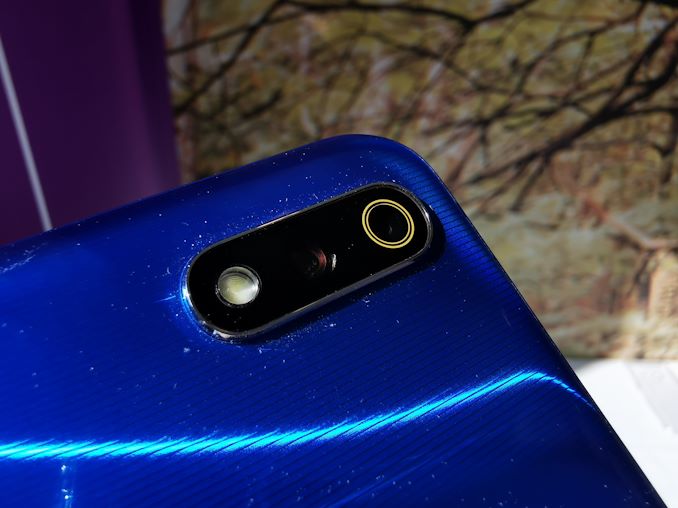 The rear cameras are what makes the smartphone even more interesting. Realme is pairing up a Sony IMX519-driven 16MP camera with a 5MP camera. The IMX519 is an f/1.7 camera with a 1/2.6-inch sensor size, but is DRAM backed to support 960 FPS video recording at 720p. This extends to 1080p120 as well, with additional 'AI' scene detection on top due to the Hexagon DSP inside the SoC. The rear camera also features a nightscape mode, similar to other night sight modes on other smartphones, but brings it down to the £175 price point. Realme says this is based on a RAW format images taken and merged inside the camera. The camera only has EIS however – skipping OIS – perhaps indicating its price point. Realme also emphasised that it has a 64MP mode, which is again another multi-frame image shot method.

The front camera/selfie camera is a 25MP f/2.0 device. Realme advertises the sensor as using relatively large 1.8 micron pixels, however that is only true in its 4-to-1 mode that combines pixels for a lower resolution but higher quality image. This camera also supports face unlock, and in order to fit the speaker in the phone above the camera, we can see a small grille above the notch.
Back to the 4045 mAh battery, the Realme 3 Pro supports VOOC Flash Charge 3.0, which the company states is good for 50% battery charging in 30 minutes. This is the same technology that Oppo has on some of its phones, because Oppo is the parent company. The battery actually charges at 5V/4A, and Realme states that the Pro 3 is rated for 7 hours of PUBG gaming, 9.7 hours of 1080p video, and 126 hours of music.

Elsewhere on the phone, we get dual nano-SIM with microSD support, with the phone also supporting dual 4G. The device only supports a few bands: 1/3/5/8 on FDD and 38/40/31 on TDD. The built in Wi-Fi is dual-band 802.11ac, and it has a 3.5mm headphone jack. However an egregious feature is the micro-USB port on the bottom, rather than using Type-C. The argument here is similar to what we've seen with other companies: sub-$200 devices have micro-USB because that market is cost sensitive. To be honest, I'm not buying that answer for much longer.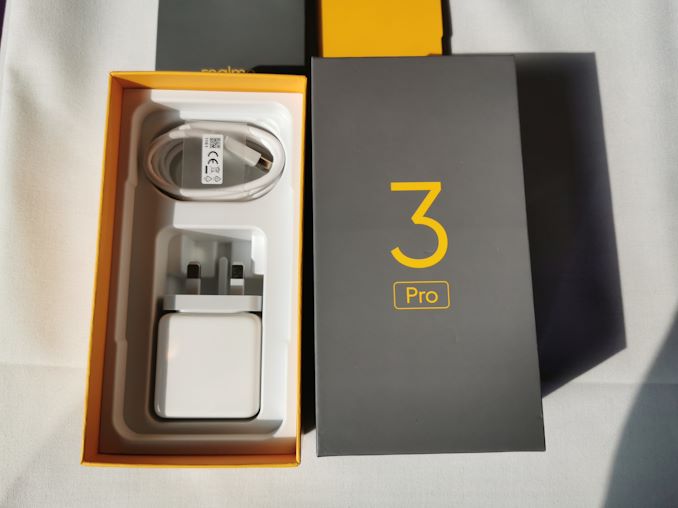 Inside the box is a fast charger and cable, along with a plastic case. Don't use the plastic case.

Realme uses ColorOS 6.0, which is based on Android 9.0 Pie, and similar to the OS we saw on the Oppo Reno 10x Zoom last week. Realme intends to offer two configurations in the UK market, with 4 GB + 64 GB (£175/€199) or 6 GB + 128 GB (£219/€249), in Lightning Purple or Nitro Blue.
Sales of the realme 3 Pro will begin on June 5th, noon CET, from the Realme website.
Personal Thoughts
The pricing is very aggressive. I can see the 2+6 core Snapdragon SoC, which is built on Samsung's 10LPP process, as being very light on battery consumption. And with that paired with a 4000+ mAh battery, it should provide substantial battery life. Add in some fast charging and this could easily be a multi-day phone with minimal charging needed. The camera configuration is easily beyond what we would expect in a device at this price, especially with the inclusion of a basic night mode – although the tradeoff is that it only has EIS.
Meanwhile the screen is large and bright, and a basic test of the stereo speaker arrangement seems more than reasonable. The style of the smartphone, in both the Purple or Blue, definitely does stand out, although I wouldn't suggest putting the plastic case that comes with it on the device – it removes any sense of that uniqueness. Having dual-SIM support is a must for devices this day and age (at least, for me), so seeing that feature come down to $199 is great.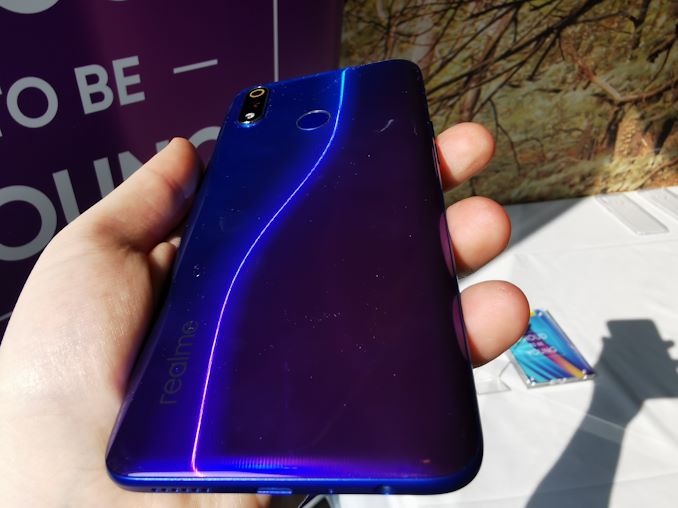 I continue to be amazed at how high the bar is for a $200 smartphone. I was recently wowed by the Honor 8X, which is £239, and the realme 3 Pro is £50 less with a more efficient SoC, a better front camera, better video recording, and a low light mode. This end of the market is amazing.
Smartphones ~£200
Motorola Moto G7 Power
Xiaomi Mi A2 Lite
realme 3 Pro
Honor 8X
SoC
Name
Snapdragon 632
Snapdragon 625
Snapdragon 710
Kirin 710
CPU
4x Kryo 250 Au
4x Kryo 250 Ag
8xA53
2x A75
6x A55
4x A73
4x A53
GPU
Adron 506
Adreno 506
Adreno 616
Mali-G51MP4
Display
6.2-inch
1570 x 570
19.5:9
IPS LCD
5.84-inch
2280x1080
19:9
IPS LCD
6.3-inch 2340x1080
19.5:9
IPS LCD
6.5-inch
2340x1080
19.5:9
IPS LCD
Size (mm)
159.4 x 76.0 x 9.3
149.3 x 71.7 x 8.8
156.8 x 74.2 x 8.3
160.4 x 76.6 x 7.8
Mass
193g
178g
172g
175g
RAM + NAND
3GB + 32GB
4GB + 64GB
3GB + 32GB
4GB + 64GB
4GB+64GB
6GB+64GB
6GB+128GB
4GB+64GB
4GB+128GB
6GB+128GB
MicroSD
Yes
Yes
Yes
Yes
Battery
5000mAh
4000mAh
4045mAh
3750 mAh
Front Camera
8MP f/2.2
5MP f/2.2
25MP f/2.0
4-in-1 mode
16MP f/2.0
4MP mode
Rear Camera
12MP f/2.0
12MP f/2.2
5MP f/2.2
16MP f/1.7
5MP f/2.4
20MP RGB f/1.8
2MP Depth
SIM Size
2x NanoSIM
+microSD
2x NanoSIM
+microSD
2x NanoSIM
+microSD
2x NanoSIM
+ microSD
Wi-Fi
802.11ac
80211.ac
802.11ac
L21/L42: 802.11ac
Bluetooth
BT 4.2 LE
BT 4.2 LE
BT 5.0
BT 4.2 LE
Connectivity
USB 2.0 Type-C
3.5mm headset
microUSB 2.0
3.5mm headset
microUSB 2.0
3.5mm headset
microUSB 2.0
3.5mm headset
Fingerprint
Rear
Rear
Rear
Rear
Launch OS
Android 9.0
Android 9.0
ColorOS 6
(Android 9)
Android 9
Launch Price
€210
€180
4/64: £175
6/128: £219
GBP £239
Our 'Hands-On' pieces indicate a short time with the device, rather than an in-depth review.
Related Reading