eVGA's GeForce FX 5700 Personal Cinema - The Card
The GeForce FX 5700 Personal Cinema from eVGA looks a lot like their 5600 and 5200 Personal Cinema models, though there are a few technical changes. For one, unlike the 5200 Personal Cinemas, this card uses a DVI video output, which should be a relief to some, since only the rarer 5600 Personal Cinemas used them. However, because of the higher power requirements of this GPU, NVIDIA places a power connector onboard. While gaming cards take a performance hit if their power connector isn't hooked up, we noticed that this card acted a bit weird in terms of a multimedia performance, aside from the lower frame rates. Either way, we recommend keeping it connected, since it is the way it was intended to be used.
Like previous GeForce FX Personal Cinema cards, it seems that eVGA's newer Personal Cinema uses the same TV tuner chip:
Microtune's MT2050 single chip TV tuner
, which is concealed under some metal shielding. And as we said before, the vast majority of TV tuners are analog based, meaning they use analog components such as resistors, inductors and capacitors to create band-pass filters that allow certain frequencies to pass through; thus, "tuning" to those channels. Therefore, these cards have a digital TV tuner (this doesn't mean it can receive HDTV channels; it just means that it uses digital circuitry instead of analog), which in theory, can offer better quality as a result of decreased interference and faster tuning. The quality argument is generally one that isn't noticeable because of the poor quality of analog broadcast/cable TV signals. However, on extremely high quality cable TV feeds, you may notice a quality improvement courtesy of the silicon based tuner.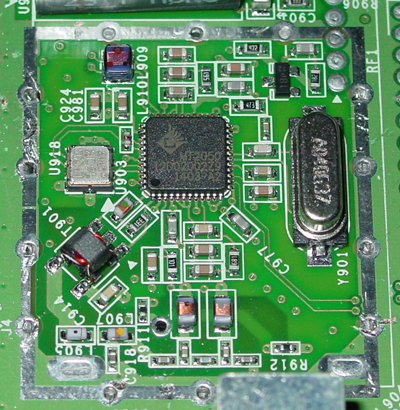 The reference design for the GeForce FX 5200 and 5600 Personal Cinemas incorporated board space for a HDTV video encoder, but it was up to the video card manufacturer to actually use it. Basically, all GeForce FX 5200 and 5600 Personal Cinemas that we know of didn't come with HDTV output support (minus eVGA's later model of GeForce FX 5600 Personal Cinema). This seems due to the fact that they were considered low-end cards and manufacturers wanted to make the price as low as possible. The eVGA GeForce FX 5700 Personal Cinema does come with HDTV support, though not by NVIDIA or eVGA. Rather, NVIDIA's reference design incorporates
Conexant's CX25875 HDTV video encoder
. By outsourcing, NVIDIA benefits from experience of Conexant, but at the same time, is limited by what they can do. The chip itself can handle overscan rations from 0% to 25%, which provides large range that NVIDIA can work with.
Since the eVGA GeForce FX 5700 Personal Cinema supports FM tuning and uses the same TV tuner as past cards, it looks like the 5700 Personal Cinema uses
Philips' TDA9887TS IC demodulator chip
for TV and radio processing. We took a look at previous GeForce FX 5200 and 5600 Personal Cinema cards in our labs and realized that they used either
Philips' TDA9885TS
or
Philips' TDA9886TS
demodulator chips. The strange thing with this is that the both of these TV demodulators also support radio processing. While it sounds like it means that these older Personal Cinema cards, in theory, could have implemented a radio connector, since they certainly seem to have board space, this isn't so. The 5TS could process FM audio, but could demodulate the radio signals, and the 6TS could process AM and FM audio, but couldn't demodulate their signals. The newer 7TS also has AM and FM audio processing, but it can only demodulate FM signals; thus, only the FM band support for this card.