Memory
Recommendation: 1 X 256MB Crucial PC3200 (DDR400)
Price: $47 shipped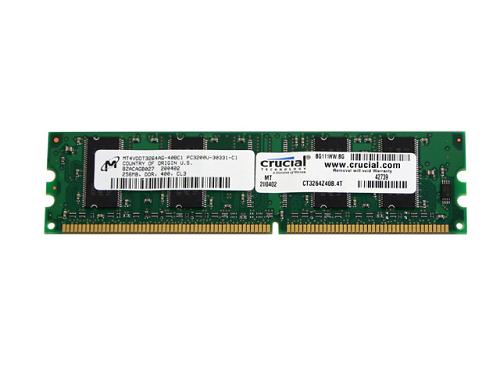 Choosing the right type of memory for an entry level system usually isn't too difficult nowadays. PC2100 speeds and CAS 2.5 latencies are common measurements of performance for memory modules, and are virtually the only two important performance-related factors when deciding to purchase memory, besides the actual size of your memory module, of course. But if you can't spend a lot of money, performance should be the last thing on your mind when choosing memory on a budget. Price and reliability, in that order, should be your only real considerations. Anyway, we've come back to recommending Crucial modules for entry level systems. Because their price and performance are so nearly identical to Kingston ValueRAM modules, we decided between the two based on warranty and customer support. In that scenario, Crucial wins out quite easily. Buying direct from Crucial is very easy; you will rarely encounter problems in processing an order. Tech/Customer service reps are knowledgeable, patient, and very quick to answer your questions, which is especially impressive considering that they answer many of the same questions everyday. It also helps that the (native) language spoken by Crucial support is
English
and that they are generally wary of North American culture (which, believe it or not, can be very helpful in expediting shipping).
Alternative: 1 X 256MB OCZ PC3200 EL (Enhanced Latency) CAS2.0 module
Price: $64 shipped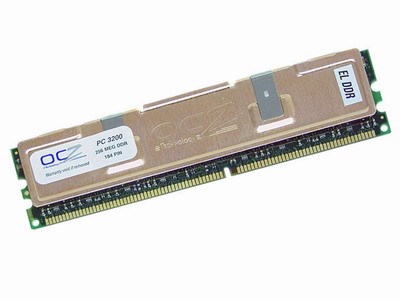 OCZ's DDR module prices have stayed virtually the same, more or less, over the last month. We've talked about OCZ's troubled past and history in detail before, but thankfully, those issues have been resolved and OCZ has been able to bring great memory to market for over a year now. With that said, OCZ has had tremendous success with their EL series of modules for a reason: a great price/performance ratio. At only $17 more than Crucial, which we recommended today, you get lower CAS timings (CAS 2-2-3 1T) with OCZ EL modules instead of high CAS timings (CAS 3-3-3 4T) with the Crucial modules (which helps reduce load times actually, similar to how RAID 0 can reduce load times). Lower CAS timings along with the EL series' overclocking capability translates into better performance for a great price.
With that all said, be sure to check out Kingston's line of PC3200 modules as well. Their ValueRAM line should be given a close look.
Video
Recommendation: 64MB ATI Radeon 9200SE
Price: $40 shipped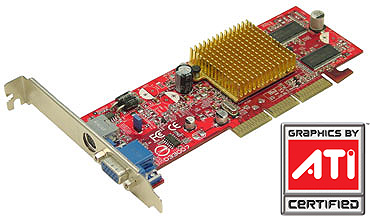 Just like last month, our recommendation this week is the Radeon 9200SE.. Though this time, it's the version direct from ATI instead of Sapphire. While the 64-bit memory interface of the 9200SE (SE indicates the halved memory interface) cripples gaming performance considerably compared to 128-bit video cards, it's still an acceptable card for the light to occasional gamer, and of course, more than necessary for non-gamers. 2D IQ quality will live up to business users' needs as well as the regular Joe Shmoe's needs; that is, crisp text and excellent clarity in general. Text quality is an absolute necessity for an entry level system, as you will likely be reading emails, working in programs like Excel and Word, and reading online material on a regular basis. At $40, it's hard to find a better video card with the said feature set.
Something we mentioned in our previous Entry Level Buyer's Guide that bares repeating here is the generally accepted area of concern surrounding the reliability of ATI drivers. While driver stability was a major issue in the days of the Radeon 8500 and certainly before then, ATI's current Catalyst brand of drivers are delivering excellent stability for each and every segment of computer users (entry level, mid-range, high end, etc.). We've been able to verify this fact through countless hours of testing by many different AnandTech editors for years now. Any issues that you may be hearing about ATI cards are probably relatively minor and shouldn't be thought of as necessarily negative when compared to video cards from the likes of NVIDIA. Bottom line - don't be at all afraid to delve into Radeon territory.
Alternative: 64MB Sapphire Radeon 9200
Price: $54 shipped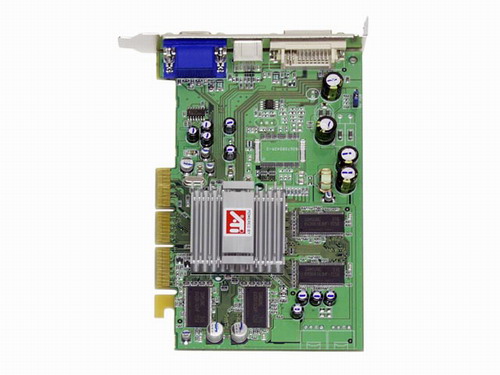 The Radeon 9200 is the AGP8X version of the Radeon 9000. This is the non-crippled, 128-bit memory interface version of the 9200SE. Vendors may or may not make this information about memory interface differences clear when advertising their 9200 video cards, so be sure to check. Gaming performance is considerably better with this Radeon 9200 than the Radeon 9200SE, and 2D IQ is identical, if not better in some cases, depending on whether or not you choose to pick a higher quality version of ATI's Radeon 9200 (from Gigabyte, for example). If you're at all interested in some semi-serious gaming, you should definitely be considering this card for your entry level system instead of the 9200SE. As far as the onboard video memory size is concerned, 64MB should be more than enough for the majority of video games out there, and certainly enough for entry level users. There are 128MB versions of this card available, but it's completely unnecessary to upgrade to them when looking at the higher price differential.
If you're interested in gaming performance at 1024x768 resolutions and up, we highly suggest something more powerful than Radeon 9200, like a Radeon 9600 Pro or GeForce FX 5600 Ultra. Either card will be able to perform significantly more smoothly at those higher than 800x600 resolutions. Slightly better mid-range cards, like the 9600XT and 5700 Ultra, are also good, but more money than you might want to spend for the corresponding increase over the 9600 Pro and 5600 Ultra.
Listed below is part of our RealTime pricing engine, which lists the lowest prices available on ATI video cards from many different reputable vendors:
If you cannot find the lowest prices on the products that we've recommended on this page, it's because we don't list some of them in our RealTime pricing engine. Until we do, we suggest that you do an independent search online at the various vendors' web sites. Just pick and choose where you want to buy your products by looking for a vendor located under the "Vendor" heading.