Synthetic Benchmarks
Our Nocona server was setup in a remote location with little access, so we had limited time to run as many real world benchmarks as we are typically accustomed to. Fortunately, there are multitudes of synthetic benchmarks that we can use to deduce information quickly and constructively.
Sieve of Atkin (primegen)
Primegen is an older, but still useful library for generating prime numbers in order using the Sieve of Atkin. We compiled the Bernstein implementation by simply running "make". We ran the program as so:
# time ./primes 1 100000000000 > /dev/null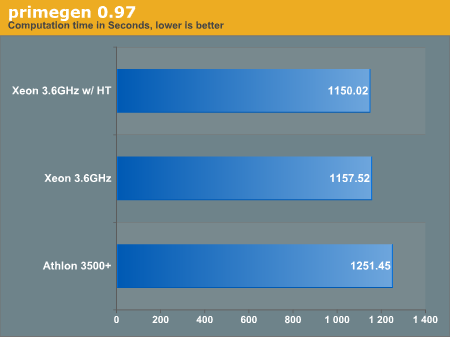 We found the benchmark to be extremely reliable and we replicated our figures continually with less than 1% difference.
Super Pi
We ran the Linux compilation of Super Pi 2.0, which is a closed source application. We are not aware of which optimizations are compiled with the program and we are prohibited from redistributing the binaries. Please download the latest binaries from
ftp://pi.super-computing.org/Linux
. We ran the command:
# ./super_pi 20
Below is the program's output of calculation time in number of seconds.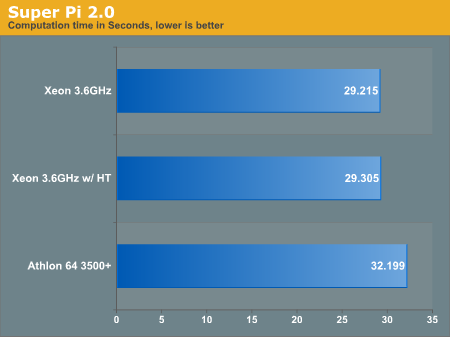 After re-running the program several times, our benchmarks never deviated outside of 1%. In a mathematical operation-only situation, the Intel processor has outpaced the AMD offering twice now.