Power, Temperature, and Noise
As always, we'll take a look at power, temperature, and noise of the GTX 1650, though the 'mini' design shouldn't hold any surprises.
GeForce Video Card Average Clockspeeds
Game
GTX 1650
ZOTAC
GTX 1650 OC Gaming
Boost Clock
1665MHz
1695MHz
Battlefield 1
1855MHz
1880MHz
Far Cry 5
1847MHz
1886MHz
Ashes: Escalation
1826MHz
1829MHz
Wolfenstein II
1860MHz
1905MHz
Final Fantasy XV
1867MHz
1837MHz
GTA V
1886MHz
1905MHz
Shadow of War
1857MHz
1863MHz
F1 2018
1855MHz
1875MHz
Total War: Warhammer II
1865MHz
1902MHz
FurMark
1629MHz
1672MHz
Power Consumption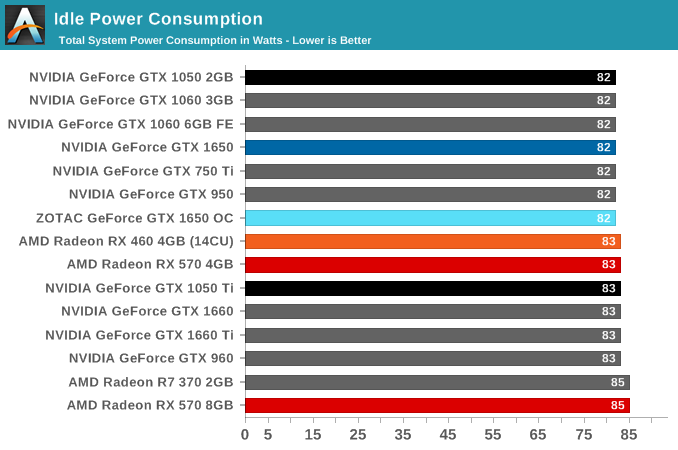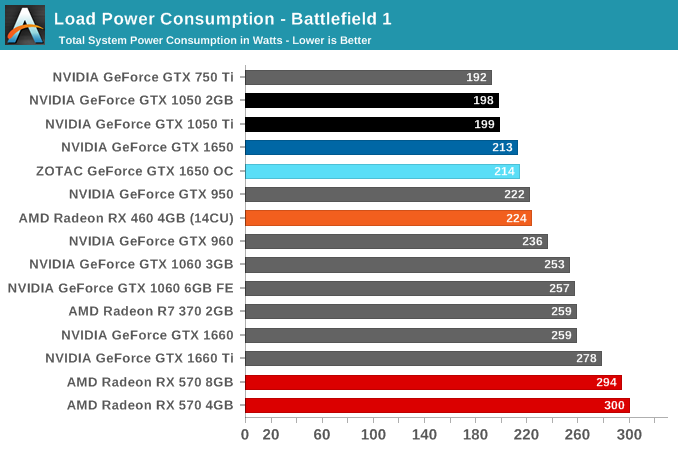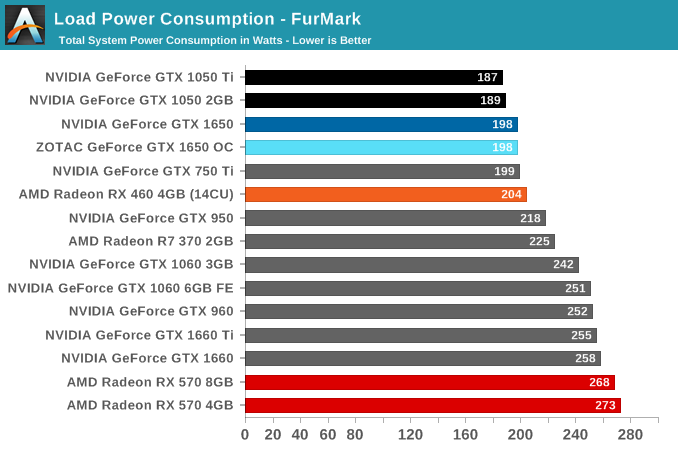 As for idle power consumption, the GTX 1650 falls in line with everything else, with total system power consumption reaching 83W. With contemporary desktop cards, idle power has reached the point where nothing short of low-level testing can expose what these cards are drawing.
Meanwhile at full load, the power consumption disparity between the RX 570 and GTX 1650 is one of the key factors in a direct comparison. Better – but not always – performance can be had for an additional ~75W at the wall, which maps well to the 150W TBP of the RX 570 over the 75W slot-power-only GTX 1650. Though the greater cooling requirements for a higher power card does means forgoing the small form factor.
Temperature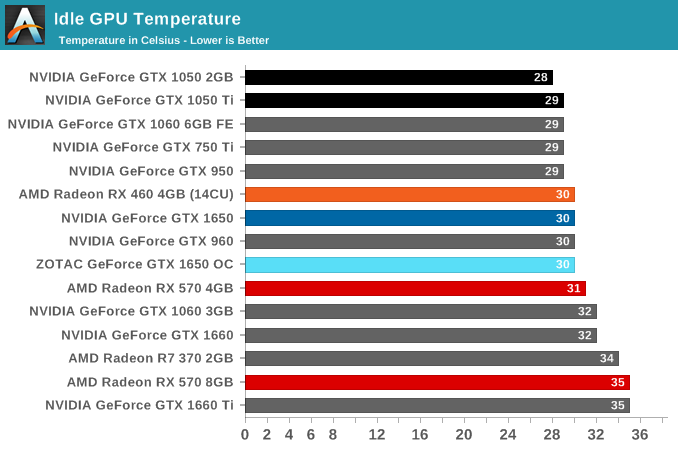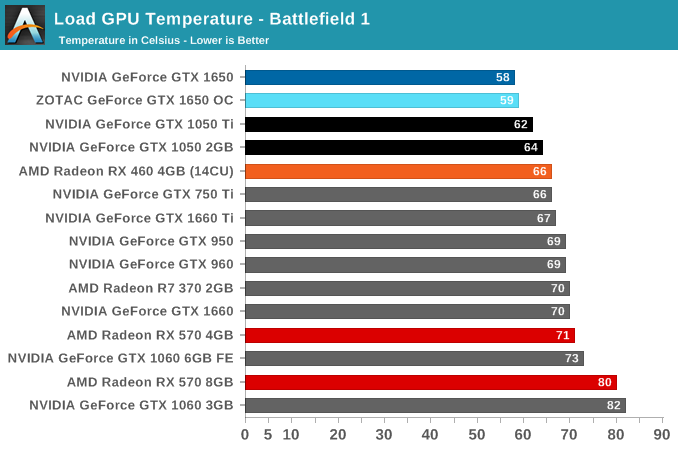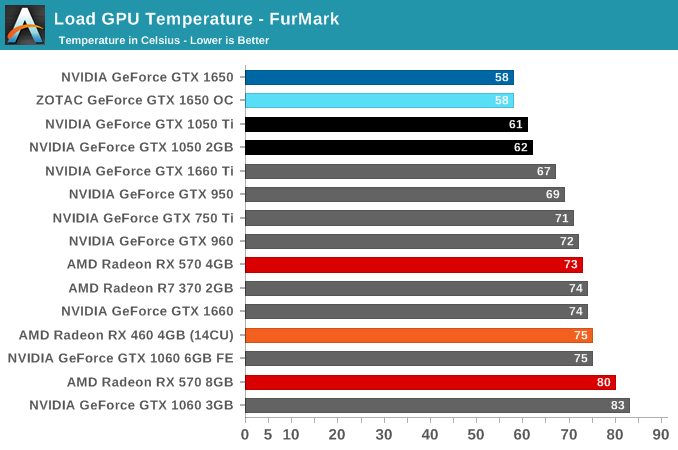 Temperatures all appear fairly normal, as the GTX 1650 stays very cool under load.
Noise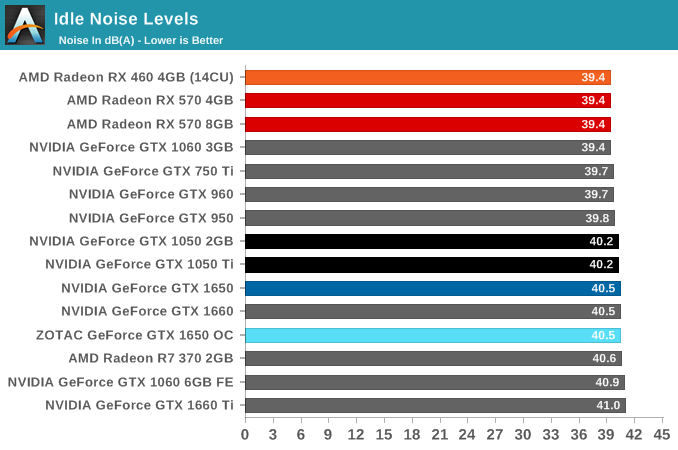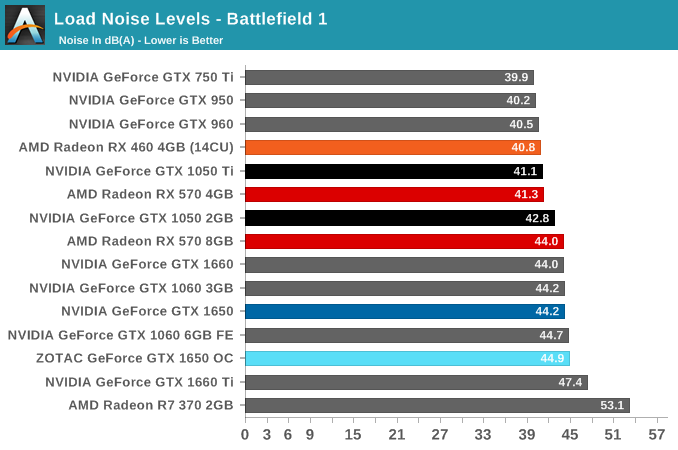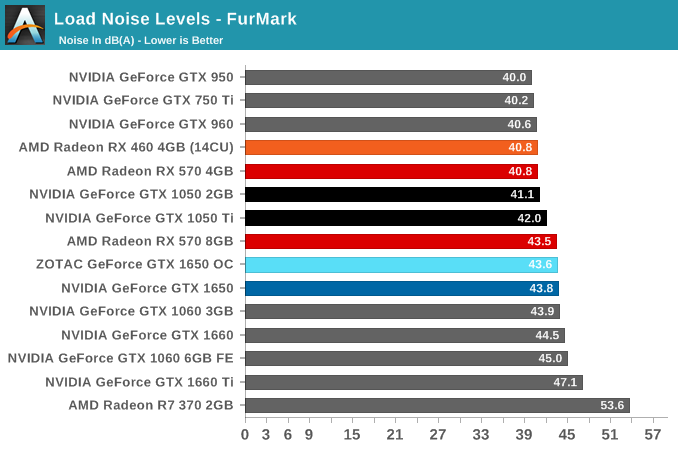 While the GTX 1650 may have good power and temperature characteristics, the noise is not as clean, if only because entry-level cards don't come with 0db fan idling technology, and SFF cards often have to deal with small shrill fans at relatively high RPM. The GTX 1650's fan isn't the worst, but it's not a standout best either. If anything, it looks to be the result of preferring cooling over acoustics, given the very low load temperatures.