System Performance
Acer offers just a single processor across the Predator Triton 500 lineup. Intel's Core i7-8750H is a six-core processor with a 2.2 GHz base, and 4.1 GHz boost frequency. This is a Coffee Lake processor, and is the lowest tier of the hex-core i7 models available. But with six cores and twelve threads, it still offers a significant amount of performance in a 45-Watt envelope.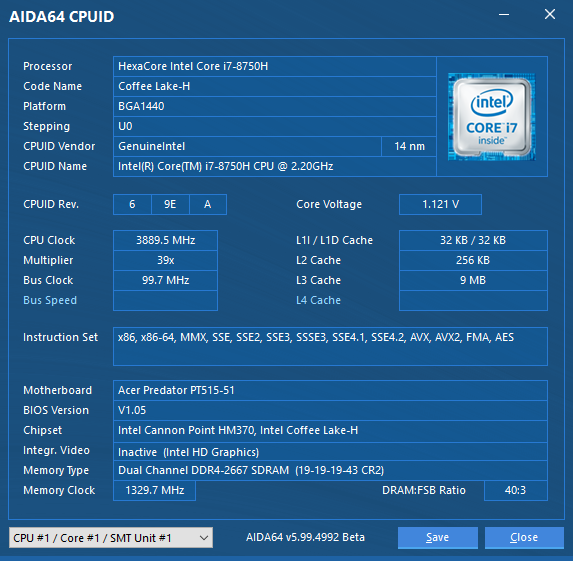 The base tier of this laptop ships with 16 GB of DDR4, and the review unit comes with the full 32 GB allotment. There's two SODIMM slots if RAM upgrades are something you are into. For storage, Acer offers either 512 GB of NVMe SSD storage, or two 512 GB NVMe drives in RAID 0. I'm personally not a big fan of the RAID 0 thing, since a single larger drive would likely offer better real-world performance at less cost, but it tends to be a thing in gaming laptops unfortunately.
To test system performance, the Acer Predator Triton 500 was run through our laptop workloads. Graph comparisons are against other GTX 1070 and GTX 1080 laptops we've seen over the last couple of years, but if you'd like to compare the Triton 500 to any other laptop we've reviewed, please check out our online bench database.
PCMark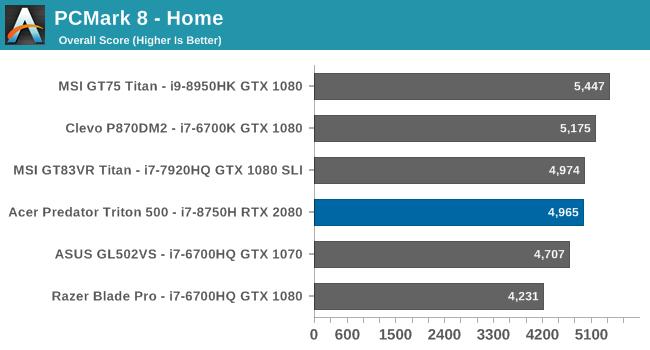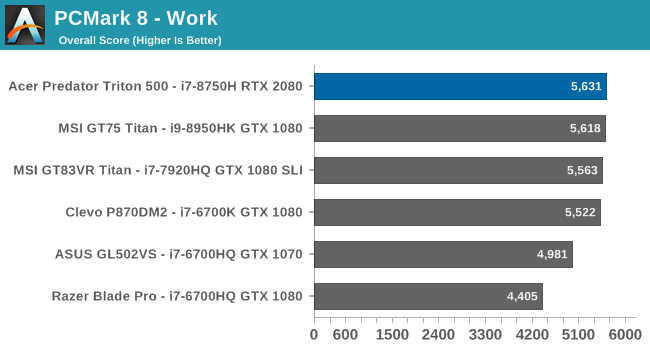 UL's PCMark is a comprehensive system test, offering multiple workloads to stress various components. Since we've not had a lot of gaming laptops to test since PCMark 10 was released, PCMark 8 is also included in these results. PCMark 8 Creative wasn't included due to an error on one of the tests. The hex-core CPU doesn't do a lot for PCMark, which focuses more on office tasks and the like, but the Predator Triton 500 still performs well.
Cinebench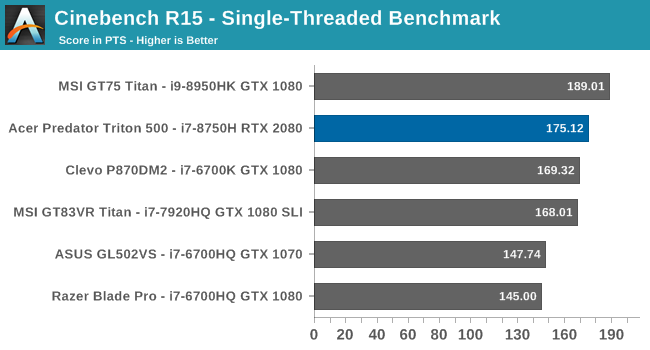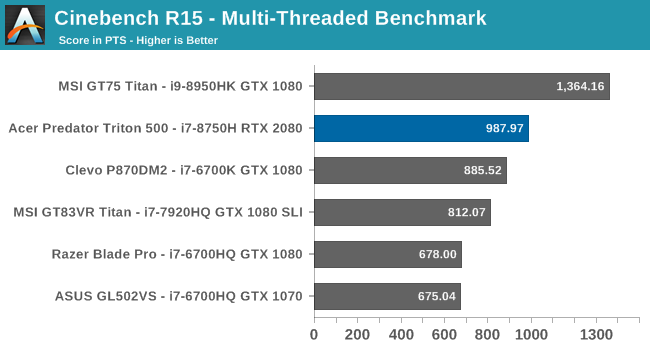 Recently Cinebench R20 was release, and we'll be transitioning to it once we get some more data, but for this review R15 was used. The Core i7-8750H does well in the single-threaded test, and the extra cores provide a nice boost in the multi-threaded results. It can't hang with the Core i9-8950HK in the GT75 Titan, but that device does have an 800 MHz frequency advantage.
x264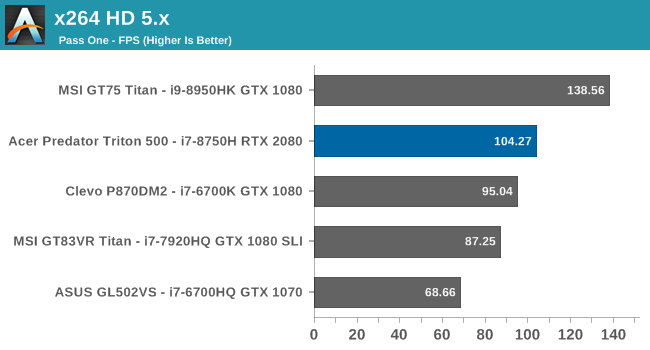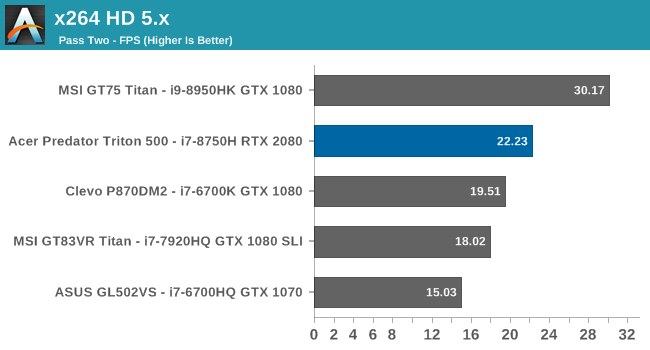 The x264 test converts a video using CPU, and is likes more cores and higher frequencies. The extra cores give the Triton 500 a speed boost over the quad-core models that used to ship in the 45-Watt range, but once again the Core i9 really stretches its legs here.
Web Tests
Unlike most benchmarks, web benchmarks are influenced heavily by the underlying browser, and since browsers are updated all of the time, performance can change over time as well. Normally it goes up, but we've standardized on Microsoft Edge since Windows 10 launched, and Edge performance has taken a step backwards over the last couple of updates.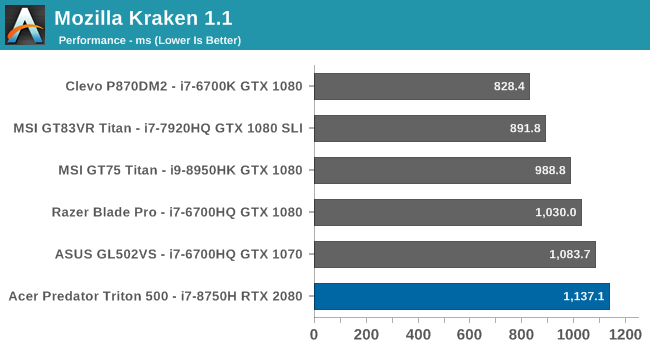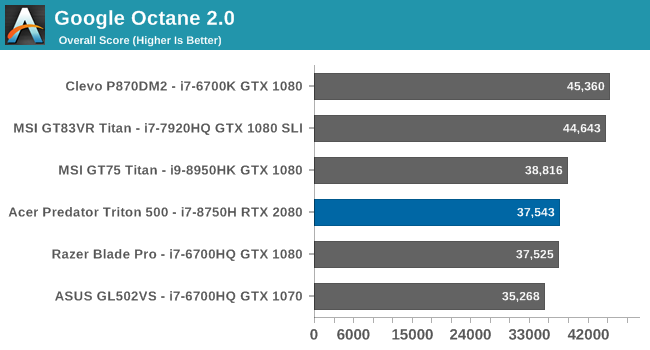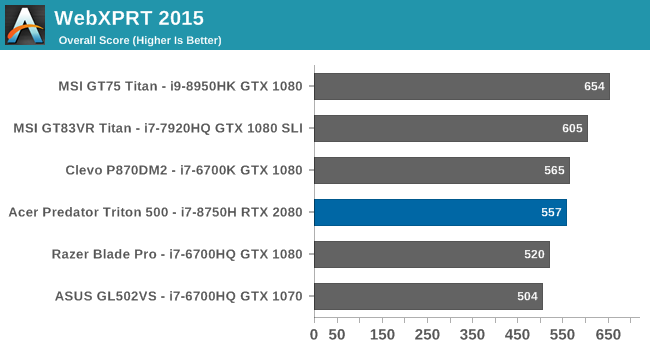 Performance is still good, but there does seem to be a regression in Edge on some of these tests. When we move to the Chromium based Edge, we'll likely take that opportunity to move into some new, more modern, web tests.
CPU Conclusion
Acer's choice to go with the Core i7-8750H is a good one. It lets them compete on price, and the hex-core CPU offers great performance. It can't quite keep up with the Core i9-8950HK, but it still offers stout performance in the 45-Watt class.
Storage Performance
Acer couples two NVMe PCIe 3.0 x 4 SSDs together in the highest model in their Triton 500 range, which is what we have to review. RAID 0 doesn't really offer much of a benefit for most people on most tasks, although there's little doubt it does boost storage benchmark results, which is likely why so many gaming laptops ship this way.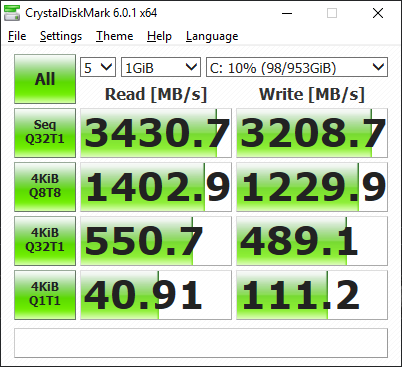 In sequential tests, the RAID 0 pretty much maxes out the PCIe link for read, although for write there's no benefit of the RAID. It also doesn't likely help much with the random results either, which is why the extra risk of running RAID 0 doesn't really outweigh the added costs of having to purchase two drives. One single 1 TB quality drive would almost certainly outperform the 2 x 512 we have here.