Memory for Doom 3
From all the comments that have been posted, there seems to be the unquestioned assumption that more memory will improve Doom 3 performance. The reality is that we have not been able to confirm objectively that assumption. The built-in benchmark for Doom 3, accessed from the console, was used to test common memory amounts on an Intel 875 platform, an Athlon 64 Socket 939 platform, and an A64 Socket 754 platform.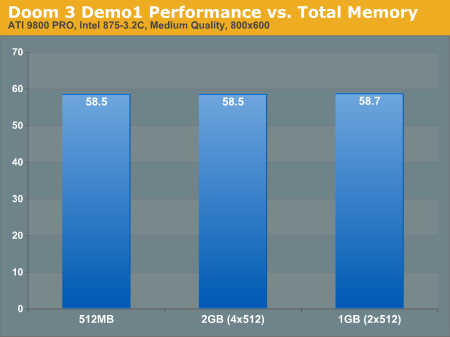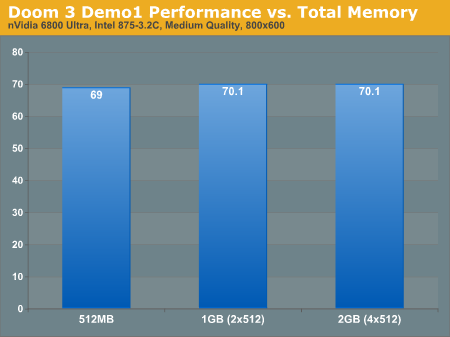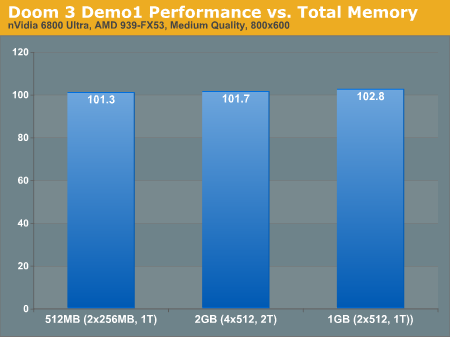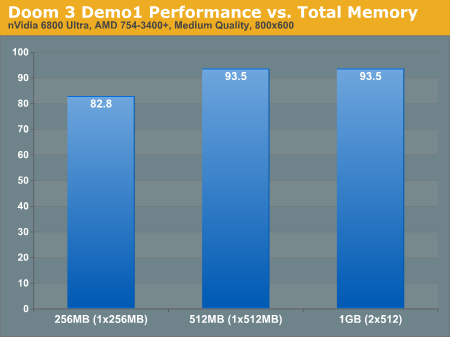 It was surprising that there were no real performance differences between 512MB, 1GB, and 2GB of memory in our benchmarks with the built-in Demo1. The only memory amount that shows lower performance is 256MB on the Socket 754 platform.
Perhaps the built-in Demo1 does not stress the system enough to really reveal performance differences in total memory. We did check memory usage in the console and found Doom 3 used memory up to about 1.5GB if it was available, so we are puzzled why smaller memory amounts did not impact measured performance.
We are looking for more sophisticated methods to test the impact of total memory on Doom 3 performance. For now, the best we can say is that 512MB or higher seems to be effective. If you have 256MB, upgrade to 512MB. We can also say from a purely subjective point that a Doom 3 system seems more responsive with at least 1GB of memory. Loading Doom and switching back to the screen is much faster with 1GB than 512MB.