Mixed Random Performance
Our test of mixed random reads and writes covers mixes varying from pure reads to pure writes at 10% increments. Each mix is tested for up to 1 minute or 32GB of data transferred. The test is conducted with a queue depth of 4, and is limited to a 64GB span of the drive. In between each mix, the drive is given idle time of up to one minute so that the overall duty cycle is 50%.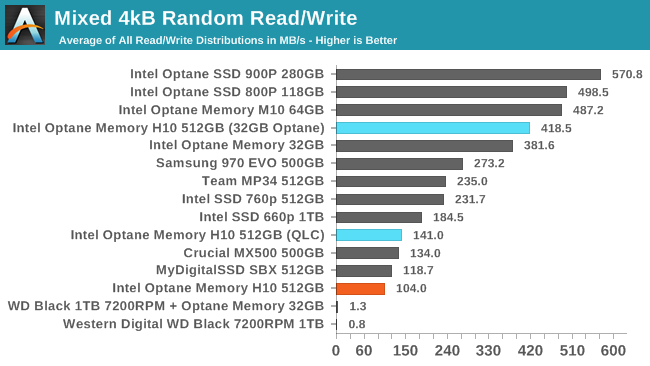 The performance of the Optane Memory H10 on the mixed random IO test is worse than either half of the drive provides on its own. The test covers a wider span than the 32GB Optane cache can handle, so the caching software's attempts to help end up being detrimental.
The QLC portion of the H10 performs similarly to the Optane caching configuration during the read-heavy half of the test, though the caching makes performance less consistent. During the write heavy half of the test, the QLC-only configuration picks up significant speed over the Optane caching setup, until its SLC cache starts to run out at the very end.
Mixed Sequential Performance
Our test of mixed sequential reads and writes differs from the mixed random I/O test by performing 128kB sequential accesses rather than 4kB accesses at random locations, and the sequential test is conducted at queue depth 1. The range of mixes tested is the same, and the timing and limits on data transfers are also the same as above.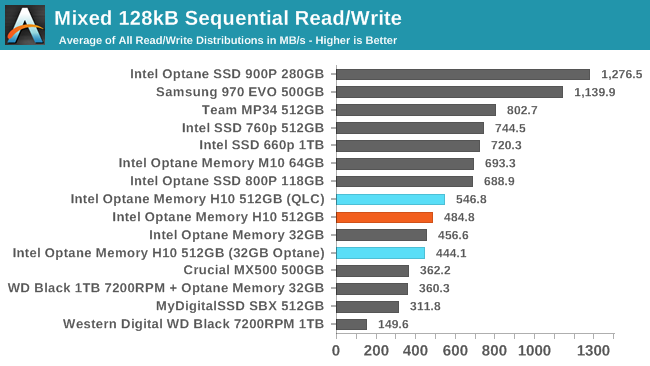 The Optane Memory H10 averages a bit better than SATA SSDs on the mixed sequential IO test, but there's a significant gap between the H10 and the high-end TLC-based drives. This is another scenario where the Optane caching software can't find a way to consistently help, and the H10's overall performance is a bit lower than it would have been relying on just the QLC NAND with its SLC cache.
The caching software contributes to inconsistent performance for the Optane Memory H10 but the general trend is toward lower performance as the workload becomes more write heavy. The QLC portion on its own is able to increase speed during the second half of the test because it is quite effective at combining writes.