HTPC Credentials - Display Outputs Capabilities
The comes with display outputs, and their characteristics are summarized in the table below. From a HTPC use-case perspective, the entries of interest include the ability to support UHD (3840 x 2160) or higher resolutions, along with HDCP 2.2. The latter enables the display output to be used for viewing protected content such as 4K Netflix streams and play back UltraHD Blu-rays.
NUC8i7BEH Display Outputs
HDMI
Thunderbolt 3 / USB-C (DP 1.2)
Version
2.0a
1.2
Max. Video Output
3840x2160 @ 60Hz
4096x2160 @ 60Hz
HDCP
Yes (2.2)
HDR
Yes
No
HD Audio Bitstreaming
Yes
Supporting the display of high-resolution protected video content is a requirement for even a casual HTPC user. In addition, HTPC enthusiasts also want their systems to support refresh rates that either match or be an integral multiple of the frame rate of the video being displayed. Most displays / AVRs are able to transmit the supported refresh rates to the PC using the EDID metadata. In some cases, the desired refresh rate might be missing in the list of supported modes.
Custom Resolutions
Our evaluation of the as a HTPC was done using the native HDMI output connected to a TCL 55P607 4K HDR TV via a Denon AVR-X3400H AV receiver. The list of supported modes seen by the system didn't include PAL (50 Hz), but, this was trivial to fix by adding a custom resolution in the Intel Graphics Command Center.

We tested out various display refresh rates ranging from 23.976 Hz to 59.94 Hz. Of particular interest is the 23.976 Hz (23p) setting, which Intel used to have trouble with in the pre-Broadwell days.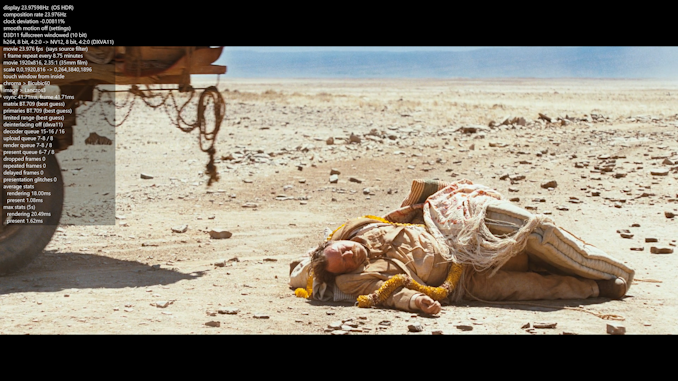 The gallery below presents screenshots from the other refresh rates that were tested. The system has no trouble maintaining a fairly accurate refresh rate throughout the duration of the video playback.
High Dynamic Range (HDR) Support
The ability of the system to support HDR output is brought out in the first line of the madVR OSD in the above pictures. The display / desktop was configured to be in HDR mode prior to the gathering of the above screenshots.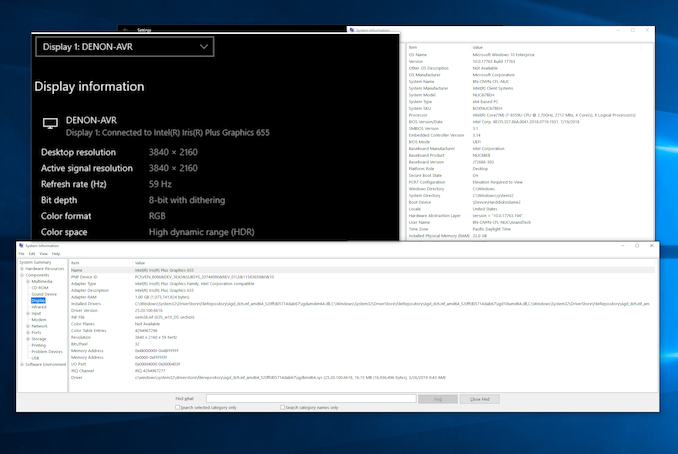 We find that the HDR configuration results in the GPU driving a RGB signal to the display.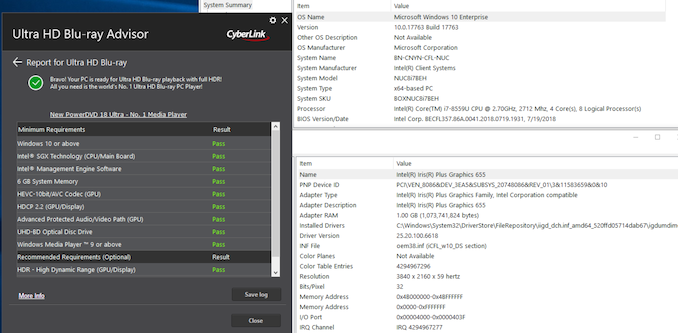 The CyberLink Ultra HD Blu-ray Advisor tool confirms that our setup (Intel NUC8i7BEH + Denon AVR-X3400H + TCL 55P607) supports HDCP 2.2 along with HDR. The PC also satisfies other requirements (such as SGX and appropriate Management Engine firmware) to enable playback of Ultra HD Blu-rays.