GIGABYTE X570 Aorus Ultra
The GIGABYTE X570 Aorus Ultra sits in between the X570 Aorus Master ($359) and the X570 Aorus Pro WIFI ($269) in its current product stack. The X570 Aorus Ultra is however more similar to the X570 Aorus Pro WIFI in terms of feature set with a Realtek ALC1220-VB audio codec, an Intel I211-AT Gigabit NIC, while it shares the same three PCIe 4.0 x4 M.2 slots as its more expensive brother in the X570 Aorus Ultra. This model essentially takes some features from both the board above and below in the product stack.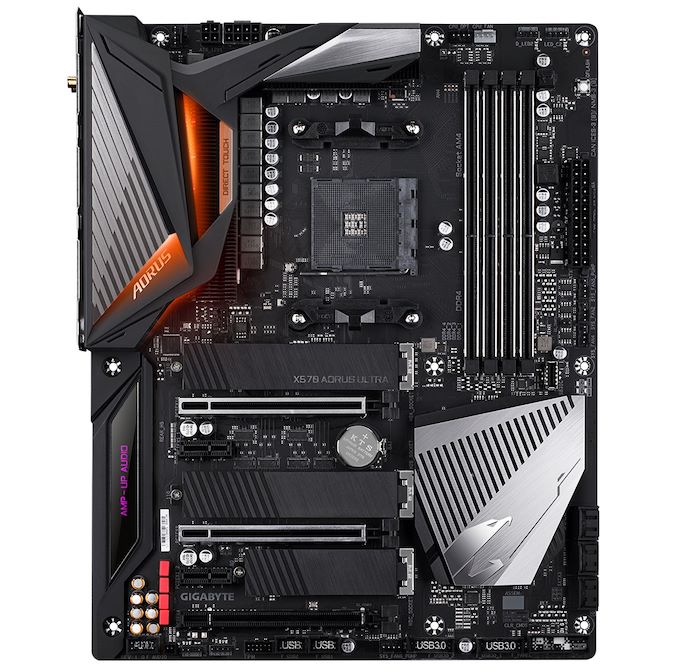 There are three full-length PCIe 4.0 slots which run at x16, x8/x8, and x8/x8/x4. This means the X570 Aorus Ultra has support for two-way NVIDIA SLI and up to three-way AMD CrossFire multi-graphics card configurations. Also present is two PCIe 4.0 x1 slots, while the board also benefits from three PCIe 4.0 x4 M.2 slots which each comes with its own individual heatsink. For users not adopting M.2, there are six SATA ports which have support for RAID 0, 1 and 10 arrays. The four memory slots include support for DDR4-4400 and with a maximum capacity of up to 128 GB. The aesthetics aren't as overbearing as the X570 Aorus Xtreme, but the rear panel cover which extends down to cover the audio PCB does feature integrated RGB LEDs.

On the rear panel is two USB 3.1 G2 Type-A, one USB 3.1 G2 Type-C, three USB 3.1 G1 Type-A and four USB 2.0 ports. A set of antenna ports for the Intel AX200 802.11ax Wi-Fi 6 wireless interface are present, and the single Ethernet port is controlled by an Intel I211-AT Gigabit NIC. The five 3.5 mm audio jacks and S/PDIF optical output are controlled by a Realtek ALC1220-VB HD audio codec, while a single HDMI output is featured for users to use Ryzen APUs with integrated graphics.
The GIGABYTE X570 Aorus Ultra as previously mentioned takes shades from both the model below and above with the three PCIe 4.0 x4 M.2 slots of the X570 Aorus Master while keeping the same 12+2 phase power delivery of the X570 Aorus Pro WIFI model. With an MSRP of $299, the GIGABYTE X570 Aorus Ultra doesn't include a premium NIC and for the extra $30, the X570 Aorus Master does seem to offer its worth. Users do however have the choice to run with two PCIe 4.0 x4 slots, and the GIGABYTE X570 Aorus Pro WIFI at $269 for $30 less is also an option.