ASUS Pro WS X570-Ace
The ASUS Pro WS X570-Ace is one of the more interesting models from the launch day X570 models. Firstly it's aimed primarily at professional and workstation users, which is signified in the model number (WS). What makes the ASUS Pro WS X570-Ace so interesting is that its X570 chipset fed bottom full-length PCIe 4.0 slot is wired at x8, and not the conventional PCIe 4.0 x4 as seen on other X570 models. The WS X570-Ace also includes dual Gigabit networking, a premium Realtek ALC1220A HD audio codec, and a PCIe 4.0 U.2 port.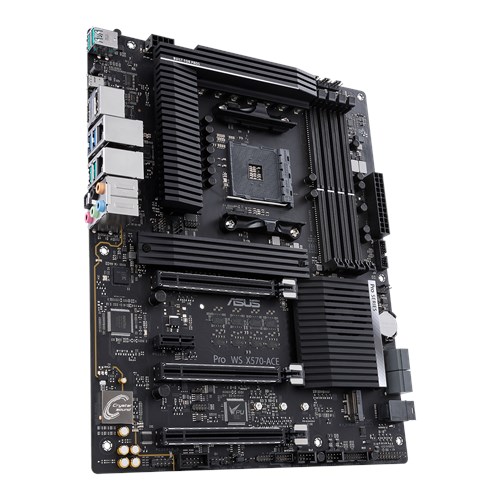 The ASUS Pro WS X570-Ace follows a different design from the rest of its motherboard line-up, with straight angled finned heatsinks, following a uniformed black design with the horizontally placed fins. Compared with the other ASUS X570 models, the overall feature set is a little thin due to its workstation focused design. One of the main focal points of the ASUS WS X570-ACE ATX motherboard includes three full-length PCIe 4.0 slots which operate at x16, x8/x8, and x8/x8/x8, with that last x8 coming from the chipset. with a single PCIe 4.0 x1 slot also present. For most X570 models announced, this is one of the only models to optimize all three full-length slots at a minimum of x8.
Storage options on the Pro WS X570-Ace consist of two PCIe 4.0 x4 M.2 slots with a single U.2 port and four SATA ports that feature support for RAID 0, 1, and 10 arrays. As with other ATX sized ASUS X570 models, the Pro WS X570-Ace has four memory slots with support for a total capacity of up to 128 GB. Users can also have the option to use either ECC and non-ECC memory which is dependant on the processor installed.

The two Ethernet ports on the rear panel are controlled by an Intel I211-AT and Realtek 8117 which are both Gigabit NICs, while the onboard audio is powered by a Realtek S1220A HD audio codec; this provides five 3.5 mm audio jacks and a S/PDIF optical output. Super fast connectivity is strong with four USB 3.1 G2 Type-A, one USB 3.1 G2 Type-C, and two USB 3.1 G1 Type-A ports. For users looking to utilize compatible Ryzen APUs, ASUS has included a pair of video outputs consisting of HDMI and a DisplayPort.
The ASUS Pro WS X570-Ace has an MSRP of $380 and shifts focus directly on users looking to create a Ryzen 3000 powered workstation. Its subtle and straight-forward design also makes this a good option for users looking to avoid the more gaming-themed RGB splattered models, and create a somewhat elegant looking system.