ASUS ROG Strix X570-F Gaming
The ASUS ROG Strix X570-F Gaming is the slightly feature slimming ATX sibling of the ROG Strix X570-E Gaming with a very similar aesthetic shared between both models, with fewer premium components and is representative of the mid-range segment of its X570 product stack. The most notable features of the Strix X570-F Gaming include two PCIe 4.0 M.2 slots, eight SATA ports, and an HDMI 2.0b video output on the rear panel. On the design, ASUS has gone with a gaming-inspired which theme of black and grey, with ARGB LEDs implemented into the rear panel cover for a bit of extra flair. The actively cooled X570 chipset heatsink also includes a graffiti-inspired design which fits in with the rest of the board's theme.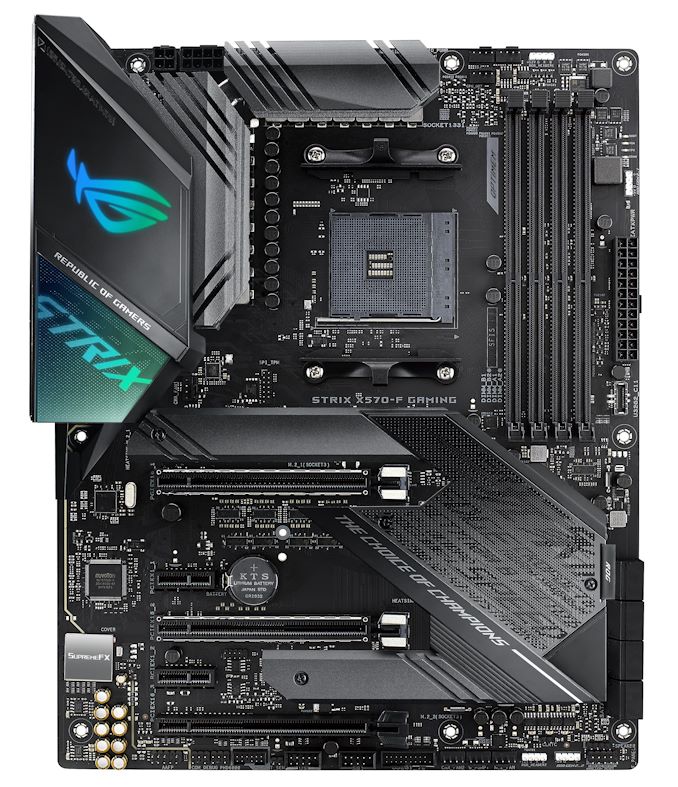 On the PCB of the ASUS ROG Strix X570-F Gaming is three full-length PCIe 4.0 ports which are configured to run at x16, x8/x8, and x8/x8/x4. This allows users to run up to two-way NVIDIA SLI and three-way AMD CrossFire multi-graphics card setups. Storage capabilities onboard include two PCIe 4.0 M.2 slots with a pair of M.2 heatsinks which the PCIe 4.0 x4 SSDs are certainly going to appreciate. The board also includes eight SATA ports with support for RAID 0, 1, and 10 arrays. The ASUS ROG Strix X570-F also has four memory slots with the capabilities to run up to 128 GB. Memory support isn't known at present, but more information should be available when this model launches, sometime after 7/7.

The ASUS ROG Strix X570-F uses a single Ethernet port controlled by an Intel I1211-AT Gigabit NIC, while the five 3.5 mm audio jacks and S/PDIF optical output are driven by a SupremeFX S1220 HD audio codec. Looking at rear panel USB, there's three USB 3.1 G2Type-A, one USB 3.1 G2 Type-C, and four USB 3.1 G1 Type-A ports. Also present on the rear panel is a pair of video outputs consisting of a DisplayPort and HDMI 2.0b, with a USB BIOS Flashback button that uses a dedicated USB Type-A port which is clearly highlighted on the IO shield.
Similar to the ASUS ROG X570-E Gaming in terms of stylings, the ROG X570-F Gaming drops some key features to offer users looking for the Strix style, but without the larger hit to the wallet. While a few of ASUS's X570 models are doubled up with Wi-Fi enabled and those without, the Strix-X570-F keeps the core layout, but without the cost-laden features such as Wi-Fi 6, and a 2.5 G NIC. The ASUS ROG Strix X570-F Gaming is almost certainly going to cost less than its better equipped X570-E Gaming sibling, but we currently don't have an MSRP at the time of writing, and this model won't be available at launch.