Miscellaneous Aspects
The power consumption at the wall was measured with a 4K display being driven through the HDMI port. In the graphs below, we compare the idle and load power of the Zotac ZBOX CI660 nano with other low power PCs evaluated before. For load power consumption, we ran the AIDA64 System Stability Test with various stress components, and noted the maximum sustained power consumption at the wall.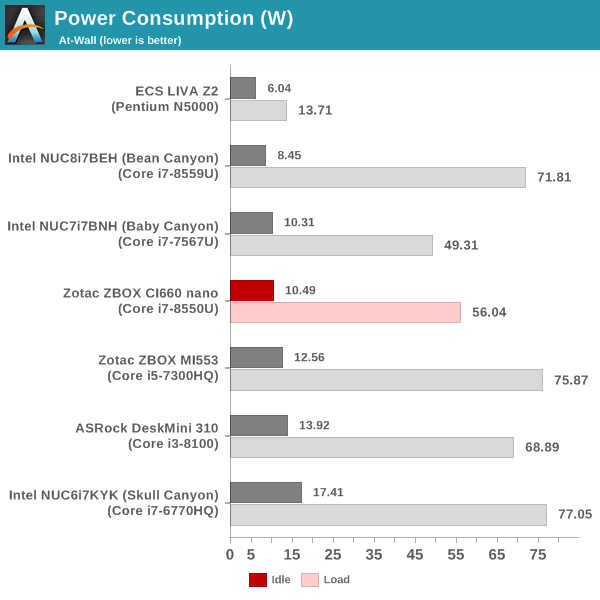 As we see further down, instantaneous peak power consumption at the wall can go as high as 80W. The above numbers (particularly, the idle power consumption) are a tad high, given the fanless nature of the system. Other than that observation, the numbers go hand-in-hand with the system's capabilities.
Our thermal stress routine starts with the system at idle, followed by four stages of different system loading profiles using the AIDA64 System Stability Test (each of 30 minutes duration). In the first stage, we stress the CPU, caches and RAM. In the second stage, we add the GPU to the above list. In the third stage, we stress the GPU standalone. In the final stage, we stress all the system components (including the disks). Beyond this, we leave the unit idle in order to determine how quickly the various temperatures in the system can come back to normal idling range. The various clocks, temperatures and power consumption numbers for the system during the above routine are presented in the graphs below.
Zotac ZBOX CI660 nano System Loading with the AIDA64 System Stability Test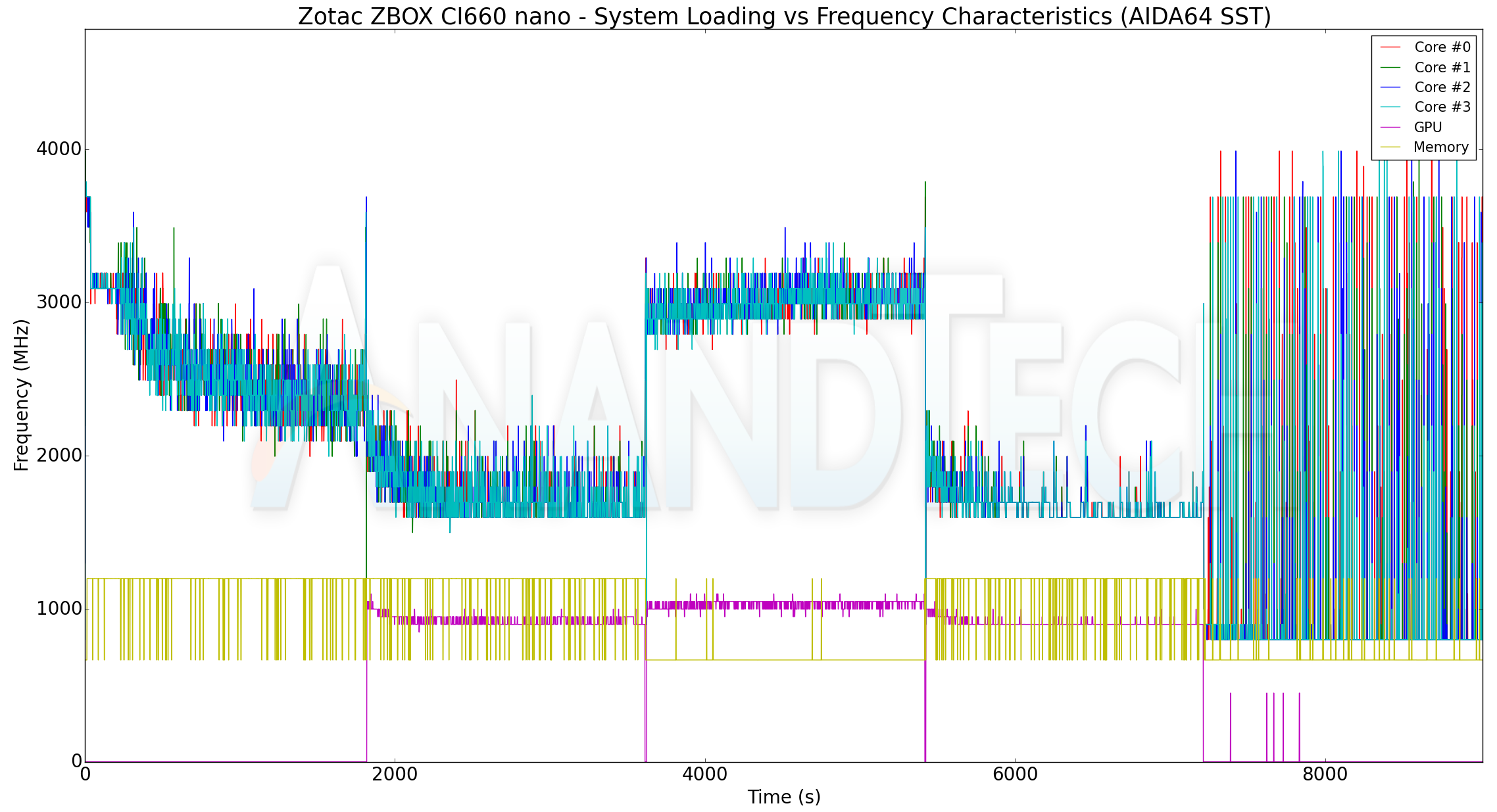 The Core i7-8550U has a base frequency of 1.8GHz, and can turbo up to 4 GHz. In the AIDA stress tests, we can see that processor maintains a minimum 1.8 GHz clock under all loading conditions. However, the same can't be said for our custom stress test which starts with Prime 95 for 30 minutes, followed by both Prime 95 and Furmark for 30 minutes, and ending with Furmark alone for another 30 minutes. Towards the middle of the second workload, we see the cores drop down to around 1.5 GHz in the graph below.
Zotac ZBOX CI660 nano System Loading with Prime95 and Furmark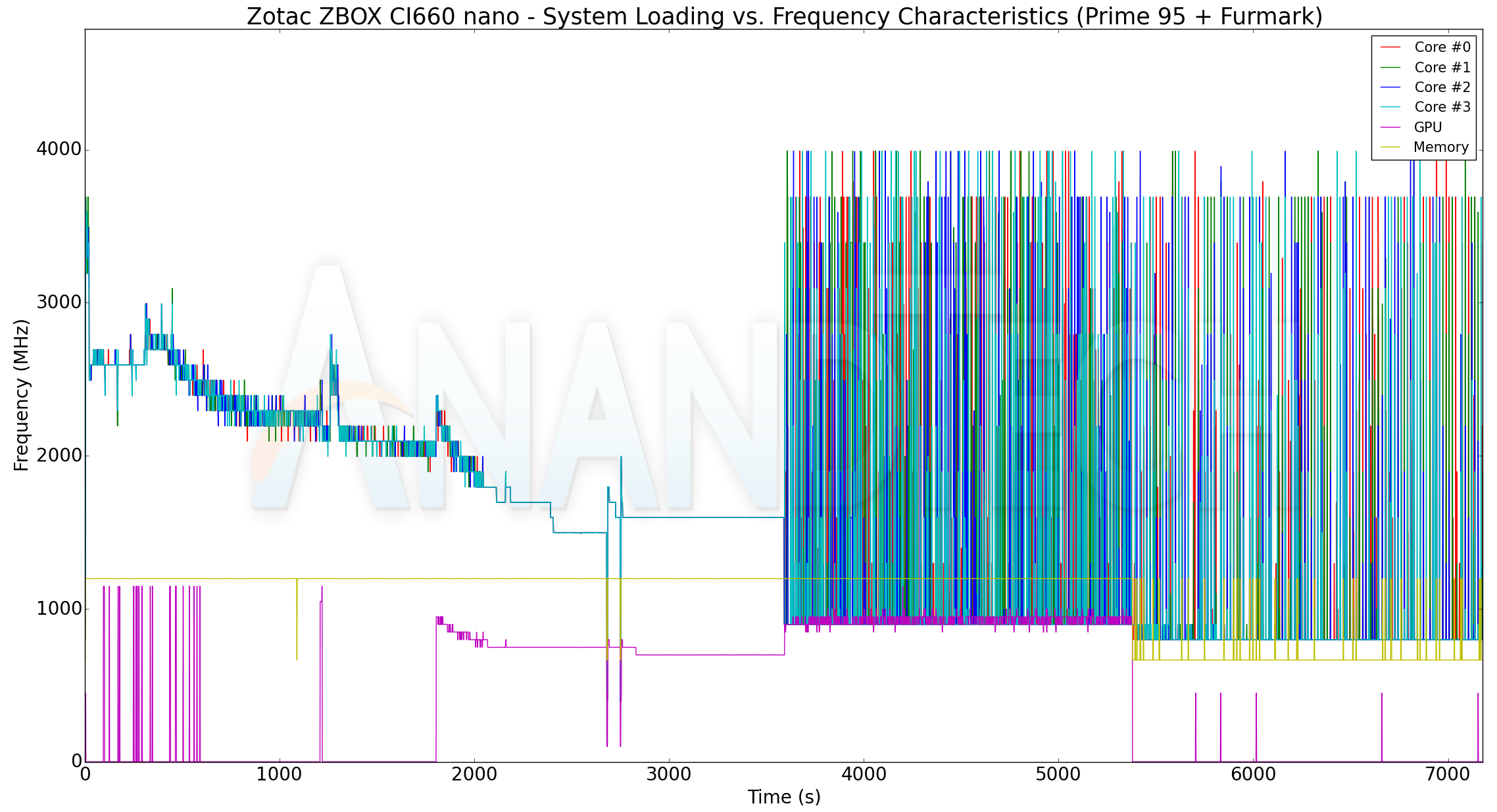 The temperatures are the second item of interest. According to official specifications, the junction temperature of the Core i7-8550U is 100C. However, Zotac seems to have taken the safer route of throttling the performance as soon as the cores hit 85C. What does this throttling entail? The power graphs for the two cases above provide the answer.
The ZBOX CI660 nano initially sets out with the CPU package power allowed to go up to 25W. As soon as the temperature limit (85C) is hit, the permitted package power starts to track down. We find that the thermal solution is good enough to allow the package to operate at 15W while maintaining the package temperature at 85C.