Kingston HyperX PC3200 Low-Latency
Kingston has used the HyperX label for their Enthusiast memory for some time, and the HyperX name has earned respect in the Enthusiast community. Kingston supplies HyperX as both 512MB single DIMMs and as a matched pair in a 1GB kit (2x512MB). It is very important to specify "Low-Latency" when looking for Kingston PC3200 with 2-2-2 speeds, since Kingston has other PC3200 HyperX products that do not perform at these fast timings. We found this very confusing for buyers, and would suggest that Kingston use some name like HyperX PC3200 LL or something similar to differentiate the new memory.
Test DIMMs were a 1GB kit, a matched pair of HyperX PC3200 Low-Latency 512MB double-sided DIMMs with trademark HyperX blue heatspreaders.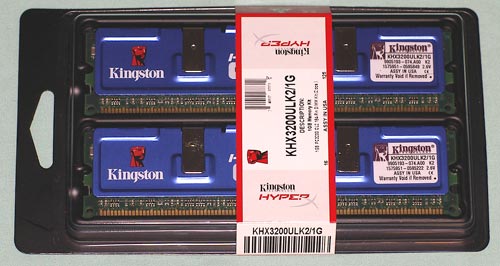 Kingston DIMMs are 100% tested by Kingston, and the huge independent memory maker also provides a Lifetime Warranty like other Performance memory manufacturers. The benchmark results tell us that the Kingston is another DDR400 2-2-2 memory based on the Samsung TCCD memory chips.
Kingston HyperX PC3200 Low-Latency Specifications
 Kingston HyperX PC3200 LL Memory Specifications
Number of DIMMs & Banks
2 DS
DIMM Size
Total Memory
256 MB
512MB
Rated Timings
2-2-2 at DDR400
SPD (Auto) Timings
2-2-2-5
Rated Voltage
2.7V
Kingston specifies 2.7V at DDR400 for the HyperX PC3200 Low-Latency. Most motherboards can support this memory voltage, but it is higher than the base 2.5V to 2.6V memory voltage specification.