Monarch Hornet Pro: Chassis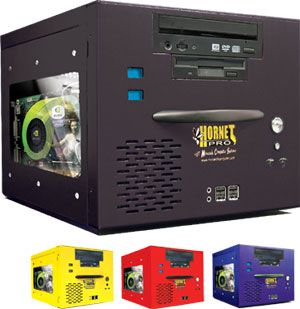 The Monarch Hornet Pro comes in four different colors and styles.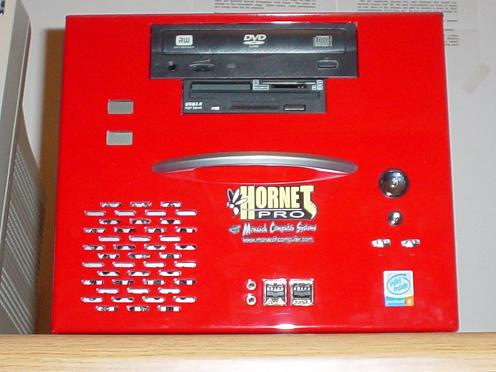 The front panel of the Monarch Hornet Pro contains a more basic arrangement of ports than most other SFFs. There are four USB 2.0 ports, your standard pair of
On
and
Reset
buttons, HDD and Power LED lights, and audio in and audio out ports. However, there are also two unconventional additions that can be found, those being the Hornet Pro's dual temperature sensors located at the top left hand corner of the front panel and the silver carrying handle in its mid-section. The temperatures sensors allow you to view your temp readings on-site without having to do anything else. The carrying handle is very sturdy and will come in handy when traveling, especially to LAN parties. Both novelties are there for the user's convenience, and it's something that Monarch should take pride in because it's exactly these types of "little things" that add up to a much more pleasant computing experience.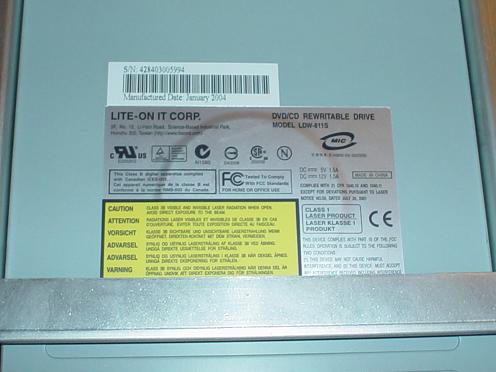 Also located in the front panel are two drive bays, which Monarch outfitted with a Lite-On LDW-8113S dual layer 8X DVD burner and a 1.44MB Mitsumi floppy drive. We would have preferred an additional drive bay, however, as optical drives are by far the storage media of choice for enthusiasts these days. Still, we're happy that Monarch didn't omit the second drive bay altogether, even if it wasn't an optical drive bay like we wanted, as manufacturers have made a nasty habit of omitting those second bays.
Another novelty for SFFs that Monarch has nicely implemented with their Hornet Pro is see-through side panels with four blue cathode neon lights lining the inside corners of the case. This combination displays a very attractive glowing blue light that seeps through every crevice of the case, and is especially charming when viewed at night (try playing a DVD movie on your Hornet with these blue neon lights; it's very cool). There are a total of two see-through panels, on the right and left sides of the case, with the one on the right containing an 80mm case fan for additional cooling. Overall, Monarch does a nice job making the Hornet Pro a site to behold.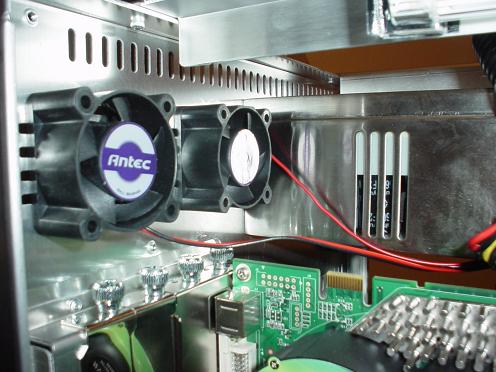 One major area of concern for most SFF users is how much you can maneuver and what you can upgrade inside your case. As partly shown above, routing cables to their destinations from the optical, floppy and hard drives was a cinch using the tied-down and rounded cables that were already installed. All in all, the Hornet Pro's internal components, cable, wires, and fans were all so well organized that it left tons of space and upgradeability options that we have never previously seen in an SFF. Though, to be fair, the Hornet Pro is significantly larger than your standard SFF (especially compared to the likes of Shuttle), and so, it's not really in the least surprising that the Hornet Pro is so neatly arranged, clean and contains so much space. Additionally, there is enough room for
two
Antec ball bearing 40mm exhaust fans, something that is exceedingly necessary to get heat out the back of the system as quickly as possible to keep things cool.