Two Flavors are Better than One: Socket 754
Next in line: the K8 version of Sempron. In these processors, we have a little more with which to differentiate the new processors from the current generation.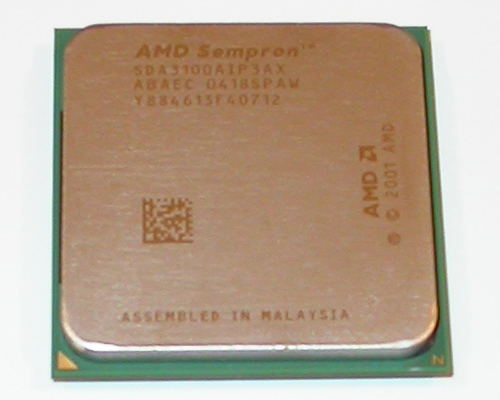 Socket 754 Sempron 3100+
Not that we can see much with the heat spreader on there, but this processor is more in the tradition of budget processors, as it is based on current Athlon 64 technology with half the cache. Specifically, the Sempron 3100+ has the same size L2 cache as the Tbred Sempron: 256KB. So, AMD started out with a 1MB L2 cache derived from the Opteron, moved to a 512KB cache, and has finally dropped down to 256KB for its budget line of K8 processors.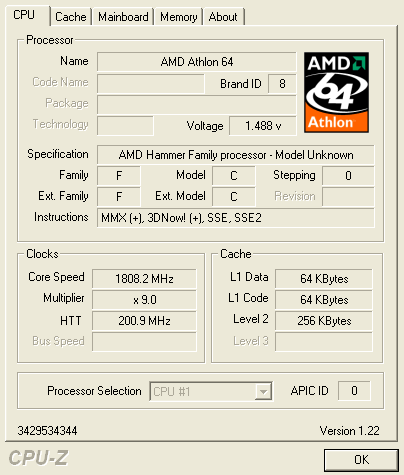 Socket 754 Sempron 3100+
The other very interesting and pertinent bit of information is that the K8 Sempron does not support x86-64 extensions.
While this may seem like a downside at first, this will actually help out AMD. The K8 Sempron, if cache size doesn't hurt performance too much, will give AMD the ability to offer its current generation of performance to consumers at a lower price point. The performance difference between K7 and K8 architectures on a clock for clock basis is not insignificant, and bringing this to consumers at a more attractive price point is definitely not a bad thing.
Though we won't be able to test it here (we only just received samples from AMD), we will absolutely be looking into overclocking of this part. With x86-64 and half the cache disabled, we may be able to push this part pretty hard. But we'll have to save that for a future update.
Of course, again, the clock for clock comparison part is the Athlon 64 2800+ (running at 1.8GHz). With twice the cache, this part will not be outperformed by the higher rated Sempron part. Again, we feel that this just adds to the confusion in the marketplace. We have to give AMD some credit for successfully pulling off the performance rating system with their mainstream processors, and we were happy that during the Duron's run, they stuck with clocks speeds. Even though Intel's system will be tough to get a hold of for a little while, it's a much more elegant solution to the problem of selling chips based on clock speed than a performance rating meant to reflect clock speed of a theoretical processor.