CPU and Motherboard: VALUE OC Alternatives
CPU:
AMD Athlon XP 2500+ Mobile Barton (512K L2 cache)
Motherboard:
DFI Infinity NFII Ultra (nForce2 Ultra 400)
Price:
CPU - $88 shipped (OEM). Motherboard - $91 shipped. HSF - $12 shipped
There is a lot to be said for the overclocking value of an Athlon 64 2800+ or 3000+ combined with a 2
nd
Generation 754 board, like a MSI K8N Neo or Abit KV8 PRO. We have used these combinations with outstanding results. However, it is still hard to beat the value of an Athlon XP on a flexible nForce2 motherboard for bang-for-the-buck.
Of the 4 recommendations for Overclocking system, the Athlon XP is the poorest ultimate performer, but there is no denying the incredible value that the Athlon XP platform delivers. You will also find the ultimate performance level of the overclocked Athlon XP will not be much lower than the Intel Pentium 4 system, and the total cost for motherboard and CPU is a little less than
either
the Intel CPU or the Asus motherboard. You can't find value better than this.
The current darling of the Athlon XP overclockers remains the Barton mobile chips. Operating at 1.45V instead of 1.65V, and with other electrical layout changes, the mobile 2500+, for example, consumes only 45 watts at stock speed and has that much more voltage headroom. The fact that it is factory unlocked, unlike the regular 2500+, also makes the mobil XP chips that much more attractive for overclocking. The mobile 2500+ multiplier is adjustable from the stock 14X up to 22X+, and downward as low as 5X, depending on the motherboard. This is vitally important to overclockers because this allows them to squeeze more performance from their chip without having to resort to problem FSB speeds.
The unlocked speeds and multipliers allow great flexibility with the 2500+ mobile. While the 2500+ is rated at 133 FSB CPU with a multiplier of 14 (the Desktop 2500+ is 166x11), most overclockers have no problem reaching the 11x200 speed of the top-of-the-XP-line 3200+. In fact most 2500+ reach even higher, many to 2.4GHz and beyond, which are performance levels much higher than any Athlon XP curretnly available. The 2600+ mobile looks even more promising as an overclocker, with a 133MHz higher speed at 1.45V, though we have not yet tested the 2600+. With specifications of the same 45 watt power consumption and a 15x133 FSB, it is hard not to be tempted when it is less than $10 more than a 2500+.
On a DFI motherboard, we have reached over 2.5GHz with a 2500+ at just 1.7V, which is close to the normal voltage for a regular 2500+. Other Editor's have typically found stable performance around 2.4GHz at 1.65V, which is faster than the fastest 2.2GHz of the stock 3200+ Athlon XP, and even better performance at higher voltages.
When you over-volt your CPU, you should normally be careful of how much you do. 1.65V to 1.7V should not be an issue with an Athlon XP mobile, and even 1.80V should not dramatically reduce CPU life. However, over-volts of 1.85V and above will likely reduce the life of your CPU, with the risk of a very quick death. This is not as big an issue with a CPU that costs $88, but what is pocket change for some is a lot of money for others, so be cautious and smart. The higher the voltage, the higher the heat, and the more cooling that is needed.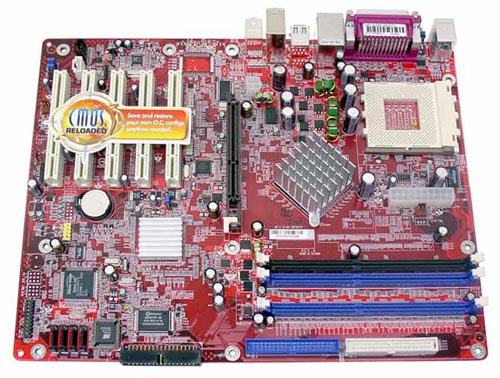 If you check Forums devoted to overclocking, you will find the DFI NFII LANParty has become almost a legend in the Athlon XP overclocking community. It is the only nForce2 Ultra 400 motherboard that we have seen to reach a FSB of 280 under any set of conditions, and we also see many end-users who reach 250FSB with this board. The full-blown NFII LANParty also comes with everything but the kitchen sink at a cost of around $140, which makes it a bit pricey for a value OC system, unless you happen to need or want the UV slots and LAN cable, FrontX, and a PC Transport carrier. However, many don't realize that the same outstanding board is available without all the pretty stuff and accessories, as the NFII Ultra Infinity.
None of the overclocking options are missing from the Infinity - they are just as fantastic as those found on the LANParty - and at around $90, it is hard to beat the value of the Infinity NFII board. You will find CPU Frequency adjustments to 300, and AGP can be fixed at any setting between 66 and 100. Memory voltage extends from 2.5V to a truly outstanding 3.3V to accommodate even the fussiest high-speed DDR. CPU voltages extend to 2.0V, chipset to 1.9V, and AGP from 1.5V to 1.8V. These ranges are simply outstanding and frankly, a bit dangerous with air, but they should make even water and phase-change overclockers happy.
The NFII Ultra Infinity even has the MCP-T southbridge for those who care about the excellent Sound Storm audio provided by that southbridge. DFI even provides the CMOS reloaded feature from the LANParty boards that allows several different BIOS setups to be saved - a very handy feature for overclocking. Overclockers will also be happy to find the 4 mounting holes around the CPU socket for heavy-duty cooling; although, we do find the CPU area has too many components around the socket that could interfere with some of the larger cooling solutions. In the end though, at a price of around $90, most everyone will find reason to be very happy with the nForce2 Ultra 400 DFI as the base for a Value overclocking system.
Listed below is part of our
RealTime pricing engine
, which lists the lowest prices available on the AMD nVidia motherboards from many different reputable vendors:
If you cannot find the lowest prices on the products that we've recommended on this page, it's because we don't list some of them in our RealTime pricing engine. Until we do, we suggest that you do an independent search online at the various vendors' web sites. Just pick and choose where you want to buy your products by looking for a vendor located under the "Vendor" heading.