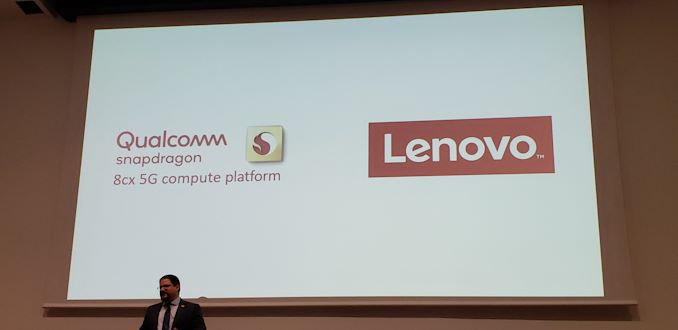 At Qualcomm's press event today at Mobile World Congress, Lenovo representatives came on stage to confirm that the company will be building a new laptop using the Snapdragon 8cx that was announced at Qualcomm's Tech Day in December. As an added bonus, the device will also use the X55 modem, enabling 5G connectivity.
Lenovo has always been a key primary partner for Qualcomm in its quest to bring smartphone hardware to the traditional laptop market in the form of always connected PCs that enable all-day battery life. We've seen devices like the Lenovo Yoga 630 use the latest Snapdragon 850 chip for notebooks, running with Windows on top and support for translated 32-bit x86 applications as well as those natively compiled (32 or 64-bit) for the processor. In fact I've been testing the 630 for a couple of months, so expect a review soon. However, one of the key markets for Qualcomm is going to be the commercial market. One of the biggest players in that market, is Lenovo.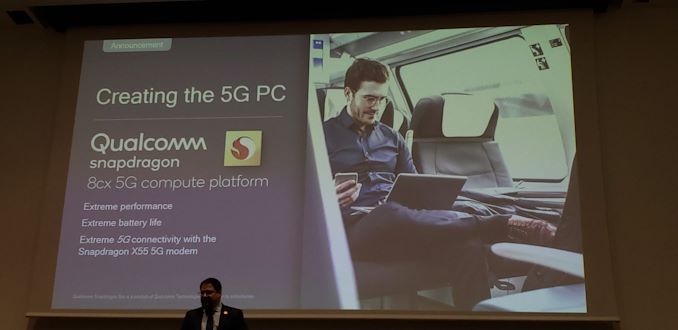 Lenovo's Thinkpad series is seemingly ubiquitous in North America and Western Europe as the laptop of choice for serious business users (for those that don't have anything from Apple). It's hard to be on a train and not see one. At a trade show, they are everywhere. We spoke to Lenovo's representatives at Qualcomm's event in December, and while they didn't comment on the push into Thinkpad, it was clear that for both Lenovo and Qualcomm, for these types of devices to succeed, this was a device win that Qualcomm needs to get.
On stage at MWC, it wasn't stated what sort of device Lenovo was preparing with the Snapdragon 8cx and the X55 modem, however given the increased price of 5G, the hardware, the antennas, it makes sense to go into a premium commercial device like the Thinkpad.
Related Reading