Resolving Fine Lines
For our resolution test, we reset the camera to its default settings and then used the highest quality recording mode. For more information, refer to our
Testing Procedures
page. Below are 100% crops of the test. Click on a crop to see the full chart.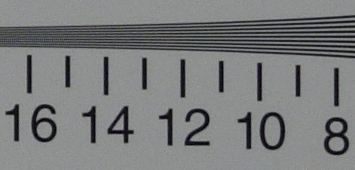 The horizontal crop above shows that the CP5200 has pretty good vertical line resolution. The lines remain very strong until just before 15 where they begin to move to extinction by the 16 mark (on par with the
Olympus C-50 Zoom
in our previous review.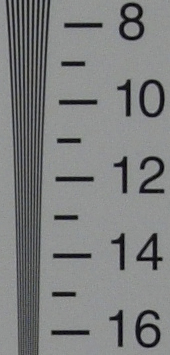 In the vertical crop, the CP5200 does just a bit worse than the horizontal crop, beginning to break up between 14 and 15. The lines are no longer distinguishable by the 16 mark where they lose their definition. Overall, however, the CP5200 puts in good resolution performance and the resolution chart looks clean and sharp.