Buffalo FireStix PC4000
While FireStix are available in both DDR433 and DDR500 speeds, we decided to look at the DDR500 FireStix.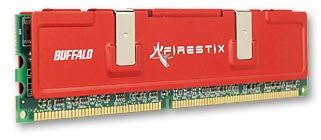 Test DIMMs were a matched pair of 512MB double-sided DDR DIMMs with bright red aluminum heatspreaders.
Buffalo made no bones about the fact that these chips were based on Hynix B revision memory chips, which are selected for best performance. We have seen Hynix B memory chips used in some of the fastest DDR500 and 533 memory that we have tested from Corsair, OCZ, Mushkin, and others.
Buffalo FireStix PC4000 Specifications
Buffalo FireStix PC4000 Memory Specifications
Number of DIMMs & Banks
2 DS
DIMM Size
Total Memory
512 MB
1 GB
Rated Timings
3-4-4 at DDR500
Rated Voltage
2.75V
While Buffalo rates their DDR500 FireStix at 3-4-4 timings, we have seen other memory based on Hynix B chips perform at some of the better DDR500 timings of 2.5-3-4. In addition, Hynix B memory normally will perform at 2-3-3 timings at DDR400 - much faster than we normally see with higher speed memory at DDR400.