General Performance and Encoding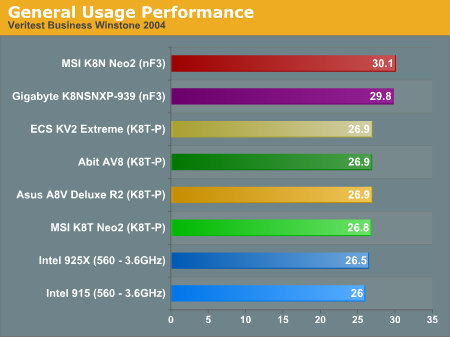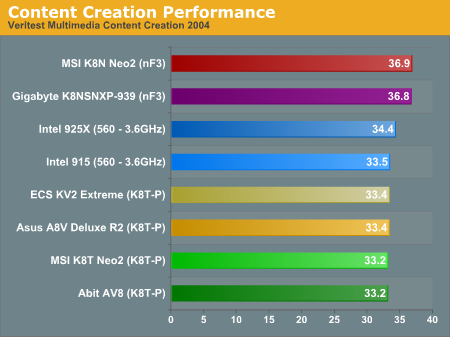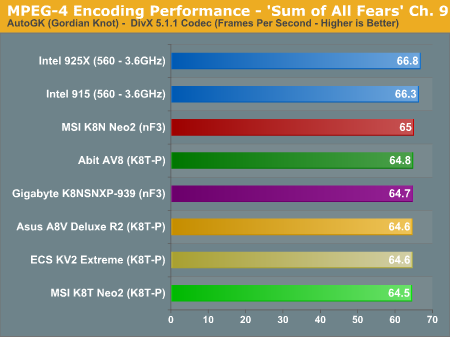 We never expected the nVidia nForce3 Ultra to be a better performer in Winstone benchmarks than the VIA K8T800 PRO. However, both the nF3 Ultra boards are outperforming the VIA boards by a significant percentage. Since the nVidia 6800 Ultra video card was used for all benchmarking in the roundup, we plan to verify these results with an ATI X800 XT as soon as that board is available to the Motherboard Lab for testing.
The performance of the Socket 939 boards in the new AuotGK 2-pass Media Encoding benchmark was also a mild surprise. We expected Intel to retain their lead in media encoding due to our logical choice of DivX 5.1.1 as the encoding codec. This codec fully exploits some of the features of the Intel chipset, like SSE3, and generally favors the Intel processors. The DVD2AVI engine at the heart of AutoGK, on the other hand, generally favors AMD processors. It appears that you can really show whatever you wish in encoding these days depending on the Encoding program and codec used. Anand did extensive research on media encoding and chose the new AutoGK/DivX 5.1.1. as our new standard due to the fair, balanced and respected results obtained with this combination.
It certainly looks like the combination of Socket 939, FX53, and AutoGK/DivX 5.1.1 balances the field for media encoding. The difference between top systems from AMD and Intel is now less than 3% with Divx, which can be considered equivalent. A quick check using a 2-pass test with the Xvid codec shows the Intel 3.6 at 35.2 and the AMD FX53 at 35.8, again essentially a dead heat. The upcoming move to 64-bit encoding should significantly boost Athlon 64 performance, giving A64 a formidable lead in encoding benchmarks.