Quad Core Xeon-E Conclusion
In this review, we focused on the results from our quad core Xeon E testing. These processors form part of Intel's portfolio that caters to small and medium businesses that want managed office systems with reasonable performance, or for entry level SOHO servers or storage platforms. In this market, Intel is competing against AMD's Ryzen Pro line of CPUs.
The processors we tested for this review are Intel's first generation of Xeon Entry chips, which would have been the E3-1200 v7 family if it were not for the recent name change across Intel's processor lines. This hardware is based on Intel's Coffee Lake microarchitecture, the latest generation of Intel's 14nm family of processors, and Intel offers a variety of quad and six core parts, some with integrated graphics and some without.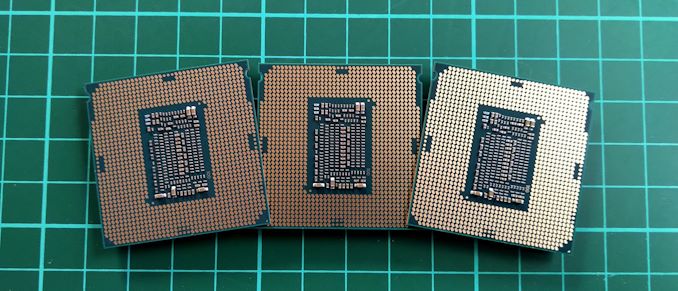 By and large, we weren't expecting to see anything crazily radical with the E-2174G, the E-2134, and the E-2104G that we tested for this review. The results are run of the mill, and the E-2174G sits at the top of the other quad cores in all tests as we expected it to.
The E-2104G is perhaps the odd one out here, as it doesn't form part of Intel's regular Xeon E product family. This processor is classified as 'off-roadmap', which means it wasn't part of Intel's original plan and it was built for specific customers with requests for specific performance levels or to hit a certain price point. These chips rarely find their way to retail, and being the lowest processor of the Xeon E quad core line, it certainly performs as such.
Users who need Xeon E parts are typically looking for prebuilt machines with mainstream levels of performance but have requirements for manageability and/or ECC memory. Without any of those requirements, Intel's consumer processor line offers more system performance and higher specs for the same system price. AMD's Ryzen Pro line are an alternative to Xeon E, offering manageability through the DASH interface, and scale from quad core to eight core. If we can get samples of the Ryzen Pro linen we'll test them as well to see how they stand up to Intel.

For users interested in the future of this processor line, that's a hard one to answer. We've seen hints that Intel might launch eight core versions of Xeon E, although we expected those in the market last year and they haven't materialised. We expect Intel to move to 10nm for its next gen processor line, however the earliest those will be ready seems to be 2020, and the mainstream Xeon E processors typically come out six to nine months after the consumer versions do, so we might be looking at the end of 2020 before the next generation of Xeon E are released (unless Intel surprises us in late 2019 with another generation on 14nm)