Gaming Performance
Unfortunately, in Linux, we are restricted to only a few native games. Utilities such as WineX are bringing more and more games closer to the mainstream adoption that Windows already cherishes. However, we could spend an entire review alone looking solely at Wine based gaming, so we will save that for the future. In the meantime, we can take a look at the two native Linux games that everyone should be familiar with by now.
Wolfenstein: Enemy Territory is a free, stable, native game for Linux as well as a cornerstone of our Windows benchmark. Unfortunately, there is only a 32-bit version of the game, so we must settle with 32-bit performance benchmarks even on our 64-bit platforms. Resolutions were set to 1280x1024 with default configurations. The timedemo that we are using can be downloaded
here
.
Frames per Second, more are better.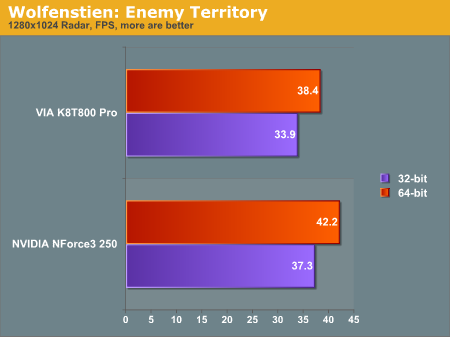 Unreal Tournament 2004 32-bit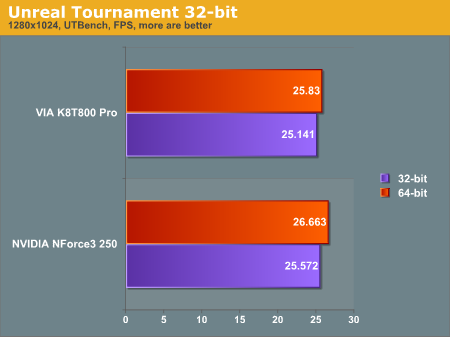 Hopefully, you'll notice the addition of the UT2K4 64-bit in our benchmarks. Since the 4K release of the 1.0-6106 driver last month, we have had considerably better luck getting our applications to work on AMD64. Kudos to NVIDIA.

You will notice that our UT2K4 benchmark has changed slightly as well. Unfortunately, the first time that we ran UTBench, we only reported whole numbers in the benchmark, even though we were provided 3 digits of accuracy. When re-running the benchmarks, we were surprised to see as much as 8% difference from test to test. We found that by running the benchmark twice, and taking the second number, it would get the difference from benchmark to benchmark under 5%. This is what we have done for the test above.

Surprisingly, the difference between 64-bit and 32-bit UT2004 was a little more than we expected. The case for 64-bit is extremely strong with this benchmark.