The Cards
First up, we have the Albatron Trinity GeForce 6800 Ultra. The bright yellow box advertises 2ns DDR3 Memory; though, at 2ns, 1.1GHz would be a bit of an overclock.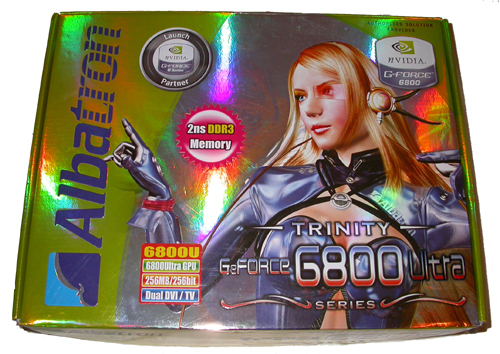 The card itself is just another NVIDIA reference model with a different sticker on the outside; that is, of course, until the card is installed and we take a look at the clock speed. Though only a 2.5% increase in stock clock speed, the 410MHz core of the Albatron card could give it up to that much performance advantage in computationally intensive games, or help lessen the impact of anisotropic filtering or antialiasing. This won't be a performance monster, but if one can find it for the same price as a card with stock clocks, the value is obvious.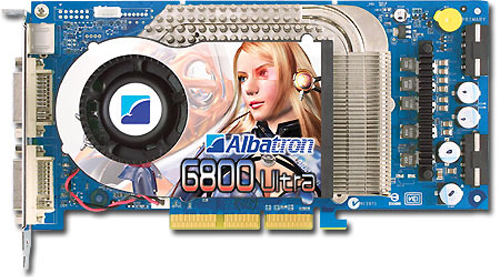 The bundle includes WinDVD Creator, Duke Nukem Manhattan Project, Max Payne, and Age of Wonders II; not the most compelling bundle in the world. The hardware is definitely Albatron's focus.
And our pricewatch search turned up this Albatron card at the current price for a stock 6800 Ultra: $540 USD. Eventually, prices of Ultra cards should fall toward their retail price of $500, but paying the premium of the early adopter is a little nicer with the added few megahertz. It will also be interesting to see if this card stays on price parity with the stock 6800U cards when they hit suggested pricing. But that's not where we are quite yet.
Next up, we have the ASUS V9999Ultra Deluxe. As with other ASUS cards, the name of the GPU configuration is no where in the name of their product, and it takes a little closer look at the box to figure out exactly what is being purchased.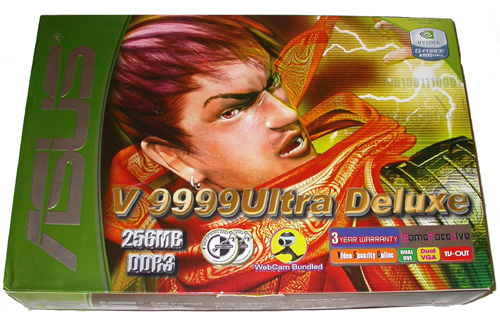 This time around, the immediately noticeable aspect of this card is its size: this is a single slot GeForce 6800 Ultra card. On top of that, ASUS threw blue LEDs inside for some extra pizzaz.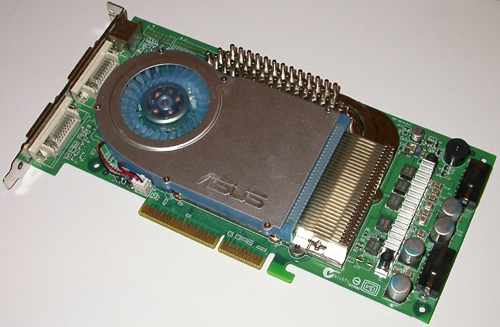 From the look of it, the V9999Ultra Deluxe sports a modified 6800GT HSF. Generally, at boot, NVIDIA fans spin up to their highest possible running speed and then spin down once the OS loads. The fan on the ASUS never seems to spin down from its initial running speed, meaning that ASUS likely locked it at top speed in order to compensate for the smaller, less efficient heatsink. This means that the card will run a little louder (and hotter) than its brethren, but that's a small price to pay for those out there, longing for a single slot 6800 Ultra card.
As if that wasn't enough to differentiate that card from the pack, ASUS tacks on a 6.25% overclock brining core speed up to 425MHz. This puts it even faster than the Albatron out of the box (but just how much faster, we'll see in a minute). Of course, we may not see the kind of overclocks with this card that we do with the Albatron due to the decreased cooling capacity of the cooling solution. But not to worry; we shall test all heat, noise, and overclockability before it's all over.
The only notable game that comes in this bundle is FarCry. The card does come with a webcam, though, so you get a little more hardware to play with.
The only hugely glaring issue is that all these bells and whistles add up to a requirement of $599 minimum (from pricewatch) in order to touch this card. This isn't insane, considering availability, but Ultra Extreme cards will be clocked higher, and single slot isn't the "be all, end all" of options in the ultra high end space. There are people out there who value thermal management and noise less than performance and size, so for them, this may be the options to hit.
Both cards sport GDDR3 RAM rated at 2.0ns, configured with a bit of a factory overclock. 2.0ns RAM should only be able to hit a 1GHz data rate, but both vendors are running at 1.1GHz data rates.
Now that we know a little more about the contenders, let's take a look at the tests.