System Performance
Acer offers both Intel and AMD powered versions of the Nitro 5, and there's some significant differences in terms of CPU options due to the limited product stack AMD launched with Ryzen Mobile. The AMD powered Nitro 5 comes with a Ryzen 5 2500U processor, offering four cores, eight threads, and a maximum boost frequency of 3.6 GHz. Being a U series, the TDP is 15-Watts by default, though AMD offers a range of cTDP modes from 12-25 Watts. This is a rarely tapped feature on most laptops, but in this case it looks like Acer has put the Ryzen in cTDP up mode. We've reached out to Acer and AMD to confirm the TDP settings, but as you'll see below this Ryzen 5 2500U performs well ahead of other we have tested.
AMD has recently announced the second generation Ryzen mobile processors, and the product stack is much wider, with a couple of new H series models which will expand the base TDP to 35 Watts. It would not be a shock to see this Acer updated when those are available.
This is the first Ryzen laptop we've tested though that's been paired with a dGPU, so the Acer's choice to go with the Ryzen 5 2500U isn't as large of a step down from the 2700U as usual, since the big jump in the 2700U is the bigger Vega 10 GPU. Since any GPU task will be offloaded to the RX 560X, the iGPU performance tradeoff isn't a concern.
For comparisons, we've included the Dell XPS 15 9560 because it came with a quad-core Kaby Lake and GTX 1050, which is the same type of components found in the other model of Acer Nitro 5. We've also included the Surface Book 2 15, which had a 15-Watt CPU paired with a GTX 1060, and the MSI GT75 Titan was included only because it's the only other laptop we've tested with the most recent version of our gaming suite so far. If you'd like to compare the Acer Nitro 5 to any other system we've tested, please check out our online Bench.
PCMark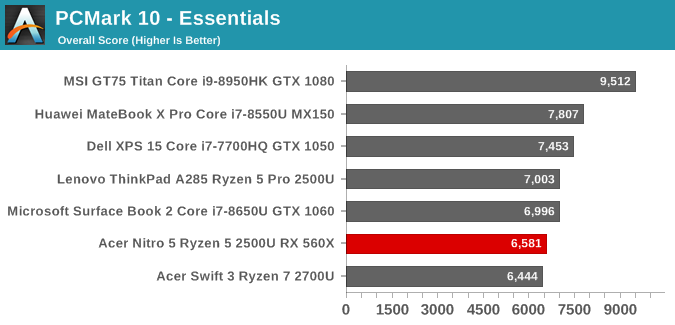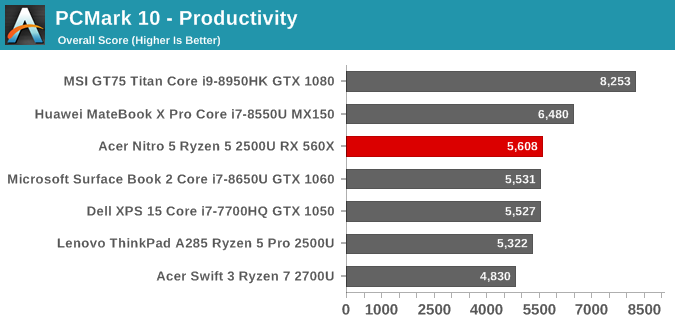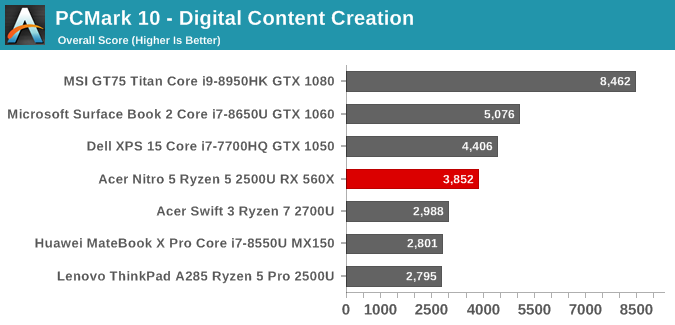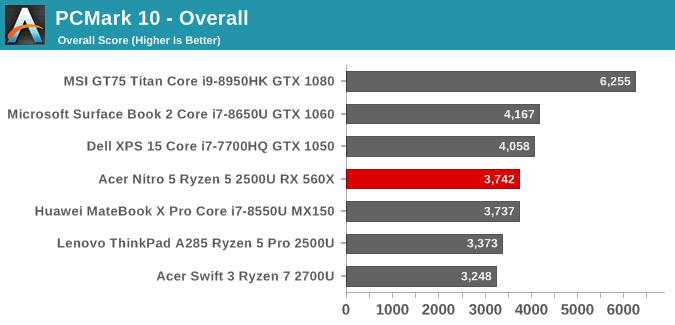 The Nitro 5 holds its own here, performing similarly to the Dell XPS 15, although its not quite able to keep up with a 45-Watt processor in all of the tasks on PCMark 10.
Cinebench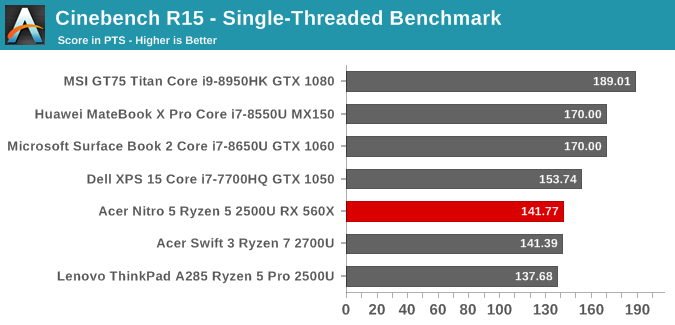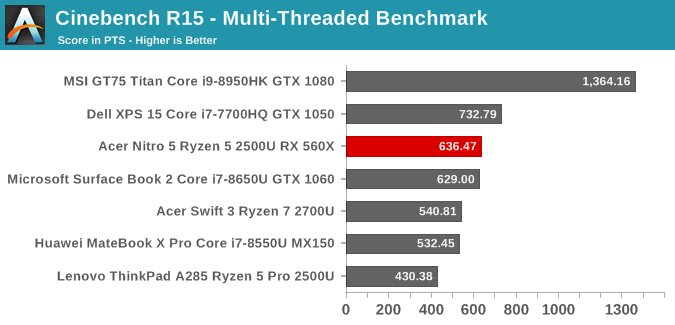 AMD's Ryzen has always performed well in Cinebench, and continues to here as well. The extra cooling capacity of this gaming laptop lets the Ryzen stretch its legs, outperforming the same Ryzen 5 2500U we tested in the Lenovo ThinkPad A285 by a wide margin.
x264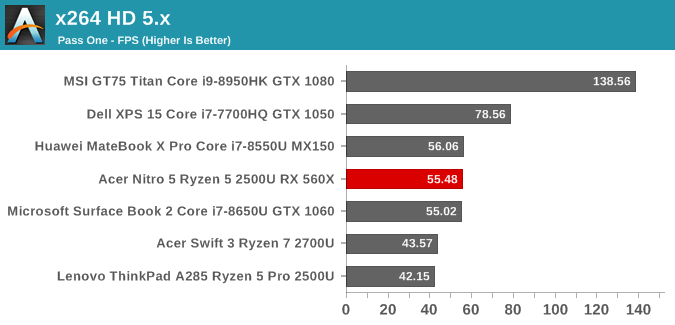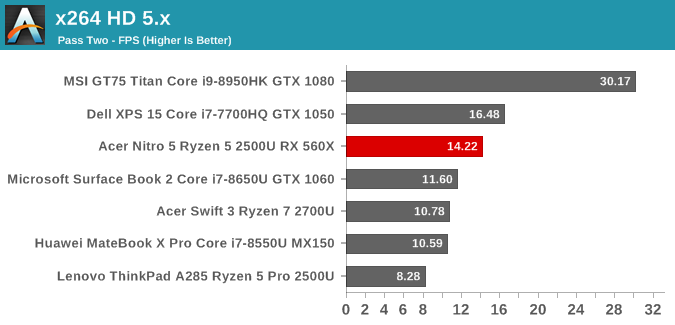 As with the previous tests, the Acer Nitro 5 performs quite well in our CPU based encoding test, but can't quite match a quad-core Kaby Lake at 45-Watts. It's still well ahead of the other Ryzen models we've tested though.
Web Tests
Web is one of the most important tasks for any system, but is also the least reliable way to check performance, since it is so heavily dependent on the browser, and of course browsers are updated continuously meaning even just using the same browser is more or less a snapshot in time.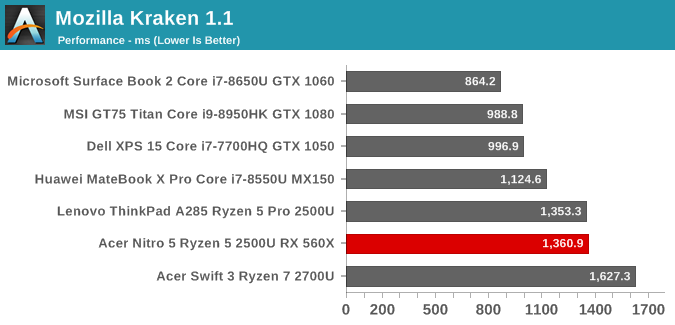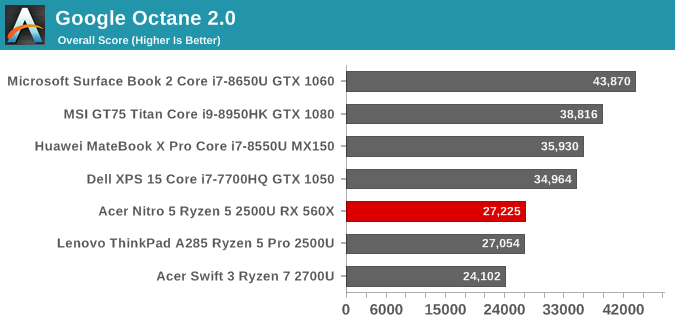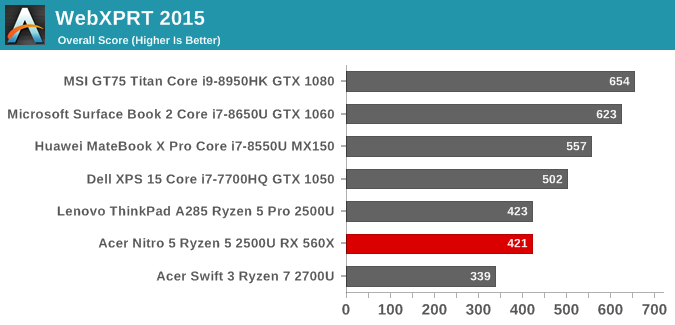 Web performance is one area where Ryzen struggles against the similar Intel Core products, most likely due to the effort Intel has put into their Speed Shift and how quickly the processors can ramp up to their maximum performance level, which is important in web because the tests tend to be short bursts of work.
CPU Conclusion
While not quite able to match the 45-Watt Intel quads, the Acer Nitro 5 with Ryzen 5 2500U still offers very solid performance, offering much more sustained performance than we've seen in any previous Ryzen laptop we have tested.
Storage Performance
Unless you buy the lowest-priced Nitro 5, Acer includes SSD storage, as well as a 2.5-inch HDD bay so that you can add extra storage if needed. With a 256 GB OS drive, there's enough room for the OS and a couple of games though. Acer offers a SATA SSD in the Nitro 5, based on the Micron 1100.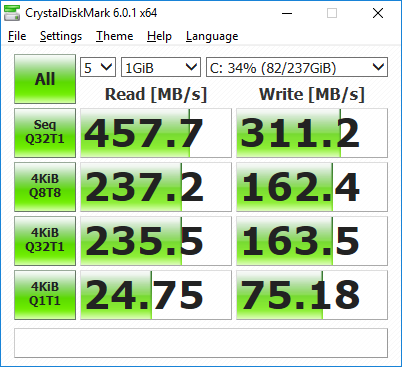 Being a SATA based SSD, peak performance is certainly limited compared to NVMe drives, but it still offers orders of magnitude better performance compared to spinning drives. Considering the budget nature of this device, it's excellent to even see an SSD, so if it has to be a SATA that is just fine.