Mixed Random Performance
Our test of mixed random reads and writes covers mixes varying from pure reads to pure writes at 10% increments. Each mix is tested for up to 1 minute or 32GB of data transferred. The test is conducted with a queue depth of 4, and is limited to a 64GB span of the drive. In between each mix, the drive is given idle time of up to one minute so that the overall duty cycle is 50%.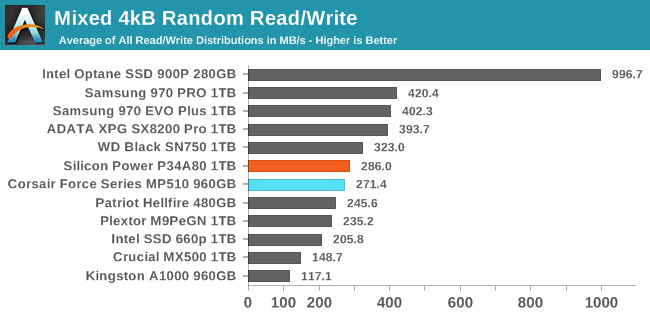 The Silicon Power P34A80 has slightly better performance on the mixed random IO test than the Corsair MP510 with earlier firmware, but the overall standing for the Phison E12 drives hasn't changed: they're still slower than most of the other high-end NVMe drives, but clearly outperform the entry-level NVMe drives and SATA drives.
Power efficiency has changed little with the new firmware. The P34A80 and Corsair MP510 are both significantly more efficient on this test than the entry-level NVMe drives, but they fall far short of what the WD Black SN750 delivers with the same 3D TLC NAND.
Compared to the Corsair MP510, the Silicon Power P34A80 improves performance on a few of the more write-heavy mixes but otherwise behaves identically. The WD Black offers the same performance on the read-heavy and balanced mixes, but pulls ahead as the workload becomes more write-heavy. The Samsung and ADATA drives are able to outperform the P34A80 across the entire range of mixes.
Mixed Sequential Performance
Our test of mixed sequential reads and writes differs from the mixed random I/O test by performing 128kB sequential accesses rather than 4kB accesses at random locations, and the sequential test is conducted at queue depth 1. The range of mixes tested is the same, and the timing and limits on data transfers are also the same as above.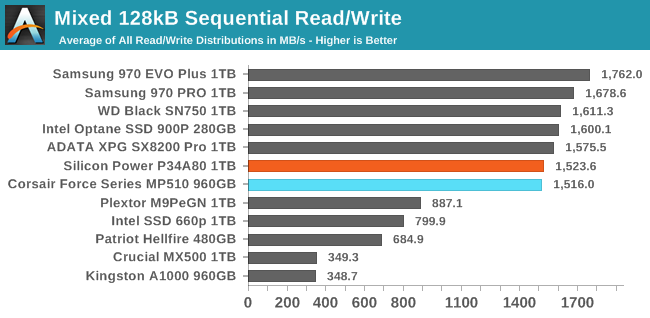 The Silicon Power P34A80 performs about the same as the Corsair MP510 on the mixed sequential IO test. That leaves the two drives in the top performance tier, but they're the slowest drives within that tier: the fastest drive is about 15% faster than the P34A80.
The Phison E12 drives have great power efficiency on the mixed sequential IO test, second only to the WD Black SN750. However, the P34A80 again uses a bit more power than the Corsair MP510 and thus has the lower efficiency score of the two.
The P34A80's performance over the course of the mixed sequential IO test closely matches that of the Corsair MP510 with the earlier firmware. This pattern continues to be quite unusual, with performance peaking on the write-heavy mixes where most drives are at their worst, and sub-par performance on the most read-heavy mixes where other high-end NVMe drives are far faster.