Conclusion
The Silicon Power P34A80 shows that Phison's updated firmware for the E12 controller is generally an improvement, but the changes are not drastic. There are a few minor performance regressions, but they are balanced by plenty of minor performance gains, and a few larger performance gains that set new records on some of our synthetic benchmarks. With newer firmware, the Phison E12 is still a capable high-end contender, but firmware tweaks alone are not enough to close the gap where the E12 is lagging behind the competition.
There's no significant shift in strategy, unlike what we've seen with the Silicon Motion SM2262EN compared to the original SM2262, where peak performance is now much more heavily emphasized at the expense of sustained performance and full-drive performance. Phison's new firmware isn't trying to make radically different tradeoffs, just trying to refine performance in general.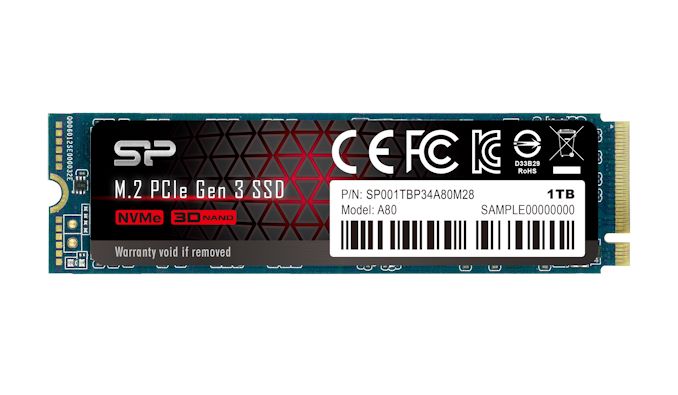 The most important lesson from the P34A80 stems from the fact that it offers comparable performance to the Corsair MP510 while providing a usable capacity of 1024GB instead of 960GB. Clearly, the higher overprovisioning ratio of the MP510 is not necessary for the Phison E12 controller to perform well, even on the tests that completely fill the drive. The difference in usable capacity may be just under 7%, but that kind of difference still gives a drive a leg up when comparing price-per-gigabyte.
Extra overprovisioning may help with write endurance, but there's no indication that this is needed. Silicon Power doesn't give an explicit TBW or drive writes per day rating to the P34A80, but the five year warranty period is the same that other high-end SSDs come with. Other vendors that use Toshiba's 64L TLC NAND have had no trouble offering competitive endurance ratings on drives with the same overprovisioning ratio as the P34A80, and the Phison E12's error correction is competitive with what other current NVMe controllers use.
The Silicon Power P34A80 does consistently use slightly more power than the Corsair Force Series MP510 did, which hurts efficiency on many tests where there aren't significant performance gains from the new firmware. But this efficiency hit doesn't change the rankings much, and the Phison E12 was never one of our top choices for power-efficient NVMe drives.
It would be nice to see more vendors have infrastructure for delivering firmware updates; Silicon Power's firmware updater is easy to find, though there aren't any updates from the past year. MyDigitalSSD has already delivered the 12.1 update for their E12 drive that originally shipped with 11.0. Corsair seemingly hasn't provided a firmware update for one of their SSDs since they were using SandForce controllers years ago. Other Phison partners are likewise all over the place with their post-sale product maintenance. (It's worth mentioning that it is often possible to use one brand's firmware update tool on another brand's SSD, when both are using reference Phison firmware, but no vendor should put their customers in the position of needing to try this.)
The Silicon Power P34A80 is currently difficult to find in stock, though it appears that Newegg had the 1TB model for a while, and the 512GB drive is listed on Amazon for a very attractive $74.99. The Phison E8-based P32A80 is also quite scarce, so it appears that Silicon Power is still just testing the waters of the NVMe market while focusing primarily on their SATA products. For now, our recommendation for a Phison E12 product is the MyDigitalSSD BPX Pro, which has slightly lower usable capacities than the Silicon Power drive but does offer the newer firmware that Corsair hasn't offered for download.