Burn Tests CDR Media
We use the following configuration to test our burners:
Albatron 865PE Pro II
Intel Pentium 4 2.4GHz 800FSB
2 x 512 DDR OCZ PC3200 EL
Maxtor 80GB 7200RPM 8MB PATA
Windows XP SP1
You can check out our previous benchmarks on the
Plextor PX-712A from a couple of months ago
. For this duration of the benchmark, we use the included 101E firmware. We first burn the media with the MSI DR12A and then use Plextools to test C1/C2/CU averages in the same drive. Good burns have low C1/C2 averages and are considered the most readable. We used Ahead Nero's CD-DVD Speed 2.11.4 for burn and read tests.
Ritek CDR:
Nothing too unusual about this burn. It's a straightforward, clean CAV burn. The drive actually hits 41X whereas the unit is only advertised as 40X.
Here is how the disc performed using the Plextor PX-712A to check for errors.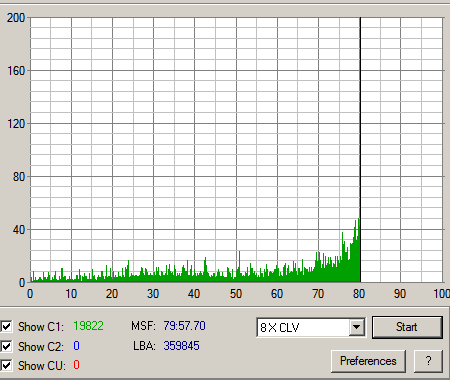 Memorex CDR:
Here is how our store-bought Memorex 48X CDRs fared with the burner.
Above, the burn and initial readback look good. And here is how the same disc performed in the PX-712A.
The Plextor has absolutely no trouble reading this disc. So far, the CDR tests look promising for this drive.