Gaming: Far Cry 5
The latest title in Ubisoft's Far Cry series lands us right into the unwelcoming arms of an armed militant cult in Montana, one of the many middles-of-nowhere in the United States. With a charismatic and enigmatic adversary, gorgeous landscapes of the northwestern American flavor, and lots of violence, it is classic Far Cry fare. Graphically intensive in an open-world environment, the game mixes in action and exploration.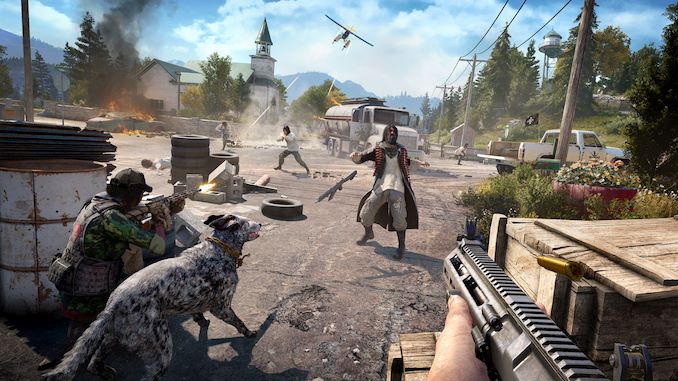 Far Cry 5 does support Vega-centric features with Rapid Packed Math and Shader Intrinsics. Far Cry 5 also supports HDR (HDR10, scRGB, and FreeSync 2). We use the in-game benchmark for our data, and report the average/minimum frame rates.
AnandTech CPU Gaming 2019 Game List
Game
Genre
Release Date
API
IGP
Low
High
Far Cry 5
FPS
Mar
2018
DX11
720p
Low
1080p
Normal
4K
Ultra
All of our benchmark results can also be found in our benchmark engine, Bench.
| | | | |
| --- | --- | --- | --- |
| AnandTech | IGP | Low | High |
| Average FPS | | | |
| 95th Percentile | | | |
Far Cry 5 prefers Intel.