Gaming: Shadow of War
Next up is Middle-earth: Shadow of War, the sequel to Shadow of Mordor. Developed by Monolith, whose last hit was arguably F.E.A.R., Shadow of Mordor returned them to the spotlight with an innovative NPC rival generation and interaction system called the Nemesis System, along with a storyline based on J.R.R. Tolkien's legendarium, and making it work on a highly modified engine that originally powered F.E.A.R. in 2005.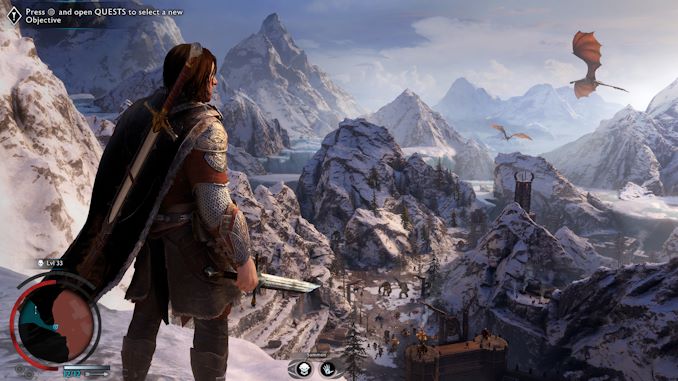 Using the new LithTech Firebird engine, Shadow of War improves on the detail and complexity, and with free add-on high-resolution texture packs, offers itself as a good example of getting the most graphics out of an engine that may not be bleeding edge. Shadow of War also supports HDR (HDR10).
AnandTech CPU Gaming 2019 Game List
Game
Genre
Release Date
API
IGP
Low
Med
High
Shadow of War
Action / RPG
Sep
2017
DX11
720p
Ultra
1080p
Ultra
4K
High
8K
High
All of our benchmark results can also be found in our benchmark engine, Bench.
| | | | | |
| --- | --- | --- | --- | --- |
| AnandTech | IGP | Low | Medium | High |
| Average FPS | | | | |
Going down to the 2300X at 1080p drops performance around 14%, but at 4K and above, all the CPUs perform equal.