Total War: Warhammer II (DX11)
Last in our 2018 game suite is Total War: Warhammer II, built on the same engine of Total War: Warhammer. While there is a more recent Total War title, Total War Saga: Thrones of Britannia, that game was built on the 32-bit version of the engine. The first TW: Warhammer was a DX11 game was to some extent developed with DX12 in mind, with preview builds showcasing DX12 performance. In Warhammer II, the matter, however, appears to have been dropped, with DX12 mode still marked as beta, but also featuring performance regression for both vendors.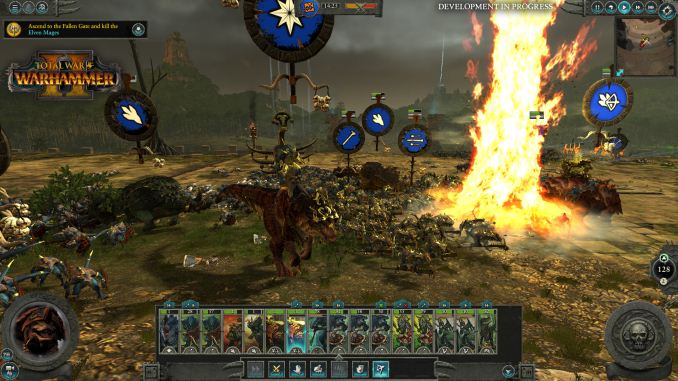 It's unfortunate because Creative Assembly themselves have acknowledged the CPU-bound nature of their games, and with re-use of game engines as spin-offs, DX12 optimization would have continued to provide benefits, especially if the future of graphics in RTS-type games will lean towards low-level APIs.
There are now three benchmarks with varying graphics and processor loads; we've opted for the Battle benchmark, which appears to be the most graphics-bound.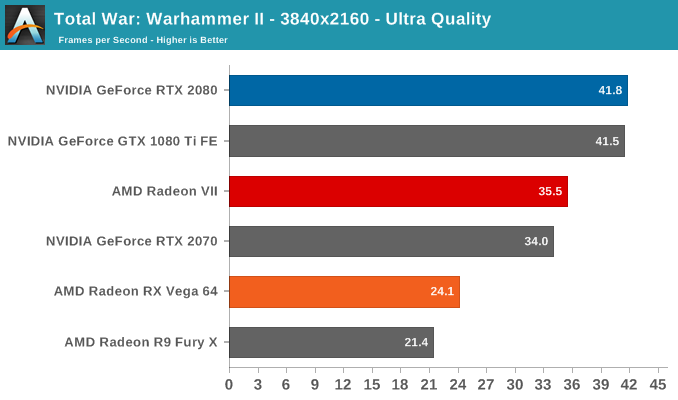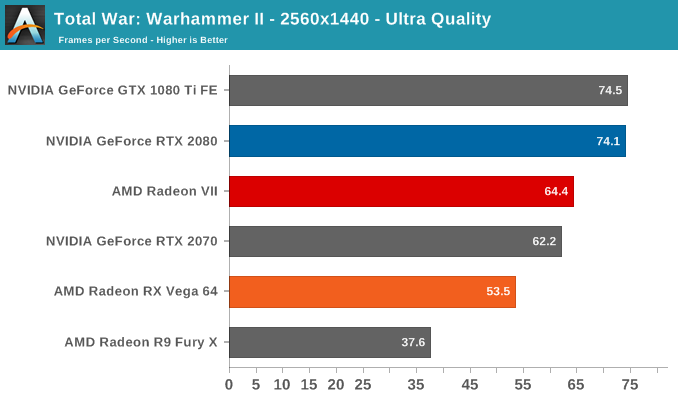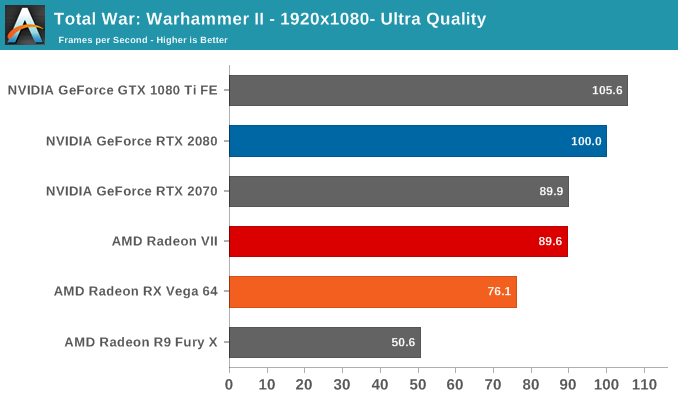 Wrapping things up for games is Total War: Warhammer II, and this title is one that is less than ideal for the matchup between the Radeon VII and its competitors. Much like GTA V, the card is able to make substantial improvements over its predecessor; at 4K, this is an astounding 47% increase over the RX Vega 64. Nevertheless, given the starting point of the RX Vega 64, the Radeon VII is still somewhere around 15% behind the reference RTX 2080, meaning that it performs a shade faster than the reference RTX 2070 at 4K/1440p. That's not where the Radeon VII ideally wants to be, despite being respectable way to iterate on the RX Vega 64.