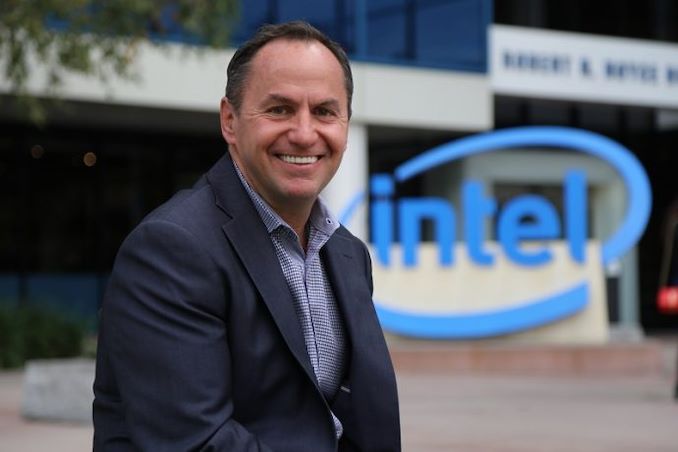 Intel today announced that its board of directors had named Robert Swan, its CFO and interim CEO, as its full-time chief executive officer. Mr. Swan will be the company's first CEO with a financial background. As the head of the company, Mr. Swan will continue Intel's transformation from a PC-centric to a data-centric company with a focus on improving the company's execution and aggressively capturing addressable markets using ambitious technologies.
Robert Swan (58) has become the chief executive of Intel at a rather interesting, yet challenging time. The world is at a strategical inflection point when multiple technologies have to converge in a bid to enable the next phase of industrial and social development. To stay relevant, Intel not only needs to retain its leading position as a developer and maker of CPUs and compute platforms, but also gain new, important competencies. Meanwhile, the company is facing multiple challenges. Its traditional rivals are getting stronger (partly because they are forming alliances) and new competitors are emerging. In the meantime, Intel's leadership in semiconductor production is now challenged and many of its opponents have certain advantages.
Swan clearly understands the high-tech industry challenges and prospects at large, as well as the place of Intel going forward (see his letter on first day as CEO below). The world now generates and collects more data than ever before, which drives requirements for data transfer, storage, and processing capabilities. In addition, there are emerging opportunities like AI/ML, autonomous driving, computer vision, robotics, and others. To address these developing needs, Intel will have to further diversify its strategy and product portfolio.
Meanwhile, coming from a background in finance, Swan is a bit of a departure from Intel's usual CEO track, as he has not previously been involved in making technology or strategy-related decisions. What is important here is that the new CEO of Intel believes that the company's team "has the technical and strategic vision to shape technology's future", yet its "execution must improve". This may indicate that he may leave decisions regarding technology to appropriate specialists while focusing on the overall business and its execution.
Robert Swan, who is Intel's 7th CEO in 50 years, joined Intel in October 2016. He is the first Intel CEO who is not the company's veteran. That said, he has a vast experience of working at high-tech companies. Prior to Intel, he worked at General Atlantic, an equity investment firm, and before that he served as CFO at eBay. Throughout his career he has also worked at Electronic Data Systems, TRW, Webvan Group, and General Electric.
Todd Underwood, vice president of Finance and director of Intel's Corporate Planning and Reporting, will act as interim CFO as the company starts an internal and external search for a permanent financial chief.
Robert Swan's email to Intel employees, customers and partners as CEO reads as follows:
Subject: Driving Intel Forward
I am honored and humbled to be named Intel's CEO. I loved my role as the CFO, and over the past seven months I have come to love our company even more – and its mission, employees and customers. When the board approached me about taking the CEO role, I jumped at the opportunity to remove "interim" from my title.
As an executive team, we will focus relentlessly on building great teams and culture, and delighting our customers. Leadership is a team sport and is about bringing together the team, setting the direction and letting the team be unencumbered – so they can achieve things nobody thought was possible. My biggest learning over the last seven months is how important we all are to our customers, and the responsibility and opportunity that goes with that.
As we move into the next few weeks and months, we'll be focused on four critical imperatives.
First, we must be bold and fearless. Intel's team has the technical and strategic vision to shape technology's future. Our ambitions have never been greater and we have a relatively small share of the largest addressable market in Intel's history. We must remain focused on playing offense and innovating for an increasingly data-centric world. A world where all data needs to be processed, moved, stored and analyzed.
Second, our core strategy is not changing: We've embarked on what we believe can be the most successful transformation in corporate history. We are evolving from a PC-centric to a data-centric company that builds the technology foundation powering the world's innovations. What will change is how we serve our customers and how we partner and build the best technology together. By listening closely to how we can make our customers' lives better by helping them delight their customers, we will all win.
Third, our execution must improve. And it will. Our customers are counting on us.
Fourth, we have a powerful culture, and to achieve our ambitions we must evolve. Our culture must encourage every Intel employee to be bold and fearlessly focused on going beyond what they thought possible. And, the culture must honor truth and transparency, customer-obsession, and coming together as "One Intel."
Intel has an amazing legacy, but our aspirations have grown. We need to continue to evolve to continue making Intel's future even brighter than our storied past.
We've got an incredible foundation to build on – and I look forward to all that we can achieve together in the future. I'm all in.
– Bob
Intel's press release reads as follows:
SANTA CLARA, Calif., Jan. 31, 2019 – Intel Corporation (NASDAQ: INTC) today announced that its board of directors has named Robert (Bob) Swan as chief executive officer. Swan, 58, who has been serving as Intel's interim CEO for seven months and as chief financial officer since 2016, is the seventh CEO in Intel's 50-year history. Swan has also been elected to Intel's board of directors.
Todd Underwood, vice president of Finance and director of Intel's Corporate Planning and Reporting, will assume the role of interim chief financial officer as the company undertakes an internal and external search for a permanent CFO.
"As Intel continues to transform its business to capture more of a large and expanding opportunity that includes the data center, artificial intelligence and autonomous driving, while continuing to get value from the PC business, the board concluded after a thorough search that Bob is the right leader to drive Intel into its next era of growth," said Chairman Andy Bryant. "The search committee conducted a comprehensive evaluation of a wide range of internal and external candidates to identify the right leader at this critical juncture in Intel's evolution. We considered many outstanding executives and we concluded the best choice is Bob. Important in the board's decision was the outstanding job Bob did as interim CEO for the past seven months, as reflected in Intel's outstanding results in 2018. Bob's performance, his knowledge of the business, his command of our growth strategy, and the respect he has earned from our customers, our owners, and his colleagues confirmed he is the right executive to lead Intel."
"In my role as interim CEO, I've developed an even deeper understanding of Intel's opportunities and challenges, our people and our customers," Swan said. "When I was first named interim CEO, I was immediately focused on running the company and working with our customers. When the board approached me to take on the role permanently, I jumped at the chance to lead this special company. This is an exciting time for Intel: 2018 was an outstanding year and we are in the midst of transforming the company to pursue our biggest market opportunity ever. I'm honored to have the chance to continue working alongside our board, our leadership team, and our more than 107,000 superb employees as we take the company forward."
Swan is a proven leader with a strong track record of success both within and outside Intel. As interim CEO, Swan has managed the company's operations in close collaboration with Intel's senior leadership team. Swan has been Intel's CFO since October 2016. In this role, he led the global finance, mergers and acquisitions, investor relations, IT and corporate strategy organizations. Prior to joining Intel, Swan served as an operating partner at General Atlantic LLC and served on Applied Materials' board of directors. He previously spent nine years as CFO of eBay Inc., where he is currently a director. Earlier in his career, he was CFO of Electronic Data Systems Corp. and TRW Inc. He also served as CFO, COO and CEO of Webvan Group Inc., and began his career at General Electric, serving for 15 years in several senior finance roles.
Related Reading: