Video Encoding
Since XMPEG does not have a Linux port, we will use MEncoder under 64-bit and 32-bit operation. Obviously, we are attempting to replicate our Windows MPEG2 to DivX conversion as accurately as possible using MEncoder 3.3.1. We used the bundled GCC and make RPMs to compile MPlayer (and lame) for these benchmarks. For Windows, we used a precompiled binary of MEncoder.
Below is the command that we used to produce a DivX .avi from a 700MB MPEG2.
mencoder sample.mpg - nosound - ovc lavc vcodec=mpeg4:vpass=2 - o sample.avi
Frames per Second, more are better.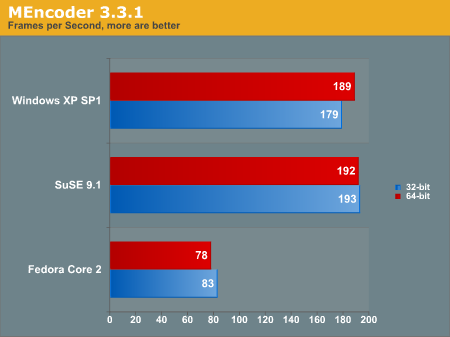 These encoding tests seem fairly close in tolerance, but no matter how many times we ran the benchmark, the initial recording was reported. The Fedora benchmark seemed the most interesting; both the 32-bit and 64-bit versions of Fedora reported exceptionally poor scores.
Audio Encoding
Since we are still testing out-of-the-box Operating Systems, we did not compile our own binaries for lame 3.96. For Windows, we went with Mitok compilation (which, sadly, has no 64-bit counterpart).
We ran lame on a 700MB .wav file using the command equivalent to the one below:
lame sample.wav -b 192 -m s -h >/dev/null
Encoding time, lower is better.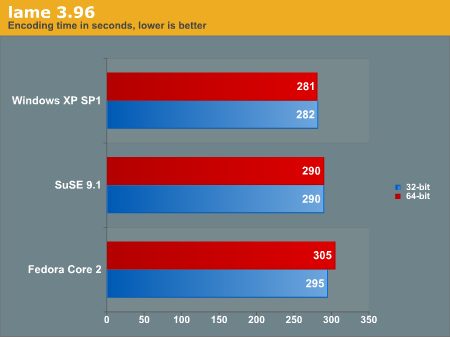 Again, like the MEncoder testing, our encoding tests always reported the same values; thus, making it a very reliable benchmark. Although not as dramatic as the video encoding benchmark, the Fedora Core 2 took a small performance hit against the SuSE 9.1 encoding.