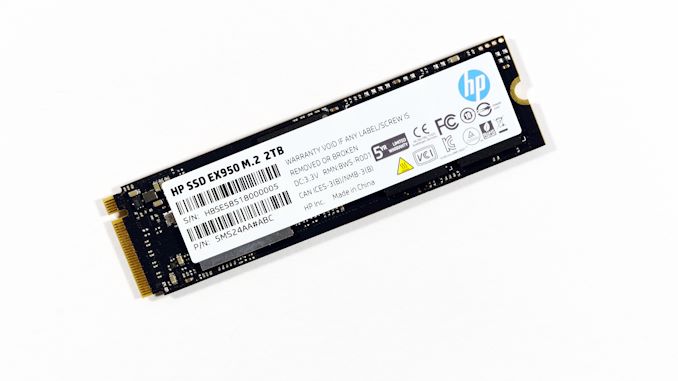 HP has announced a new high-end consumer NVMe SSD, the HP EX950. The EX950 is the successor to the very successful HP EX920, which for most of 2018 was one of the most affordable high-end NVMe SSDs on the market. The EX950 replaces the EX920's Silicon Motion SM2262 controller with the newer SM2262EN controller, bringing performance improvements to remain competitive in the new year.
HP EX950 Specifications
Capacity
512 GB
1 TB
2 TB
Controller
Silicon Motion SM2262EN
NAND Flash
Intel/Micron 64L 3D TLC
Form-Factor, Interface
double-sided M.2 2280 PCIe 3 x4 NVMe 1.3
Sequential Read
3500 MB/s
3500 MB/s
3500 MB/s
Sequential Write
2250 MB/s
2900 MB/s
2900 MB/s
Random Read
390k IOPS
410k IOPS
410k IOPS
Random Write
370k IOPS
370k IOPS
380k IOPS
Power Consumption
Active
5.21 W
6.93 W
6.93 W
Idle
0.73 W
0.73 W
0.73 W
Warranty
5 years
Write Endurance
320 TB
0.34 DWPD
650 TB
0.36 DWPD
1400 TB
0.38 DWPD
The EX950 uses the same Intel/Micron 64-layer 3D TLC NAND as the EX920, so all of the performance improvements are the result of controller and firmware optimization. The most significant claimed improvements are to write speeds, with the 1TB model specced for over 60% improved sequential writes and almost 50% faster random writes. The 1TB and 2TB models have slightly more overprovisioning than the EX920 (1000GB usable instead of 1024GB), which should also help sustained write speeds a bit. The EX920 and other SM2262 drives already had the best random read performance of any TLC-based drives we've tested, so the more modest improvements there are not a problem. Sequential read performance improves from 3.2GB/s to 3.5GB/s, coming even closer to the limits of a PCIe 3 x4 host connection.
The EX950 line bumps up capacities, dropping the 256GB model and adding a 2TB model at the top. This is a trend we expect to see from many high-end NVMe product lines going forward, as 256GB drives don't have enough flash to keep a modern high-end controller busy. 256GB SSDs are still a fairly mainstream capacity, but those models cannot be advertised with the same extreme performance numbers.
HP has not yet announced when the EX950 is due to hit the shelves or what the pricing will be like, but our review samples have already arrived so the EX950 should be available for purchase soon. ADATA's SX8200 Pro based on the same SM2262EN hit the market in time for Black Friday and its prices have dropped a bit since release, so the EX950 will be facing very direct competition when it arrives.