Power, Temperature, and Noise
As always, we'll take a look at power, temperature, and noise of the RTX 2060 Founders Edition, though most of the highlights and trends we've seen twice before with the RTX 2080 Ti, RTX 2080, and RTX 2070 Founders Edition launches. For the most part, the dual axial fan open air design provide straightforward benefits in lower noise and cooling, which counterbalences the atypically large GPUs and new fixed-function hardware.
As this is a new GPU, we will quickly review the GeForce RTX 2060's stock voltages and clockspeeds as well.
NVIDIA GeForce Video Card Voltages
Model
Boost
Idle
GeForce RTX 2060 (6GB) Founders Edition
1.050V
0.725V
GeForce RTX 2070 Founders Edition
1.050v
0.718v
GeForce GTX 1060 6GB Founders Edition
1.062v
0.625v
The voltages are broadly comparable to the preceding 16nm GTX 1070. In comparison to pre-FinFET generations, these voltages are exceptionally lower because of the FinFET process used, something we went over in detail in our GTX 1080 and 1070 Founders Edition review. As we said then, the 16nm FinFET process requires said low voltages as opposed to previous planar nodes, so this can be limiting in scenarios where a lot of power and voltage are needed, i.e. high clockspeeds and overclocking. Of course, Turing (along with Volta, Xavier, and NVSwitch) are built on 12nm "FFN" rather than 16nm, but there is little detail on the exact process tweaks.
Power Consumption
The TDP increase to 160W brings the RTX 2060 (6GB) in between the 180W GTX 1080/1070 Ti and 150W GTX 1070. In turn, load consumption is more-or-less on that level, and nothing dissimilar to what we've seen. This also means that efficiency is around the same relative to performance, as opposed to the RTX 2070, 2080, and 2080 Ti.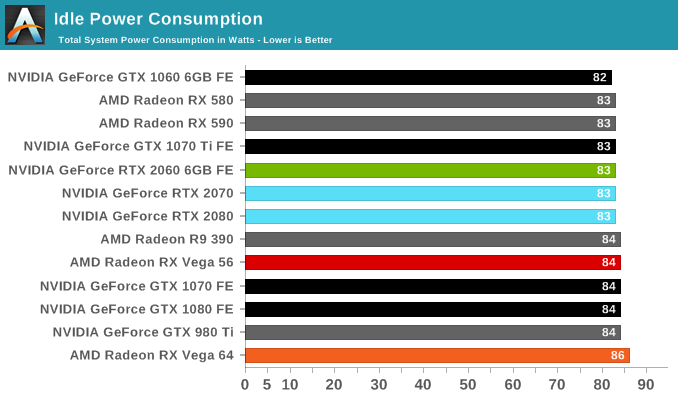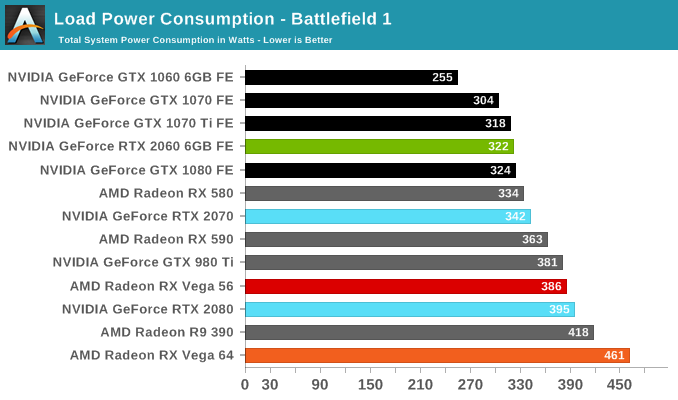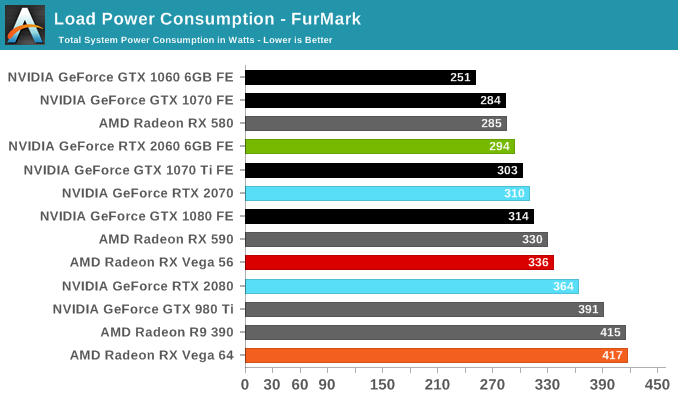 Temperature & Noise
With an open air cooler design with dual axial fans, the results are in line with what we've seen with the other RTX Founders Editions.