Conclusion
The only technical change the Samsung 970 EVO Plus brings relative to last year's original 970 EVO is an upgrade from 64-layer 3D NAND to 92-layer 3D NAND. Fortunately, this change brings quite a few positive effects for end-users.

Samsung isn't the first to ship 9x-layer 3D NAND but they are the first to make it readily accessible to consumers in retail SSDs. This is Samsung's fifth generation 3D NAND and they have continued to improve not just the density and cost per GB, but also performance and power consumption. Those latter effects are more immediate, since the 970 EVO Plus is launching at similar prices to the 970 EVO it replaces. We do expect the 970 EVO Plus to continue the downward price trend that made 2018 such a great year for SSD buyers, but in the meantime the performance and power improvements are more interesting.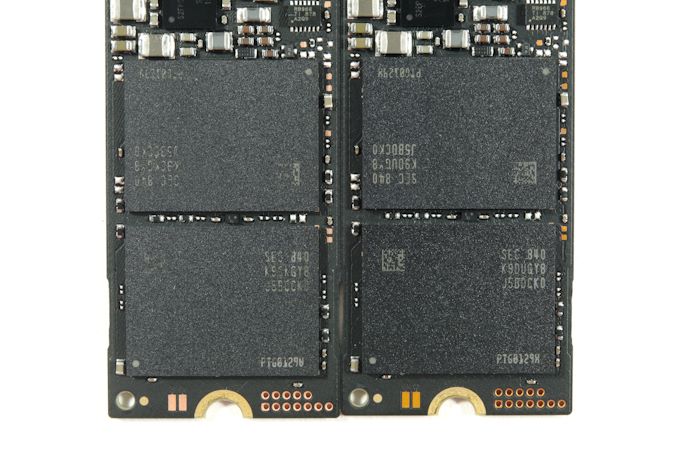 The 970 EVO Plus uses the same controller as the last generation of products, but it doesn't seem to get in the way of taking advantage of the new NAND's capabilities. With the 970 EVO Plus, Samsung retakes or strengthens their lead in some of our most challenging benchmarks. This is most noticeable in the tests that fill up the drive's SLC write cache, because the 970 EVO Plus has the best post-cache write speed we've measured from a TLC drive. This higher post-cache write speed is especially important given that Samsung's SLC caches are somewhat conservatively sized, at least in comparison to drives like the ADATA SX8200 that allow their SLC caches to grow to use almost the entire drive's array of flash memory.
The contrast between the SX8200's maximum size SLC cache strategy and the more reserved 970 EVO Plus cache sizes tends to allow the ADATA drive to perform better in ideal conditions, but hurts performance severely when the cache runs out. For the smallest drives in the 240GB–250GB range, ADATA's approach is probably a bit too aggressive because 240GB drives are fairly easy to fill up these days. A somewhat less aggressive SLC cache more like Samsung's mitigates the worst-case performance for the models that are most likely to actually hit that worst-case scenario in the real world.
Since the 970 EVO Plus does not introduce a new SSD controller, it still reflects Samsung's prioritization of performance over power efficiency. Western Digital and Toshiba have been demonstrating repeatedly that NVMe drives don't have to be power-hungry to hit the highest levels of performance, and Samsung is definitely lagging here in the overall picture. The 970 EVO Plus does score some efficiency wins, but only where it builds on the original 970 EVO's greatest strengths. For notebook use, the WD Black SN750's occasionally lower performance is absolutely worth the huge power savings.
With Samsung launching the 970 EVO Plus at the same prices as the 970 EVO, they're taking one of the fastest TLC drives and making it a slightly better deal.
There aren't a lot of options for stepping up in performance from the 970 EVO Plus. The 970 PRO hasn't been updated to 96L NAND and has limited capacity options, and the Intel Optane SSD 900P is even more expensive. Both drives suffer from difficulty providing any tangible benefit over fast TLC drives for lighter workloads, and on heavier workloads the PCIe 3.0 x4 bottleneck becomes an issue. They also don't consistently beat the top TLC drives on synthetic benchmarks. Given what today's best TLC drives can do, MLC NAND and 3D XPoint memory both need to be regarded as niche options that cannot automatically be assumed to offer better real-world performance.
For most purposes, the 970 EVO Plus can now be regarded as Samsung's flagship consumer SSD, and it deserves that title. Its primary competition comes from NVMe drives that are much cheaper but offer similar real-world performance with lower worst-case synthetic benchmark performance.