Mixed Random Performance
Our test of mixed random reads and writes covers mixes varying from pure reads to pure writes at 10% increments. Each mix is tested for up to 1 minute or 32GB of data transferred. The test is conducted with a queue depth of 4, and is limited to a 64GB span of the drive. In between each mix, the drive is given idle time of up to one minute so that the overall duty cycle is 50%.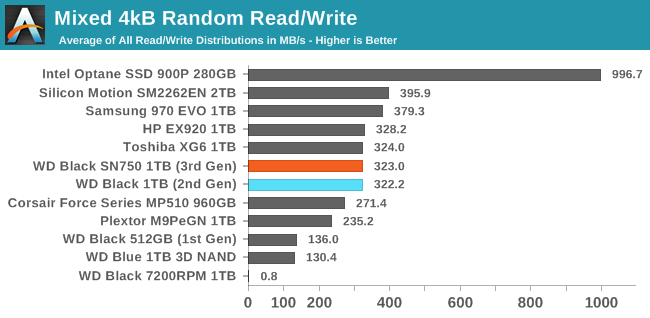 The overall mixed random IO performance of the Western Digital WD Black SN750 is about the same as the previous version, as well as the Toshiba XG6 and HP EX920. These are the second-tier drives that are a bit slower than the SM2262EN and the Samsung 970 EVO.
The SN750 and the Toshiba XG6 have almost exactly the same overall performance on this test, but the XG6 has 7% better performance per Watt. The second place score of the SN750 is still well above average—ignoring the outgoing WD Black, the SN750's performance per Watt is about 26% better than the next best TLC drive.
The two flash-based drives that substantially outperform the SN750 on the mixed random IO test are faster through almost all of the test's phases, while the drives that are roughly tied with the SN750 tend to be a bit faster through the more read-heavy parts of the test and fall behind when the workload becomes very write-heavy.
Mixed Sequential Performance
Our test of mixed sequential reads and writes differs from the mixed random I/O test by performing 128kB sequential accesses rather than 4kB accesses at random locations, and the sequential test is conducted at queue depth 1. The range of mixes tested is the same, and the timing and limits on data transfers are also the same as above.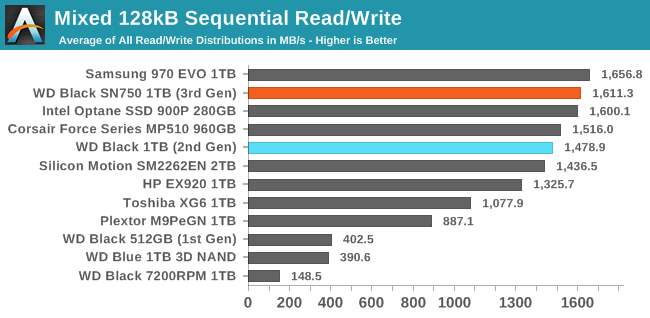 The WD Black SN750 improves upon its predecessor's performance on the mixed sequential IO test, but not quit enough to take the top spot on the performance ranking. The Samsung 970 EVO is a few percent faster overall.
The SN750 has a clear lead in the efficiency scores, improving upon the previous record set by last year's model that remained largely unchallenged, though the Toshiba XG6 and Corsair MP510 did come close. The average power consumption of the SN750 is slightly higher than the previous WD Black but that is more than offset by the higher average performance.
The WD Black SN750 only barely drops below 1.5GB/s at its worst during the mixed sequential IO test, and it performs a bit better during the more read-heavy half of the test. The other drives all have worst-case performance that's slower than the SN750 by at least a few hundred MB/s, but many of those drives also have significantly better peak performance, most often at the read-heavy end of the test.